Norris disagrees with Leclerc not passing Verstappen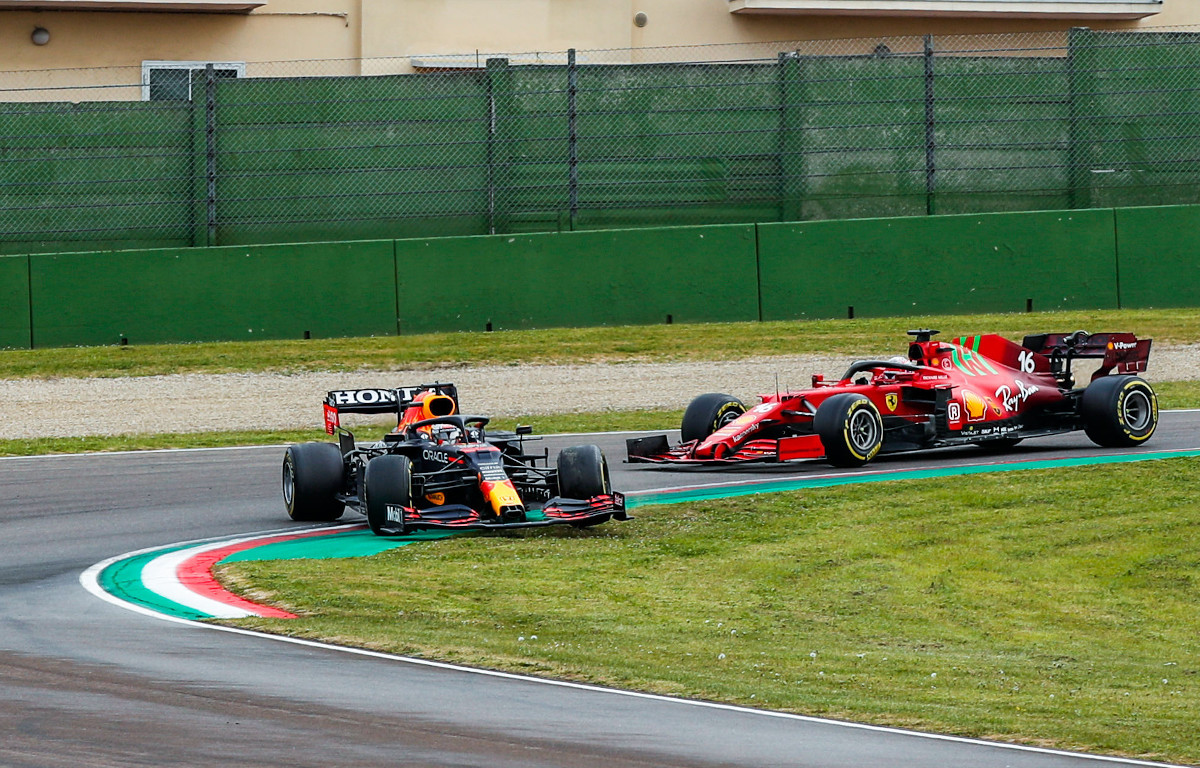 Charles Leclerc made the "right choice" not jumping on Max Verstappen's mistake and passing the Red Bull driver at the restart at Imola – but Lando Norris disagrees.
Having lined up behind the Safety Car after a red flag at the Emilia Romagna Grand Prix, Verstappen was leading the pack ahead of Leclerc in a rolling restart.
Warming up his tyres on a chilly wet Sunday afternoon, the Red Bull driver mounted the inside kerb at the first Rivazza and went off the track.
As he squiggled his way back onto the track, Leclerc held back rather than try to pinch the lead.
"I considered it," Leclerc explained to Autosport, "at one point, but I at the same time backed off.
"I think looking back at it, it was the right choice because I think he always had one wheel on the track.
"And so, I backed off and because he didn't completely spin, obviously, as we've seen. So, I thought about it but it was too late and he was already back in front."
Had Leclerc made the move, he would not have been penalised as Verstappen was off the track, similar to how drivers passed the Ferrari driver when he went off on the formation lap at the very start of the race.
Verstappen, though, would have been within his rights to regain his position as Leclerc did on the formation lap. He would have had to do so before the first Safety Car line.
Verstappen won the grand prix ahead of Lewis Hamilton.
Max Verstappen az kalsın spin atıyordu!#ImolaGP pic.twitter.com/6v4jnJ9flB

— Krampon F1 (@F1Krampon) April 18, 2021
Kit yourself out in Ferrari colours via the official Formula 1 store
But while Leclerc feels he did the right thing, Lando Norris disagrees.
The McLaren driver, who finished third at Imola, says in his opinion Leclerc should have pounced on Verstappen's error.
"I had a great view of it – it's quite funny," he said. "I think Charles could've gone past, in my opinion.
"At that stage, Max was out of control and going left and Charles can't just hit the brakes and slow down and stop, at some point he has to go past Max because he was facing the barrier for a lot of the corner.
"I dunno – we have to maybe ask the guys in charge what the exact ruling is.
"But going off track, then it's all four wheels off track and the example of yesterday [where Norris lost his best Q3 time for fractionally running too wide at Piratella].
"But at the same time, Max was going very slow so it's like Leclerc could've driven past him at that point.
"I'm not sure. If I was in P2 I think I would've gone for it, because you have a chance of winning then. So, it's a risk [that's] worth it."
Follow us on Twitter @Planet_F1 and like our Facebook page.