Leclerc's Binotto talk about the pit stop 'among other things'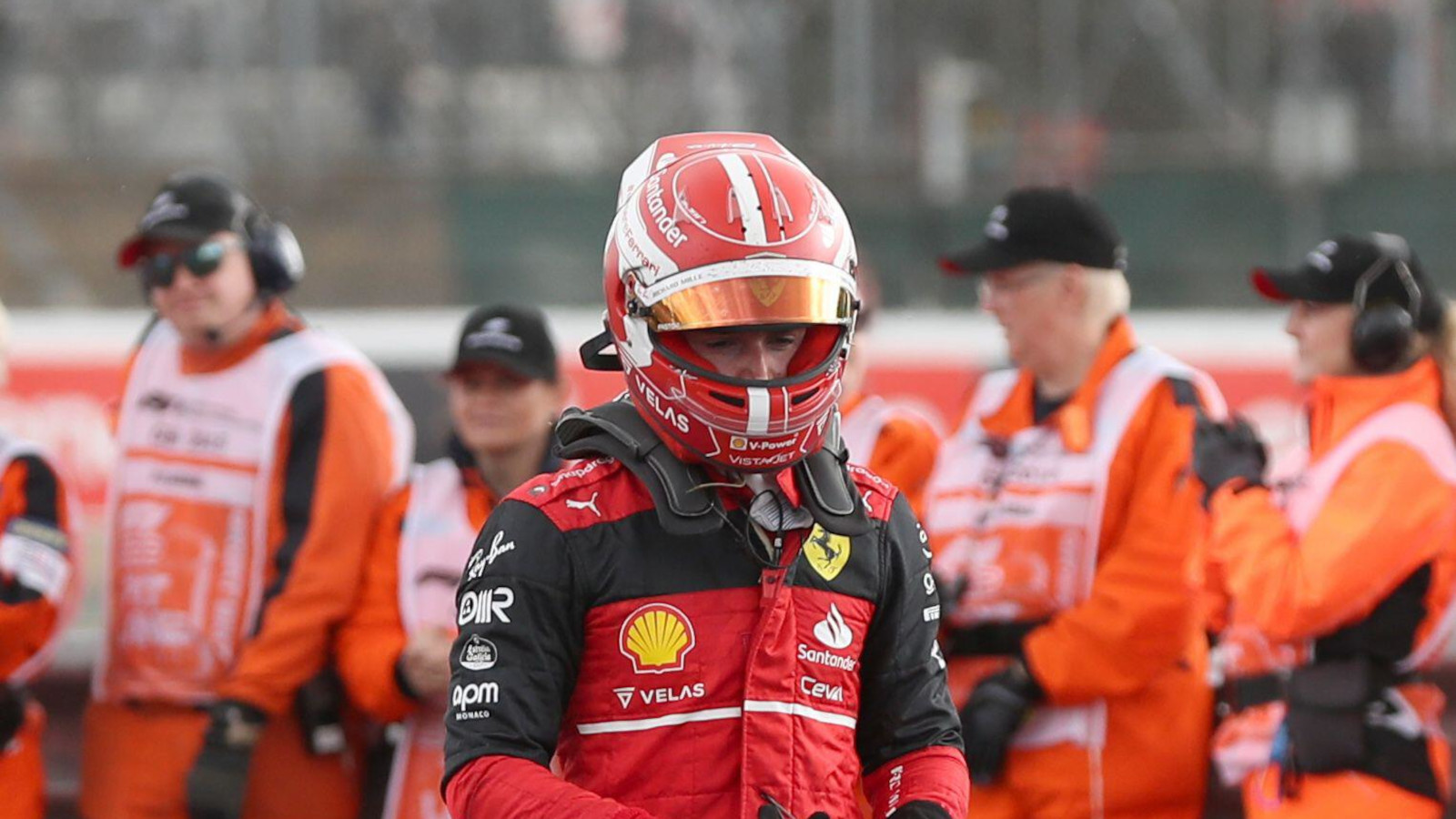 Spotted in a finger-wagging conversation with Mattia Binotto after the British Grand Prix, Charles Leclerc says they spoke about the call not to pit him and "other things" too.
The Monégasque driver went from challenging for the British Grand Prix race win to not even finishing on the podium when Ferrari opted to leave him out when the Safety Car came out on lap 40 for Esteban Ocon's stricken Alpine.
Leclerc, who was leading the race at the time, stayed out while his team-mate Carlos Sainz was pitted for fresh soft tyres.
Leclerc, with his 16-lap-old hard tyres, was a sitting duck at the restart, not having the pace or grip to defend and he soon lost the lead – and the win – to his team-mate.
He was then overtaken by Sergio Perez and Lewis Hamilton despite doing all he could to defend against the duo, who had also pitted for new soft tyres.
Leclerc was left disappointed.
Asked why he did not pit, he replied: "We could have, but I've been told to stay out.
"I was the first car at the SC, we split, the car in front stayed out. For me it wasn't the right decision, but it's like this."
The driver was seen having a finger-wagging conversation with his team boss Binotto in the immediate aftermath, revealing they had spoken about that decision "among other things".
Mattia and Charles talking after the race.#BritishGP pic.twitter.com/jOuEE4iTn5

— tami. (@Vetteleclerc) July 3, 2022
"I am disappointed," Leclerc added. "I feel like I've lost a lot of time, especially at the beginning."
Leclerc, attached to Sainz's rear wing early in the race, urged Ferrari on several occasions to let him through as he felt he had the better pace.
While Sainz was initially told to up his, eventually Ferrari gave the Spaniard the order to move over. Leclerc felt he had already lost too much time in that tussle.
Asked if Ferrari could have done something different, he replied: "I don't know, I don't know…it's another race where we don't get the result.
"I did everything I could, I think you saw while I was defending as well. There wasn't much more."
As for Binotto, the Italian feels the matter is done, there is nothing to talk about.
"There is nothing to sort out internally," he said.
"I think it was simply to tell him 'I understand your disappointment but you did a fantastic race today', fighting at the start, fighting later on when he was on hards and the others on softs.
"I think the way he was driving there, protecting the position, was amazing. So obviously being happy is difficult, but staying calm and I think being positive is important."
Highlights from the British Grand Prix
Put simply, it was a quite remarkable British Grand Prix on Sunday.