Charles Leclerc is waiting until the stewards make their decision about Max Verstappen to decide on his own future driving style.
Verstappen caused quite a stir in Brazil with the way he defended, and maintained his lead, against Lewis Hamilton during the Sao Paulo Grand Prix.
Aided by DRS, Hamilton went around the outside of Verstappen into Turn 4. But late on the brakes, Verstappen forced both himself and Hamilton deep into the run-off area, retaining P1 as a result.
The stewards did not investigate the incident, but Mercedes have met them via video link in Qatar as part of their Right to Review over Verstappen's actions.
And the outcome of that will influence Leclerc and how he will conduct himself in future wheel-to-wheel combat.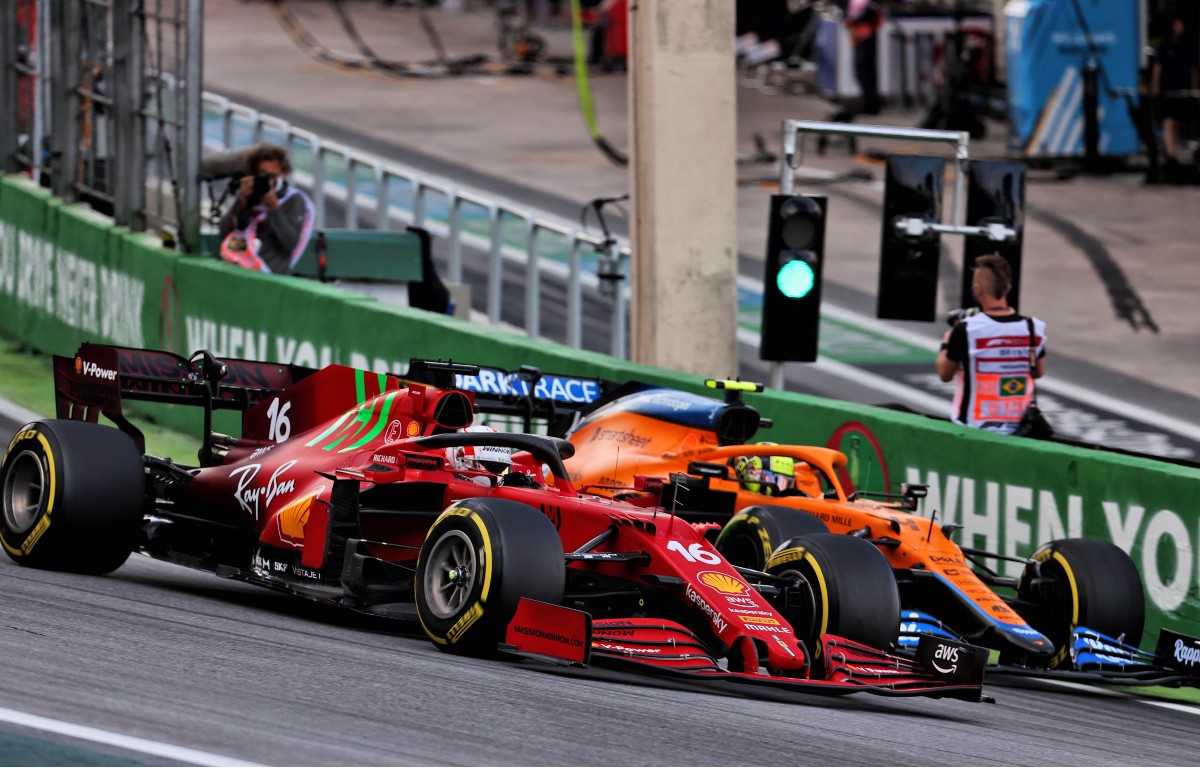 "You always need to adapt to every situation, every decision the stewards are doing," he told reporters in Qatar.
"As soon as I knew it wasn't a penalty for Max in Austria [in 2019], I went to Silverstone and I changed my driving.
"So I think that's a bit the same for every driver. We will always try to race at the limits of what we are allowed to do. And that's what I will do in case these things are allowed.
"Austria was a bit of a different situation again and after that we could race a bit harder, which I think was good for F1, for the show. This situation was another one. I'll leave it to the stewards to just see what they think.
"Honestly, I really don't mind [what the outcome is] but whatever is allowed, I just want it to be clear as a driver. That's the only thing that matters to me.
"If this is allowed, then overtaking around the outside will be very difficult.
"But yeah, whatever the situation, the decision is, I'll just adapt my driving to it, so I'm fine with both."
Leclerc's Ferrari team-mate Carlos Sainz made comparisons between the Verstappen/Hamilton incident and the 2021 Austrian Grand Prix.
On that occasion, Lando Norris received a five-second penalty having been adjudged to have pushed Sergio Perez into the gravel, while the Mexican then received a brace of five-second penalties later in the race following similar incidents with Leclerc.
"A driver uses every opportunity to his advantage," Sainz explained.
"To know well if this hasn't been penalised at the last race, if I'm in a similar position, I know I can do something similar.
"I think the car on the inside always has the preference and the ability to run the other car wide, but if the car on the inside also goes wide that is what we need to clarify.
"I mean, lately it's been a bit more like that. But if you really put your view back to, for example, Austria [this year], then there's a couple of things to review.
"What happened in Austria actually with some cases is very similar. So yeah, I'm sure there will be some conversation in drivers' meetings just to clarify a bit."