Charles Leclerc discusses mental process of dealing with his and Ferrari's mistakes
Charles Leclerc is confident that Ferrari can move on from the habit of making errors, while the process after his own mistakes is unchanged.
What was once a comfortable Championship lead for Leclerc in 2022 has turned into an alarming 80-point deficit as Formula 1 enters the summer break, largely down to errors from either Leclerc himself or the Ferrari team, plus reliability woes.
Leclerc admits that the first 13 races of the season have not quite yielded the results that were possible, though he retains hope that somehow, he can deny Max Verstappen the 2022 title.
"First of all, it was amazing to see that we finally got back to fighting for wins," Leclerc told BBC Sport.
"On the other hand, we haven't managed to maximise all the potential we had. And this is not great. We still have the second part of the season to catch up, I hope, and I will push at the maximum. But the last few races have been a bit difficult."
Leclerc hits the nail on the head in that final point, with the French and Hungarian rounds in the lead-up to the shutdown representing prime examples of where driver and team had a golden opportunity, yet let it slip away.
In France Leclerc was leading before crashing out of the race, while in Hungary he looked the likely winner before Ferrari swapped him to hard tyres, a compound Ferrari were forewarned about by the struggles of those further down the field. Leclerc would finish P6.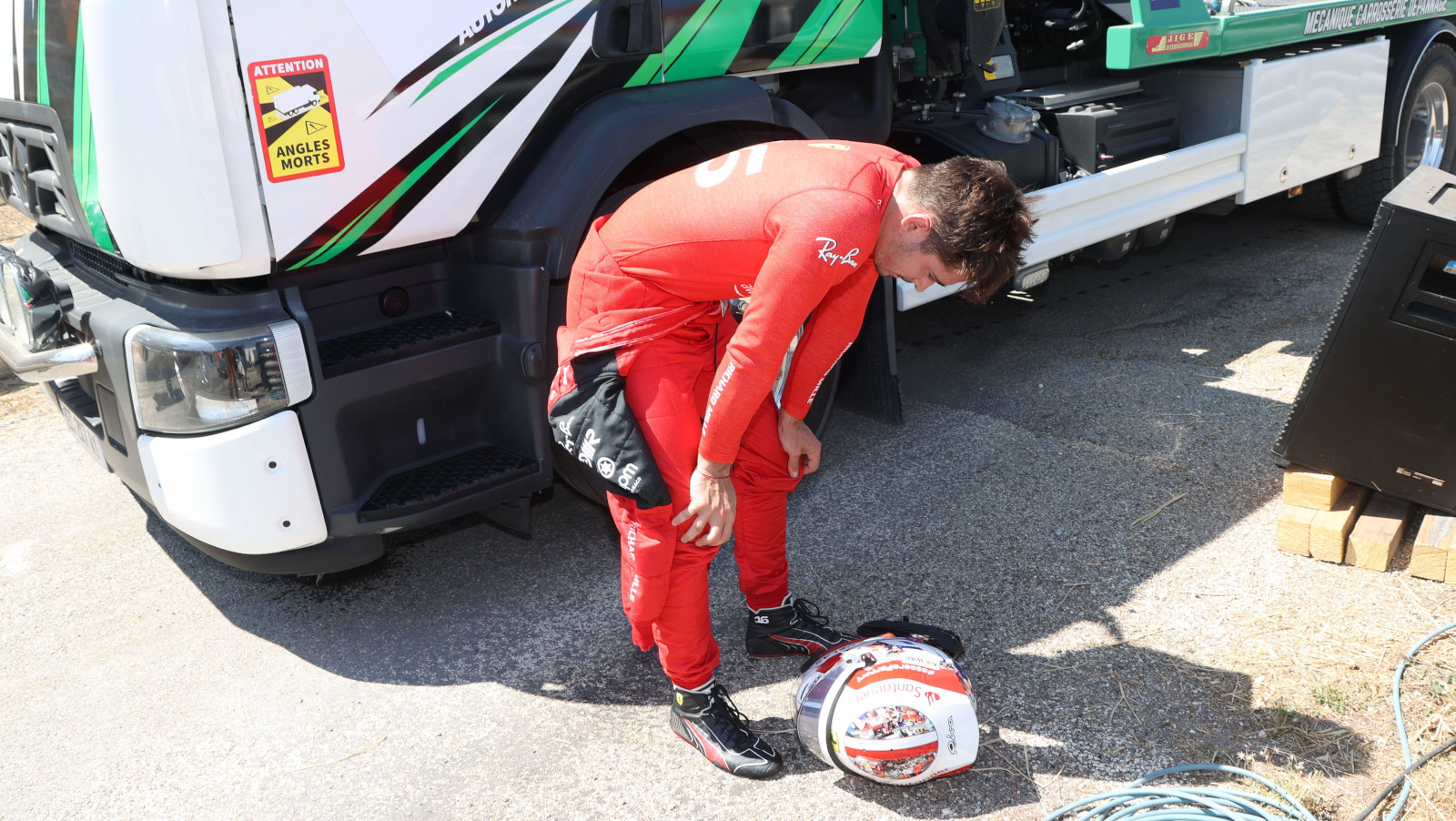 "Let's say that we know we need to work on that," he explained, referring to the team and driver errors. "We want to do absolutely everything to get better in every single thing we do.
"And obviously looking at the first part of this season, there have been some strategy problems, there have been some reliability problems and there have been driving mistakes.
"On reliability and strategy, we are working extremely hard to get better. And after a mistake, we always go through exactly the same process, which is to try and analyse from where the mistakes come, why did we take the wrong decision at a certain point of the race, in order to go forwards. As soon as we understand a mistake, then we can move on."
Leclerc added that he has "the confidence that we will get better", explaining the confidence is there because of "the way that we work".
"Because I know how tough it's been the last few years to get back to where we are," Leclerc adds. "And I know that we arrived to that level because for two years we have been working on those weaknesses of the car.
"So, we still have weaknesses and we need to work on them. But if we work as well as we did in the last two years on other weaknesses, I am confident we will overcome them."
After that crash in France, which followed an Imola spin earlier in the season as he pursued a P2 finish, there can be a case made that Leclerc is still a little too error-prone to become champion this year.
Leclerc though is always extremely honest with himself after any mistake, believing that is the key to growth. And after the setbacks this season, Leclerc said it was the same case of analysing what went wrong with honesty and a focus on the mental side of the problem.
"I'm extremely tough with myself," he said. "So it is much more difficult to deal with my own errors than whenever it is the team, even though we are obviously one team and we lose and we win together.
"I'm always harsher whenever it's me who does the mistake, and obviously France was one of those which which hurt quite a bit. Imola also a little bit, even though there weren't many points involved because I could go back on track.
"But whenever I go through this tough time, I go through the same process as I was saying before, trying to analyse what was wrong. And it's mostly mentally.
"You know, what is the mindset that I had at that particular moment of the race that pushed me to go over the limit and do a mistake?
"To speak about it seems quite easy, but it is not always easy to pinpoint exactly what was going on in your head at that moment. But I think this is a strength of mine and helps me to improve as a driver every time I make a mistake."
Read More: PlanetF1 presents the five biggest disappointments of the 2022 season so far. Do Ferrari get a mention?
But does Charles Leclerc improve after each mistake he makes?
This is debatable. There is no doubt that Leclerc is a fantastic Formula 1 driver and champion material, but only if the costly errors dry up, which is yet to happen.
Leclerc's tendency to make a mistake under pressure dates back much further than this season, his crash during qualifying in Baku probably the first high-profile error which generated plenty of attention, especially after the "I am stupid" radio message.
Perhaps his shunt in qualifying for the 2021 Monaco Grand Prix would have been more heavily discussed if he had not have been on provisional pole at the time?
And now this season, with Ferrari already in the spotlight for their strategical meltdowns, errors like the ones at Imola and especially Paul Ricard were the last thing Leclerc needed, as they only ramp up the pressure further.
So, Leclerc is confident that his process works after a mistake, and for sure not every driver is perfect, Max Verstappen spinning in Hungary for example. But for Leclerc, it feels like we are still waiting for his process to really pay off.
Another day, another Ferrari disaster
Even Charles Leclerc labelled his strategy at Ferrari a "disaster" in Hungary.