Charles Leclerc responds to Ferrari's rumoured Lewis Hamilton interest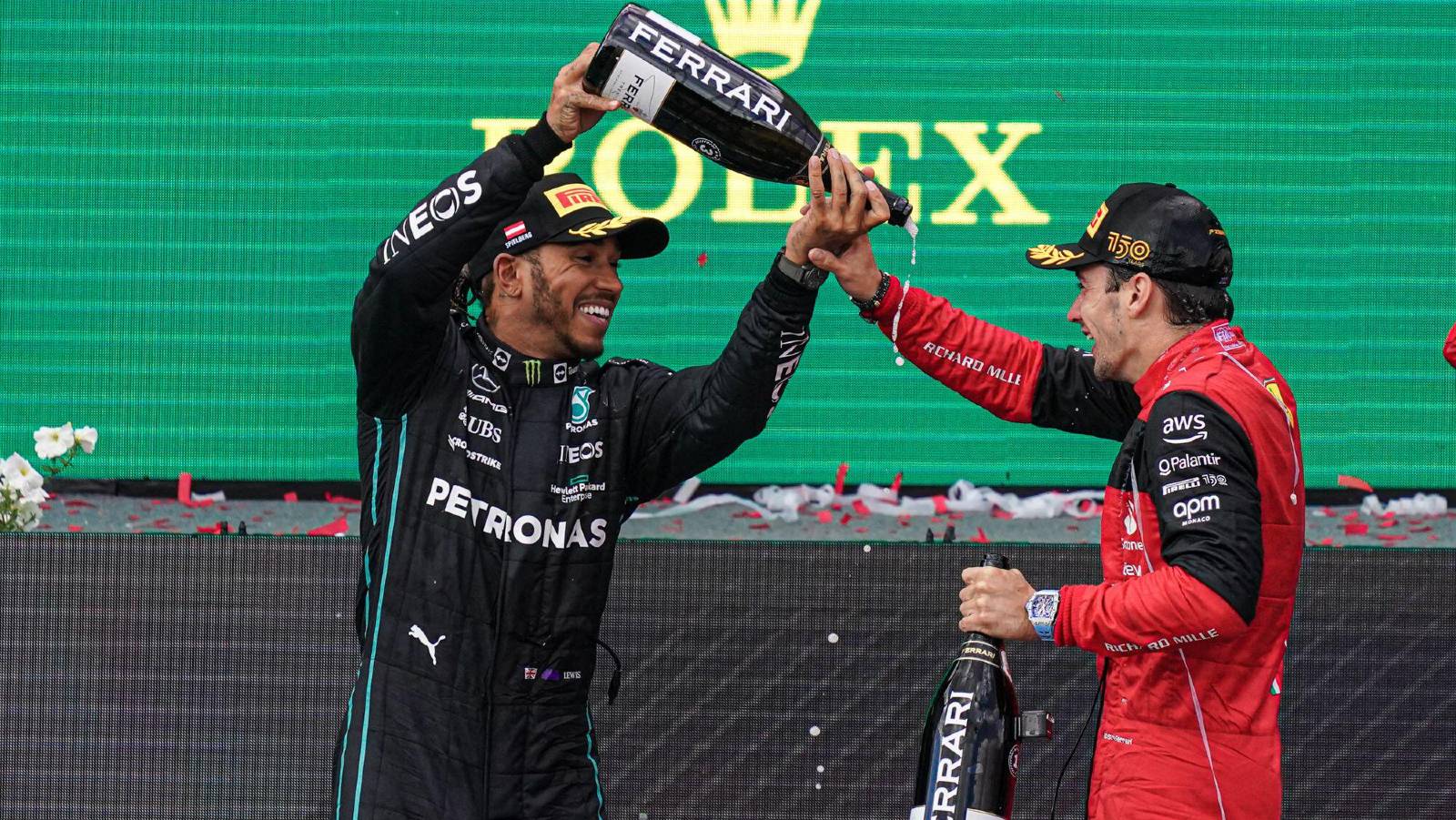 Charles Leclerc joked that he was not going to fuel the press with headlines when Ferrari's reported interest in Lewis Hamilton was brought up.
The chatter about Hamilton to Ferrari is a long-standing topic in the Formula 1 paddock, though a recent Daily Mail report had suggested that Ferrari were interested in making this team and driver pairing a reality.
It was claimed that Ferrari were set to offer Hamilton a contract worth £40 million per season, with the preferred option being for him to replace Carlos Sainz as Leclerc's team-mate, while the back-up plan was for Leclerc to head the other way and join Mercedes.
The rumour was given further legs when Sky F1 reporter Craig Slater revealed his understanding that while Ferrari had not made any formal offer to Hamilton, and did not believe talks had taken place, he did state that a Hamilton offer was under consideration at Ferrari.
Leclerc was faced with the rumours when speaking to L'Equipe, firstly on the prospect of a Hamilton seat swap, and with a smile, he refused to add further fuel to the fire.
"I'm not going to come into this field where you're looking to make titles," he responded.
How about potentially partnering Hamilton then as Ferrari team-mates?
"We'll see what happens in the future. But I don't want to comment because if I do, you will make a headline out of it," he replied once more in a jovial nature.
"I'm starting to know the press!"
PlanetF1.com recommends
'Problem' with Lewis Hamilton to Ferrari move identified by Bernie Ecclestone
Mercedes already have a ready-made replacement for post-Lewis Hamilton era
In all seriousness though, Leclerc made it clear that if there were any talks going on between Hamilton and Ferrari with the view to Hamilton taking Leclerc's seat, then team boss Fred Vasseur would have kept him fully informed.
The pair's relationship in Formula 1 stretches back to 2018, where Leclerc made his debut with Sauber, Vasseur team principal at the time.
"If there was anything, Fred would have told me about it," Leclerc affirmed.
"I have absolutely no doubt that if there was anything, Fred would have told me. So on that, I'm absolutely not worried."
Leclerc heads into his home race this weekend, the Monaco Grand Prix, very much focusing on qualifying if he is to have any chance of stopping Red Bull's all-conquering start to F1 2023.
While he has acknowledged that Red Bull would be unstoppable on Sunday, the difficulty when it comes to overtaking around the streets of Monte Carlo could bring Ferrari back into the mix if Leclerc can repeat his Baku heroics, where he took the sprint and Grand Prix pole.