Charles Leclerc plays down 'heat of the moment' Ferrari team order request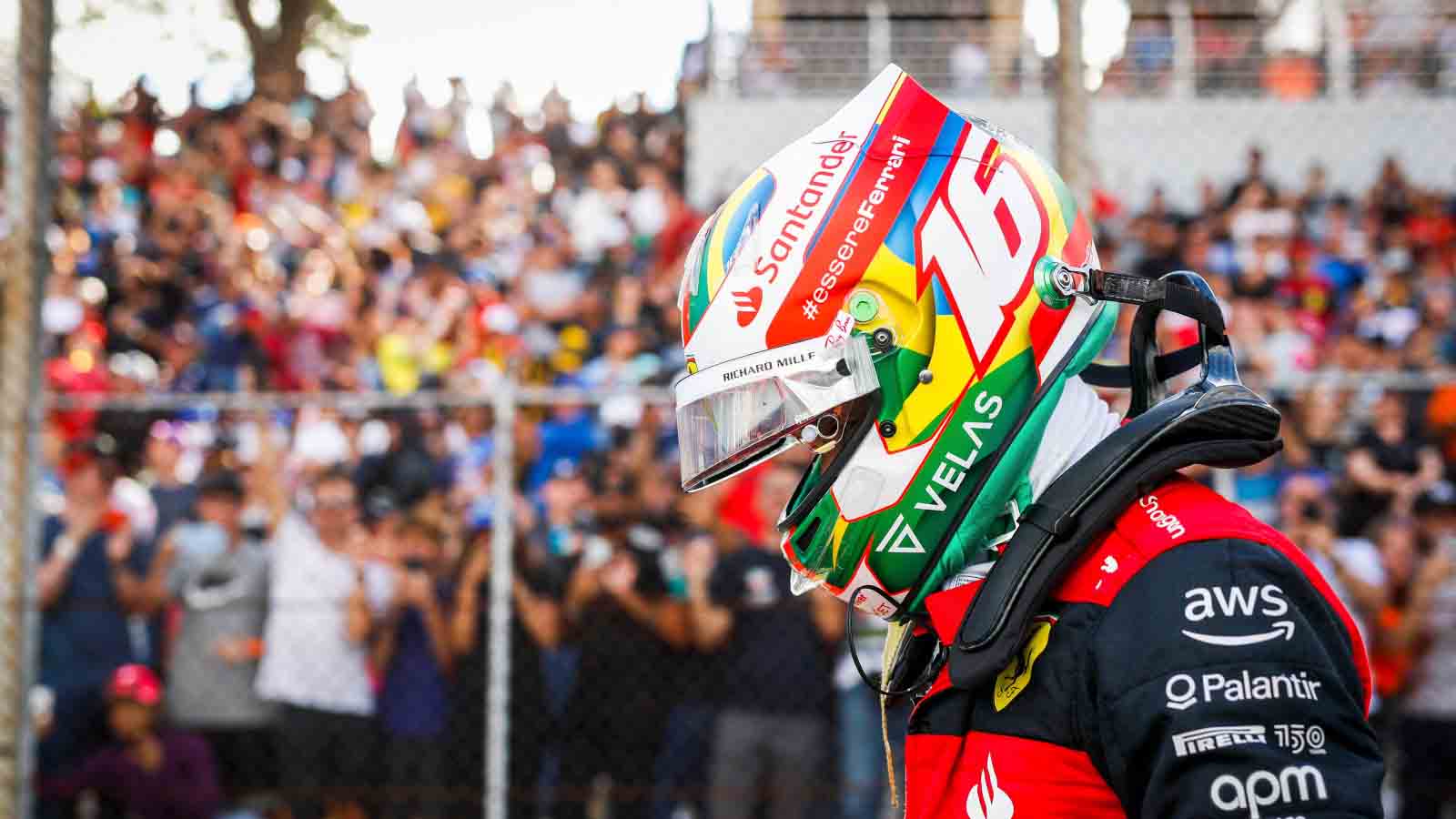 Charles Leclerc voiced his frustration at not being allowed to pass Carlos Sainz at Interlagos, but has since calmed his stance after the team refused his calls.
Leclerc had an extremely eventful Sao Paulo Grand Prix but had worked his way back up to fourth place on the road in the closing stages, with Ferrari team-mate Sainz up ahead in third.
With Leclerc currently locked in a close battle with Sergio Perez to take second place in the Drivers' Championship, he pleaded with the team over radio to order Sainz to move aside so he could gain three extra points in his fight with the Red Bull driver.
Sainz was able to keep his place and held an approximate three-second advantage over his team-mate for most of the final part of the race, who held on for his ninth podium finish of the season, behind the Mercedes duo of George Russell and Lewis Hamilton – who earned the team's first win of 2022.
Leclerc had to make up plenty of lost ground after being tagged by Lando Norris at Turn 6 in the early laps, being sent sliding towards the barriers after the McLaren made contact with the right-hand side of his bodywork.
Norris was given a five-second time penalty and two penalty points for being found to have caused the collision, and the Ferrari driver was not best pleased after the incident either.
"I thought I had left the space. Well, I'm pretty sure I left the space," Leclerc said of his contact with Norris to Sky Sports F1 after the race.
"I think he lost the rear and then touched me. So yeah, it's a shame. But then after that it was a good recovery but not enough to obviously challenge for better positions."
With Leclerc having then made his way back through the field, Norris' later retirement bunched the field back up and Leclerc then found himself back in contention for a podium, with his team-mate ahead.
In need of points, he asked in vain for Ferrari to get Sainz to move over for him – but he played down the radio exchanges from Sao Paulo, with he and Perez to set off in Abu Dhabi level on 290 points apiece.
"Obviously, in the heat of the moment I wasn't very happy, but for other reasons obviously," he hinted. "We have talked a little bit about this situation beforehand. So, it's like this.
"At the end it's equal points on the last race with Checo and it's up to me to do a better job, and then we'll see."
As for Sainz himself, he said he was unaware of any grumblings coming from Leclerc's cockpit and had been keeping focus on his own race at Interlagos.
But he added that if he had been asked to move aside for his team-mate, he would have done so.
"Honestly, no information came to me at any point in the radio," Sainz revealed to Sky.
"So I guess the team was managing it with him but you guys know that I'm a big team player and whatever would have come I would have done but it never came to me."
Read more: Lewis Hamilton after latest Verstappen incident: 'What can I say, you know how it is with Max'