Charles Leclerc will 'go for it' if Sergio Perez overtake opportunity arises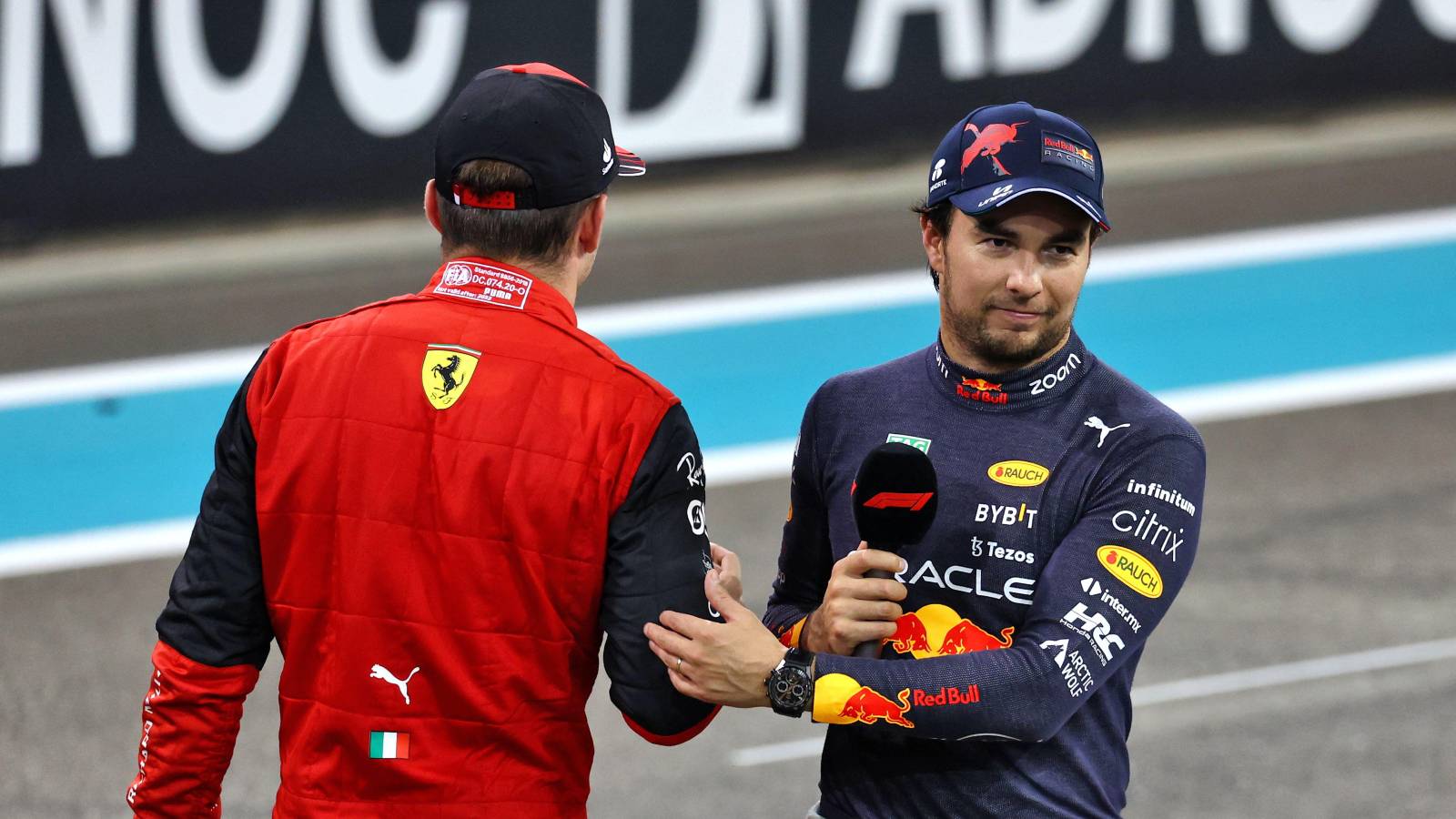 Charles Leclerc holds P2 and a slender advantage, so will not shy away from an opportunity to fight Sergio Perez if there is one.
Red Bull will start the Abu Dhabi Grand Prix in ideal fashion after securing a front-row lockout, Max Verstappen set to lead the pack away from Perez in P2.
The mission for Red Bull is to secure their first one-two finish in the Drivers' Championship, which will require Perez outscoring Leclerc in the race.
Leclerc starts from P3, only 0.04s having separated him and Perez at the end of Q3, so he is hoping that there will be a chance to make the key pass on Perez early in the race.
"I'm happy with the lap," he told reporters after qualifying. "I don't think there was much more in it, I didn't have anybody in front [for the tow] which maybe cost me a little bit in Q3. But to be honest, it was my choice because I just wanted a clean out-lap.
"But it's like this, P3 is a really good position to start in tomorrow. And hopefully we'll have an opportunity to pass Checo very early on.
"I think we did a step forward this morning, but we didn't have any reference this morning, so we don't know how much better it is compared to Friday.
"So I'm not sure, let's see, I'm confident we did a step forward, how much we'll have to wait and see. It's going to be a very close battle with Checo I'm sure, and if there's an opportunity, I'll go for it."
As Carlos Sainz shares the second row with Leclerc, he hopes that his Ferrari team-mate can help provide a two-car threat to Perez in a bid to get ahead of the Mexican racer.
"Difficult to say for the strategy, I think we'll have to see once we are in the race, and what are the opportunities at that moment," said Leclerc.
"Obviously, Carlos is starting right behind me and hopefully we can put a bit of pressure on Checo by doing different things."
Ferrari have not had a great experience in race trim though across recent rounds against Red Bull, tyre degradation a particular struggle.
However, Leclerc is hoping that Ferrari's "attention" on this aspect ahead of the race weekend will bring about a change of fortunes.
"We put quite a lot of attention this weekend on it," said Leclerc when asked if there will be a repeat of the problem. "So I hope not."
Read more – Winners and Losers from Abu Dhabi GP qualifying: Mercedes take a backward step