Leclerc sorry for giving Ferrari 'big work' after practice shunt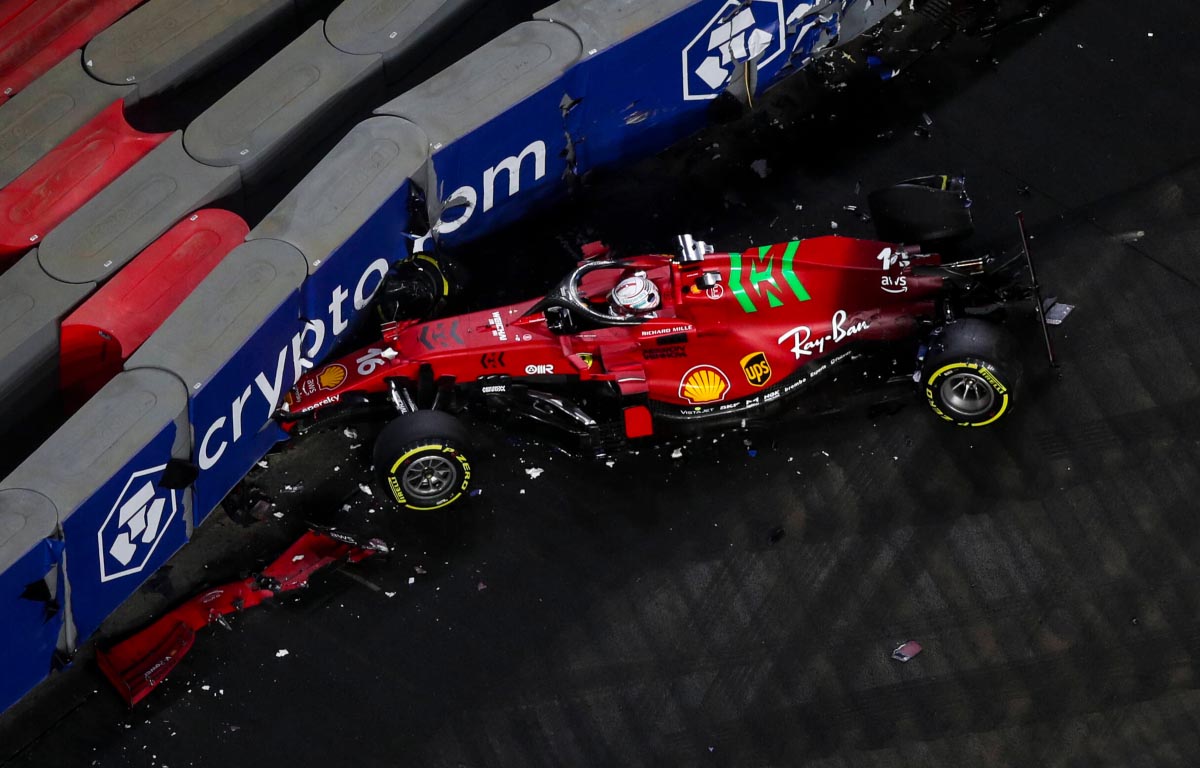 Charles Leclerc apologised to his Ferrari team after his hefty crash in FP2 in Jeddah, with his high-speed impact leaving his car looking almost shattered.
Leclerc suffered a snap of oversteer heading into the fast kink of Turn 22 in Jeddah, which sent him sliding backwards towards the barriers on the side of the track.
His initial impact was on his rear wing, but his car quickly spun around and appeared to leave significant damage on all four sides of his car.
Of course, the main priority for fans to see was that he was able to climb out of his car relatively unharmed after crashing at high speed.
Leclerc's crash came towards the end of FP2, so he was pleased with the work he had done beforehand, but if they can fix his car in time, he hopes to repay his team in qualifying with a strong performance.
"Yes, a day that unfortunately didn't end up the way that I wanted, but overall we went through everything we wanted to test," said Leclerc, per the official Formula 1 website.
High speed crash for Charles Leclerc… "sorry guys" #F1 pic.twitter.com/Rpg3fff6il

— PlanetF1 (@Planet_F1) December 3, 2021
"I think the potential is here and if we put everything together for tomorrow, we should have a good day.
"But obviously, I'm sorry for the team that will have to do a big, big work ahead of tomorrow for the car to be ready, and hopefully I will do a good enough job to thank them in the best way possible with a good result tomorrow."
Team-mate Carlos Sainz enjoyed a smoother ride overall on Friday, having shown good pace throughout and joining his fellow drivers in praising the circuit layout in Saudi Arabia, which the Spaniard described as being "very intense" to drive.
"It's different, very different to anything I've driven before really, to be honest," he said. "The intensity that this track gives you and the thrill and the adrenaline is something that I haven't lived… since my Macau days.
"So, yes, very different, very intense, very high-speed, very close to the walls. I kept trying to get the turning points right just before brushing the wall on the inside.
"It's quite crazy out there but it looks like so far everyone has stayed safe today, and hopefully we can keep it the same way going into tomorrow and Sunday."
Leclerc's mechanics are likely to be working into the night to get his car fixed in time for Saturday's running, with the Ferrari having been transported back to the garage in a heavily damaged state.
Ferrari can deliver final blow to McLaren
Can Ferrari secure P3 in the Constructors' Championship in Saudi Arabia?