Leclerc 'surprised' as McLaren unleash extra pace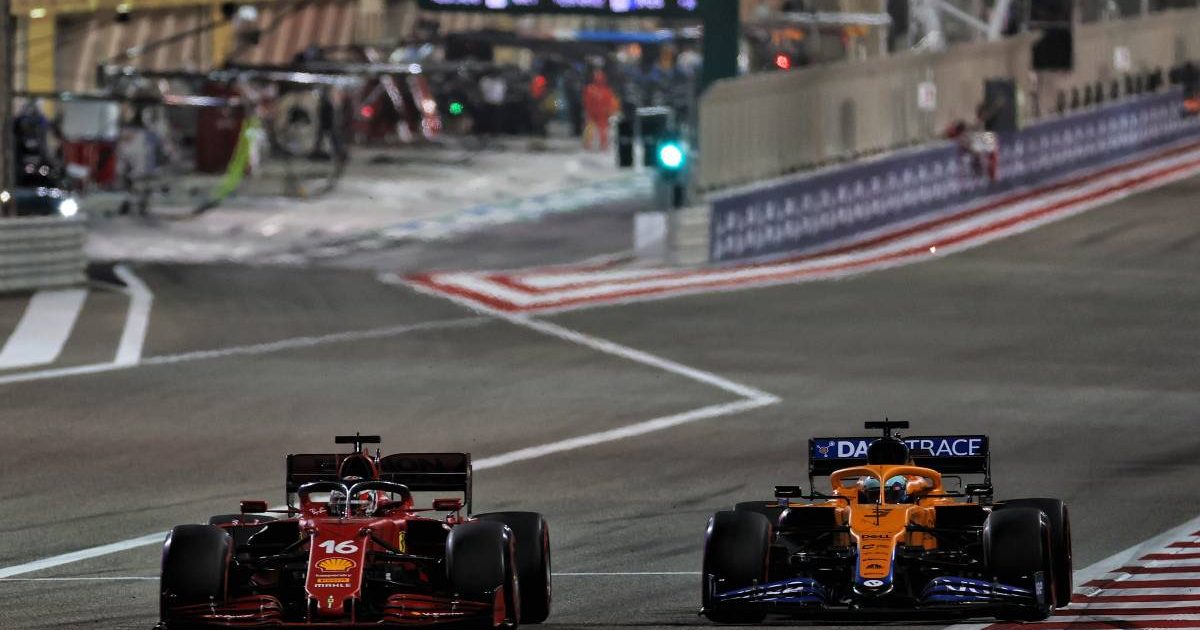 Charles Leclerc said he was "surprised" by how competitive McLaren turned out to be in the Bahrain Grand Prix.
The 2021 season-opener proved a very welcome sight for the fact that the midfield runners have clearly taken a step towards Mercedes and Red Bull at the front.
In qualifying Ferrari and AlphaTauri were squabbling for P4 and a place on row two, which ultimately was snatched by Leclerc for Ferrari.
But in the race it was McLaren and Lando Norris who found a new level of performance with the Briton crossing the line P4, 12.5 seconds ahead of Leclerc.
During Free Practice 2 Leclerc had seen that McLaren were carrying some solid race pace, but he was not expecting them to be so strong.
"Honestly, they surprised me more than what I was expecting," he told Sky Italy.
"They were competitive in FP2 with the race pace, but they didn't show the pace they put on the track today. So, yes, they surprised me."
At the 2020 Bahrain Grand Prix Ferrari did not get a car into Q3, while in the race Leclerc was able to score only point in P10.
So for the team to record a double-points finish in 2021 displayed clear progress, even if their journey is far from complete if the Scuderia want to fight at the front again.
"I made a good start at the beginning of the race, then I managed to handle the tyres quite well," Leclerc explained.
"Maybe we did the pit-stop a bit early, but we did that because we wanted to put our opponents under pressure. And we managed to do that, but then at the end of the race we suffered with the tyres.
"I think that in general we handled the race quite well and the pace as well was not bad, and this is important. Then, for sure, we are not where we want to be yet.
"Every time we make some progress we must recognise that, but there is still much more work to do. This is not a track where I'm particularly good during the race, on this track I usually struggle a lot, because of the temperatures first of all. But we will work on that, and I think that it's a step forward compared to last year.
"Historically we, as a team, have never been very strong on this track, except in 2019. So, I think it's a positive start, now we have still a lot of work to do."
🏁 #BahrainGP 🏁@Charles_Leclerc ➡️ P6 @CarlosSainz55 ➡️ P8#essereFerrari 🔴 pic.twitter.com/wBGjnc78hC

— Scuderia Ferrari (@ScuderiaFerrari) March 28, 2021
Kit yourself out in Ferrari colours via the official Formula 1 store
In his first race for Ferrari Carlos Sainz crossed the line P8, a position he felt he could have improved upon with a better start.
But, he was prioritising a trouble-free first lap, rather than a spectacular one.
"I did that [start] on purpose, because I wanted to do this race, I wanted to complete the race," he said.
"At the beginning first of all I made some mistakes with the gears. But then during the first lap I was very cautious, more than when I was at McLaren, because I wanted to find out how the car reacted with the wind and the dirty air created by the cars ahead.
"And when I found myself with clean air ahead, I started to understand the car better, I found my pace and I was very fast, so, I'm quite happy, because the first lap it was maybe my fault because I was a bit too cautious.
"I didn't expect [my pace] to be so good already in the first race. In particular, if you look at my stints with the medium and the hard tyres, I was really fast. So, it's a pity for the first lap, because without that bad first lap I could have been closer to the two McLarens and fight more with them. But, yes, with that first lap I found myself a little bit too far behind."
While he felt that P8 was "nothing special", Sainz concluded by pointing out that with 22 races still to come this season, he has plenty of opportunities to "find that feeling again".
Additional reporting by Luca Brambilla
Follow us on Twitter @Planet_F1, like our Facebook page and join us on Instagram!