All 10 Formula 1 teams may have signed up to race for the next five years but Chase Carey says he won't "force" them to stay if they don't want to.
Earlier this month Formula 1 announced that the new Corcorde Agreement, which runs from 2021 to 2025, was signed and sealed with all the teams putting pen to paper.
But although the teams, including Mercedes, committed to the sport until the end of 2025, Formula 1 chief Carey said he won't "force" them to honour the deal if for any reason they want to leave Formula 1.
"Ultimately it's a five-year structure in place, but we're not going to force teams to race if they don't want to race," he said.
"I think they're all excited about the future we have in front of us and so we've got a structure that provides the guidelines, not just the prize fund distribution but the governing structure and the sporting, technical and financial regulations that will underpin the sport and let us work together to grow."
Money was one of the big discussions with the new deal, smaller teams wanted a bigger, fairer share while Mercedes also felt they deserved more in "recognition" of their run of success.
Carey feels the new deal offers a "more balanced" arrangement.
"There are certain details that are really between us as partners," he said.
"We've talked about it directionally, we felt the revenue distribution was too skewed and so we've now got a more balanced distribution that still rewards success on the track, but it gives every team a chance to have a healthy business model and the resources to be competitive on the track.
"And when you combine that with the cost cap we think those elements together really do provide the foundation for much better competition and a much healthier business."
The new Agreement includes details about Formula 1's 2021 cost cap.
Next season the teams will a limit of $145 million having agreed to a lower amount in the wake of the Covid-19 pandemic.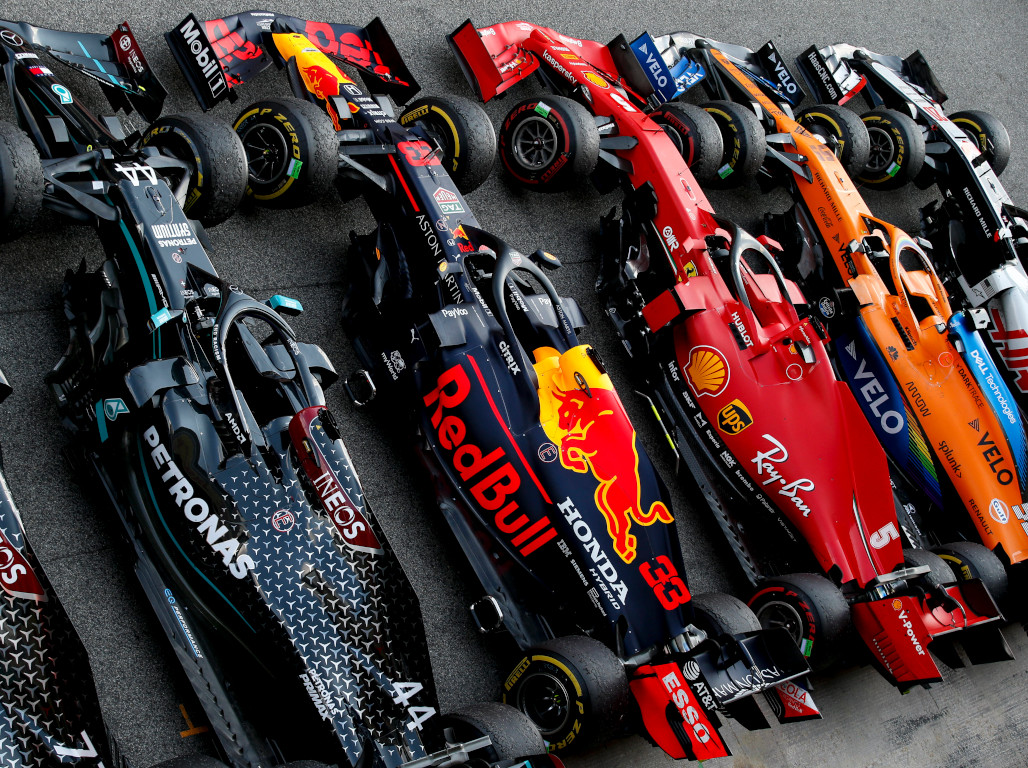 Official F1 Shop: Black and white face coverings
The cap will then be gradually reduced over the coming years. It will go down to $140m per season in 2022, and then $135m from 2023-25.
Carey hopes the cap will lead to a "healthier" Formula 1.
"We had the issue when teams were spending multiple of another team at some point that sort of spending really creates a gap which is why you saw the three teams that spent the most have really been on the podium certainly since I've been in this world [of F1]," he said.
"We're creating a business model that when you combine spending for a healthy team with distribution of the prize fund, sponsorship and growth of Formula 1 those, all of those things together, we're looking to get to the place where every team can have a healthy business."
There is, however, one team that stands apart in all this, Ferrari.
The Scuderia has once again held onto its veto power while it seems also receiving a few bob extra.
Carey explained: "Ferrari is our longest-standing team, there has always been a recognition of it, there still is in some rights which we have addressed and made them more targetted and manageable as part of the government structure.
"But we have continued to recognise Ferrari's unique role in the sport."
Follow all the action from the Belgian Grand Prix with the PlanetF1 live centre