AM should give Vettel 'two-week break at kindergarten'
Ex-F1 racer Christian Danner was not impressed with the protest from Sebastian Vettel about underwear scrutineering.
This season the FIA has reinforced the ruling that drivers can not wear jewellery inside the cars, while the requirement to wear fireproof underwear has also been rolled out.
Lewis Hamilton remains in a battle with the FIA over the jewellery side of that, while Vettel chose to protest by wearing underwear on the outside of his race suit as he walked down the pit lane in Miami.
Danner said such actions were like something out of "kindergarten", so suggests Vettel's Aston Martin team send him there for a bit.
"He has a peculiar way of doing things that I personally can't understand," Danner told Motorsport-Magazin.com.
"When he makes fun of these FIA underwear requirements and then jumps around in the pit lane with his pants on, then I have to say honestly, it's kindergarten.
"If I was team boss, I would have told him to take a two-week break and go where he belongs at the moment, which is kindergarten. When he's done there, he's welcome to drive again."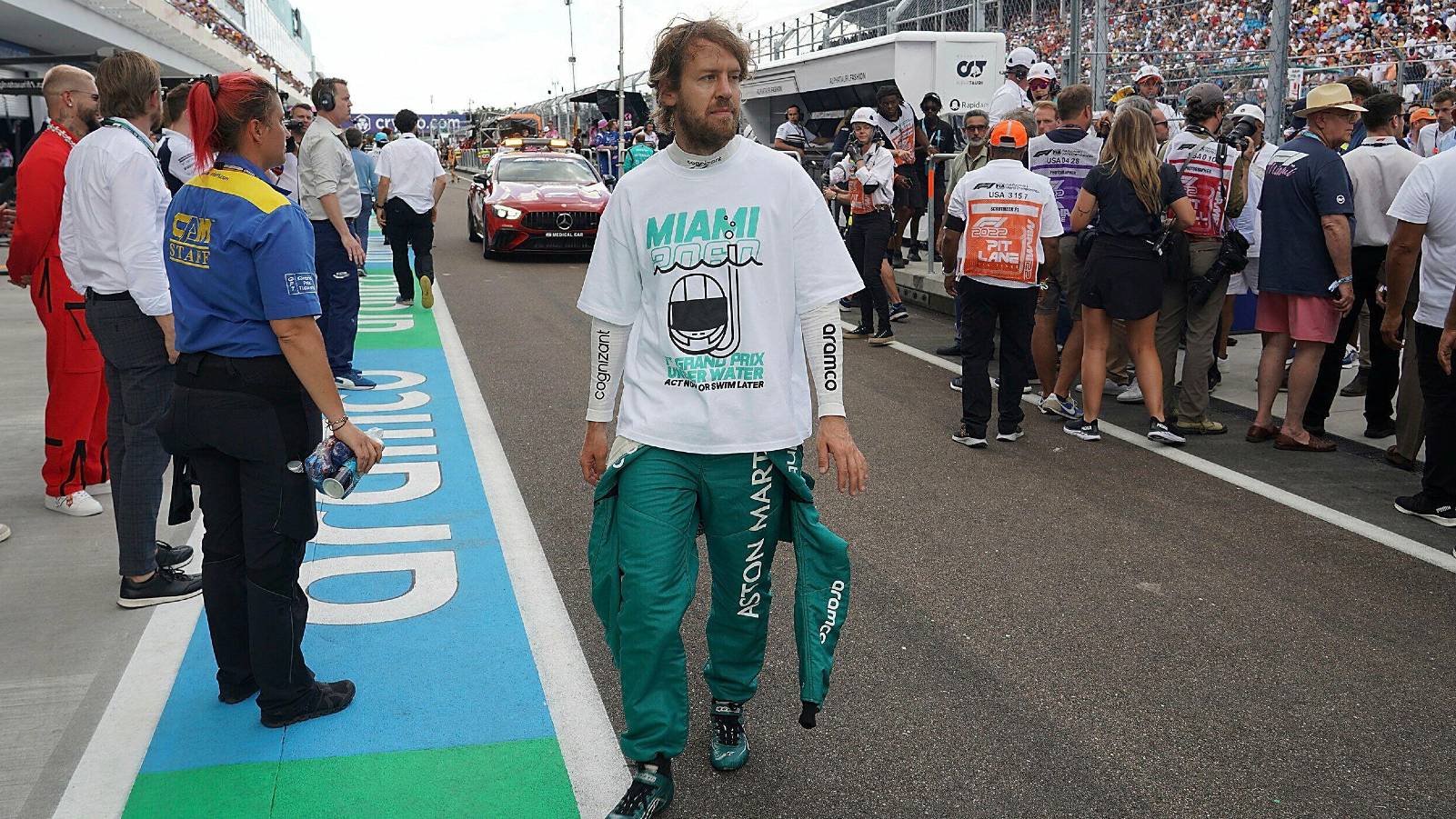 Danner then went on to question the ambition of Vettel over at Aston Martin.
The team plan on introducing "half a new car" at the upcoming Spanish Grand Prix having started 2022 poorly, scoring only six points, four of those provided by Vettel.
Vettel has scored four of them, but serious questions remain about his future beyond 2022, with the AMR22 far from challenging for wins. Vettel reportedly will not be receiving the upgrade in Spain, only team-mate Lance Stroll.
Nonetheless, Danner explained that looking at the drivers who had bad cars in the past, they did not decide to start focusing on making up unique protests when the FIA tried to introduce or reemphasize a rule.
"I know many drivers who have driven bad cars in their careers," said Danner.
"Is that why they ran through the pit lane in their pants? No! They were happy when the FIA took care of something and put it in the regulations.
"I think Seb is still a good F1 driver. But he has changed a bit in the last few years and is no longer as focused as he once was, but there are a thousand things that interest him more."
Indeed, over recent years Vettel has become far more active in his environmental and social activism.
However, outside of that Danner says that drivers must act with a level of seriousness and understand the privilege of being a Formula 1 driver.
"I have nothing against him getting involved in environmental politics, that's all fine," Danner stated.
"But somewhere the seriousness for a Formula One racing driver is already rooted in the fact that it is a privilege to drive his car and many forget that."
Torquing Point: Aston Martin bringing 'half a new car' to Spain
Aston Martin are arguably making bigger changes than any other team when their B-spec AMR22 heads to Barcelona.