Horner offers his assessment on Turn 4 clash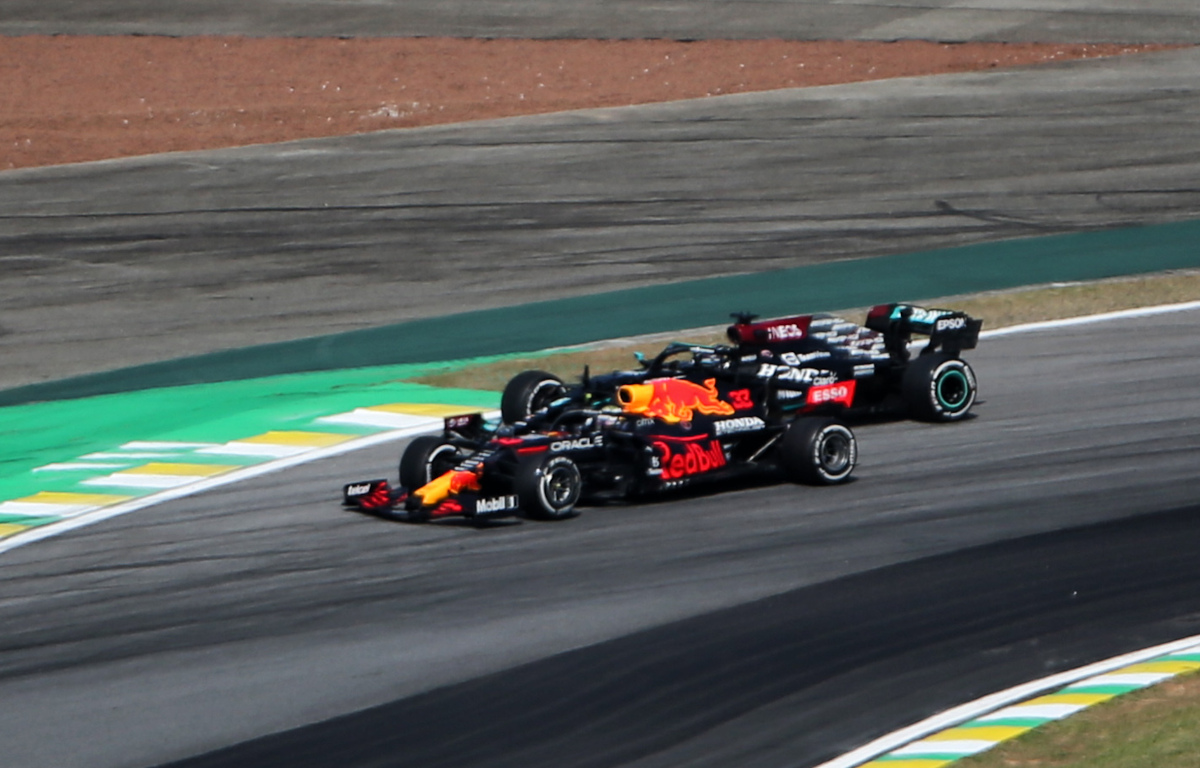 Christian Horner says it would have been "unfair" to penalise Max Verstappen for his Turn 4 moment with Lewis Hamilton.
After all, he says, there wasn't any contact.
Hamilton was in a league of his own in Sunday's Sao Paulo Grand Prix, the Mercedes driver showing incredible pace. Pace that meant, despite starting P10 on the grid, he was right behind Verstappen after the second round with the gap down to two seconds.
Two became one and Hamilton tried to overtake the Red Bull at Turn 4 only for Verstappen to push him wide, both drivers going off the track.
Mercedes were irked by the stewards decision not to investigate Verstappen, Hamilton saying he "just knew" the Dutchman would escape without punishment.
Horner says that's because it would have been "really unfair" to penalise his driver.
"It is two guys running hard," he told Sky Sports.
"Lewis has got a run around the outside, Max has gone in deep, they've both gone wide – it would have been really unfair to penalise on that.
"If it was the other way round, I'd have told my sporting director to have a moan about it, but I wouldn't have expected really anything from it."
That moment when we all held our breath on Sunday 😮

No quarter given ⚔️#BrazilGP 🇧🇷 #F1 pic.twitter.com/GrN72yzRCP

— Formula 1 (@F1) November 14, 2021
However, footage of Verstappen's steering angles showed he would never have made the corner, the implication being the it was his intension to run himself and, more importantly, Hamilton wide.
Told that pundits felt a penalty was deserved, Horner replied: "Penalty for what?
"I mean there's no advantage gained, there's no contact been made, so I think it's just hard racing between the two of them.
"I think the stewards actually made the right decision on that. We've talked about this many, many times about the 'let them race' mentality, and I think they made the right call today."
Asked if that was the 'spirit' of what the drivers want, the Red Bull team boss said: "You want to see the guys going hard at it.
"You know with Max he's going to race hard, Lewis is exactly the same, and that's two guys fighting for a World Championship.
"It's going to be tough racing, but I think it was fair and there was no contact, they rejoined and recommenced it a few laps later."
Verstappen's defence didn't last long, Hamilton making his move on lap 59, powering past the Red Bull driver on the run down to Turn 4. This time it stuck, the Mercedes driver taking the win by 10 seconds ahead of his title rival.
"It's always hard to take a loss when you've led as many laps, but that was against expectations," said Horner.
"I think Max did a hell of a job to keep Lewis behind for as long as he managed.
"I think that we saw yesterday the pace of that car was just unstoppable today. For us, [it was] damage limitation.
"Congratulations to Lewis and Mercedes, they were very, very quick here.
"But important points for us, Checo getting that fastest lap at the end there was damage limitation, I would say."
Verstappen heads to the next race, Qatar, with his lead in the Drivers' Championship down to 14 points. Red Bull trail Mercedes by 11 in the Constructors' standings.