Horner accuses rivals of telling drivers to 'b*tch' about porpoising pain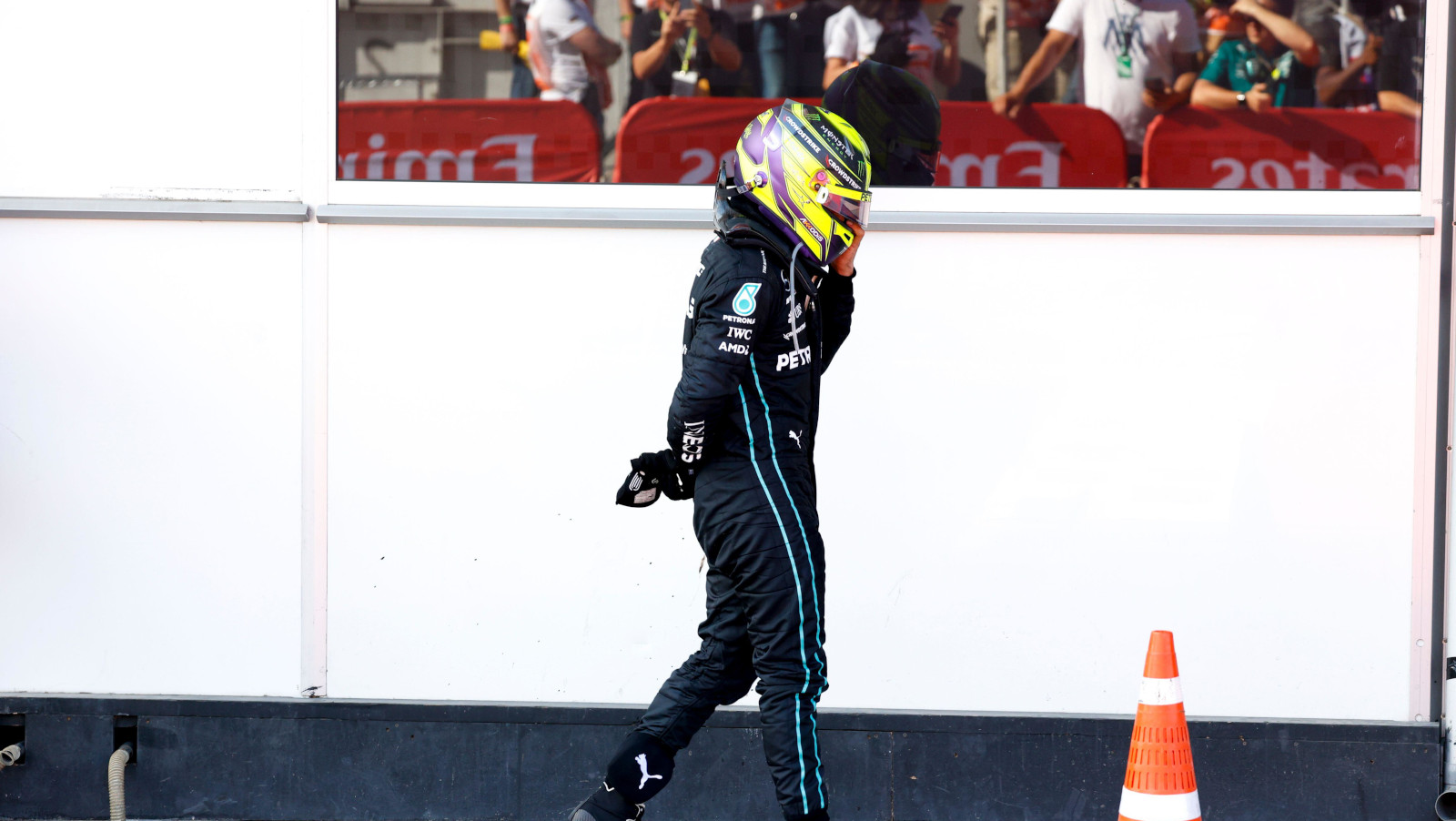 As Lewis Hamilton eased his way out of his car in Baku, Christian Horner says if the RB18 had extreme porpoising he would tell his drivers to "bitch as much as they could" as that is "part of the game".
Following on from the Monaco Grand Prix in which he spoke about his jaw and teeth shaking and his eyeballs wanting to pop out of his head, Hamilton complained of back pain throughout the Azerbaijan Grand Prix weekend.
Saying on Saturday already his back was a "mess", he told Mercedes during the grand prix it was "killing" him.
The Briton, who finished P4 behind his team-mate George Russell, was then seen slowly climbing out of his car after the race before clutching at his back.
Toto Wolff says the problem, which "goes properly deep into the spine", could keep Hamilton out of the next race, the Canadian Grand Prix.
But with the complaints from Mercedes, and it must be said other teams too, about the impact porpoising is having on drivers' health, Horner says it is all a ploy by Red Bull's rivals.
"Tell them to bitch as much as they could over the radio and make as big an issue out of it as they possibly could," he said, quoted by The Race, when asked what he would do if the RB18 experienced extreme porpoising.
"It's part of the game."
Asked whether he believed that was what some teams were doing, he replied: "Of course it is.
The bouncing is so bad from this angle, but he's still getting the best from the car #BakuGP #charlesleclerc #ferrari pic.twitter.com/2foxvC6K4T

— Val (@mufclhms) June 11, 2022
"Look, it is uncomfortable but there are remedies to that but it's detrimental to car performance.
"What's the easiest thing to do? Complain from a safety point of view, but each team has a choice.
"If it was a genuine safety concern across the whole grid then it's something that should be looked at. But if it's only affecting isolated people or teams, that's something the team should potentially deal with."
As those suffering with bouncing begin to look to the FIA to implement a solution across the board, such as a minimum ride height, Horner says that would not be fair on teams such as Red Bull who have minimal porpoising, and are winning.
Instead, he said the "easiest thing" for Red Bull's rivals is "to raise a car…so the team has a choice to do that.
"You have a choice where you run your car, don't you? And you should never run a car that's unsafe. But…I think that's more for the technical guys because there's certain cars that have issues and  some cars that have few issues.
"It would seem unfair to penalise the ones that have done a decent job versus the ones that have perhaps missed the target slightly."