Horner refutes suggestion Leclerc is a serial 'crasher'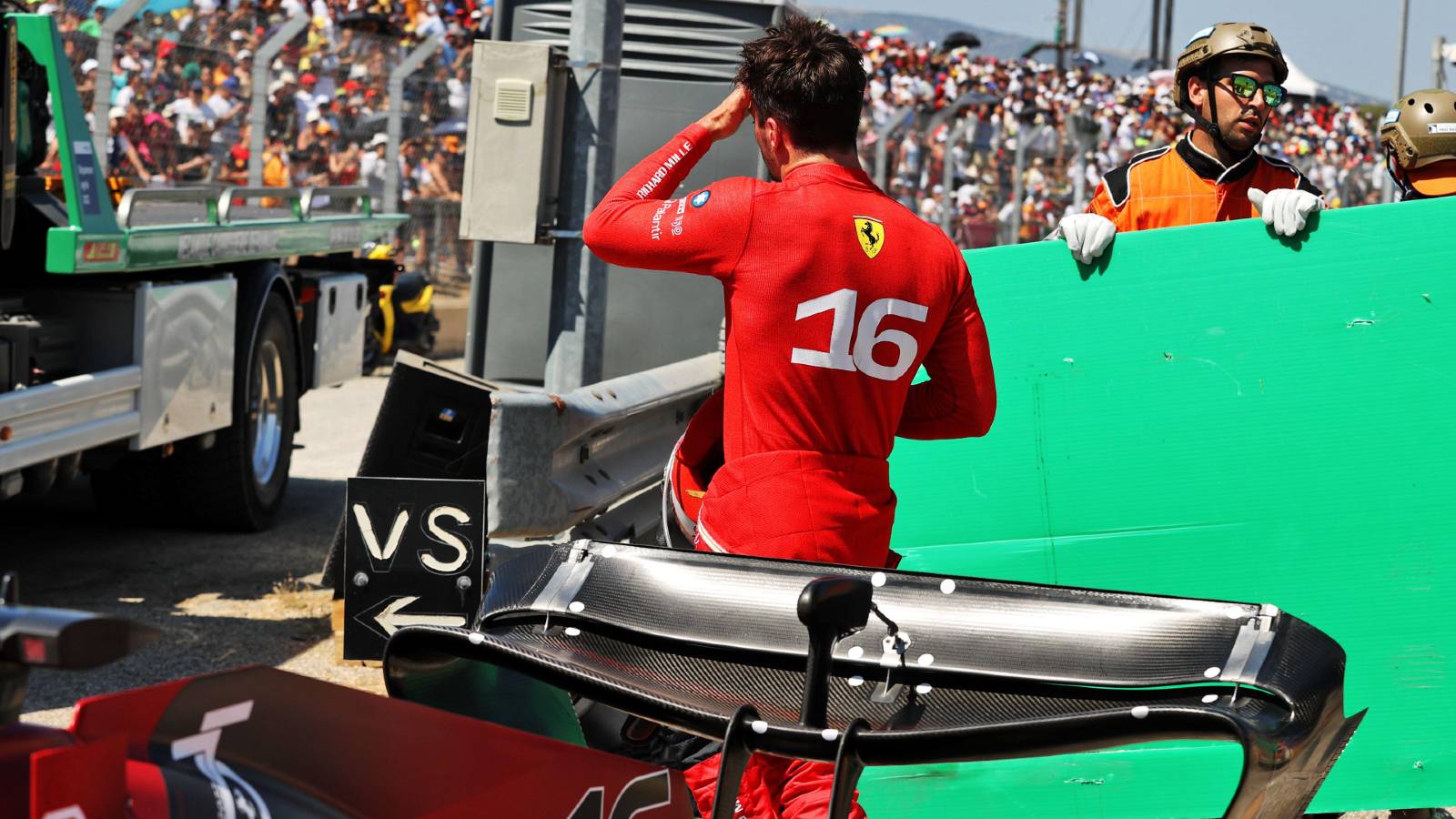 Christian Horner has refuted the suggestion that Charles Leclerc is a "crasher" who is handing the World Championship to Max Verstappen on a plate.
After getting himself back into the title picture by winning the Austrian Grand Prix, Leclerc had a golden chance to eat further into his rival's championship advantage when he led the French GP.
Starting from pole position, the Ferrari driver fended off an early challenge from Verstappen who then made a pit-stop on lap 16 to attempt the undercut.
But under no pressure, although with his own tyres perhaps starting to lose performance, Leclerc spun into the barrier and out of the race – as Verstappen went on to win and extend his margin in the Drivers' standings to 63 points.
It was the latest in a lengthy list of races where Leclerc has suffered misfortune this season, mostly as a result of car breakdowns or botched strategy decisions by Ferrari.
However, this incident sits alongside a spin at Imola, where he dropped from third place to finish sixth, in the column of Leclerc's own mistakes – as he took responsibility for it afterwards rather than blaming the car.
CHARLES!!!!!! 😳😳😳😳😳 #F1 pic.twitter.com/km7njvaUi7

— PlanetF1 (@Planet_F1) July 24, 2022
Asked by Sky F1's Ted Kravitz whether the Monegasque can now be labelled a "crasher" who is costing himself valuable points in his duel with Verstappen, Red Bull team principal Horner said: "I don't think so.
"I don't know whether anything else contributed to his accident. He's a very strong driver.
"I mean, these two guys, they are operating and pushing each other so hard. And these cars are right on the edge in these conditions.
"His bad luck was our good luck today and it's swung around during the course of the year."
Obviously we will never know what would have happened had Leclerc not made his mistake, in terms of he or Verstappen having the edge later on, but Horner acknowledged fans could have enjoyed a treat in the form of another thrilling tussle between the drivers who have won 10 of this year's 12 races.
"It would have been fascinating to see if Charles had pitted, he would have had a two or three-lap advantage of tyres," said Horner. "It would have been a great battle.
"[Our] tyre temperatures were actually looking pretty under control, wear was looking good, we weren't blistering as much as the Ferrari was and so we were feeling pretty strong, which is why we went on an aggressive one-stop."