Christian Horner downplays Red Bull rivalry but is warned of 'friction between the drivers'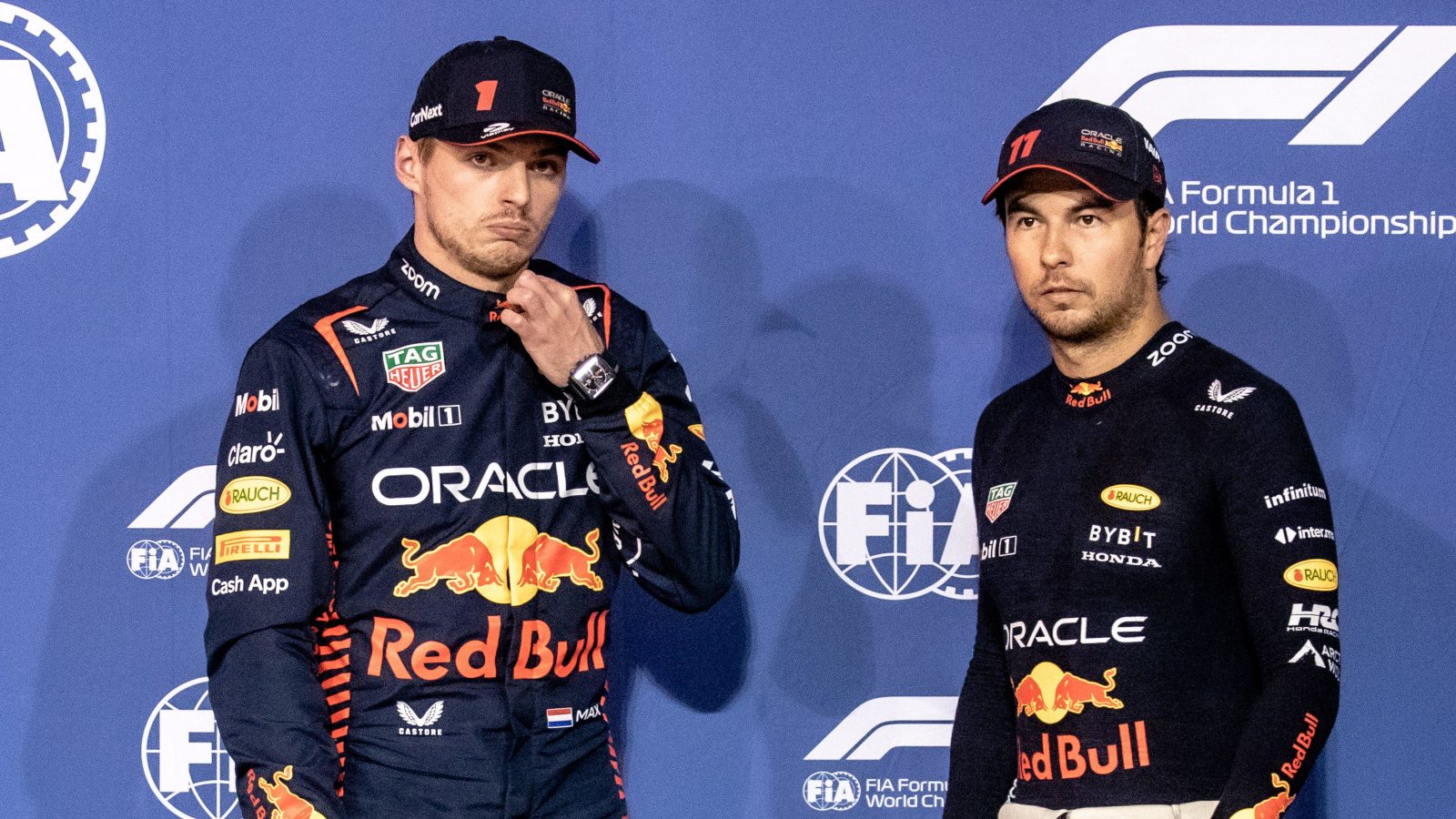 Christian Horner isn't worried about a feud breaking out between his Red Bull drivers, the team boss adamant they're aware the "rules of engagement are team first".
There was a bit of tension late in Sunday's Saudi Arabian Grand Prix as race leader Sergio Perez not only questioned the information his race engineer was giving him, but also his team-mate's actions.
Running five seconds ahead of Max Verstappen, who had recovered from 15th on the grid to second, Perez was told a target time of "33.0" by his race engineer Hugh Bird.
He asked "is Max doing the same" and was told his team-mate's last lap was a 1:32.6. Perez replied: "So why are you telling me 33.0?"
He was told to up his pace to match Verstappen's and, as he prepared for the penultimate lap of the grand prix, that he's "got the fastest lap".
But when all was said and done he didn't, Verstappen letting Red Bull know that he wanted that extra point and going for it on the very last lap with that point all that separates the reigning World Champion from Perez in the Drivers' standings.
With back-to-back 1-2s, Formula 1 is facing the prospect of an all-Red Bull fight for this year's World title.
Horner says he and his drivers are ready for it with everyone well aware that at the end of the day Red Bull's interests come first.
"We've got two very mature drivers," Horner said as per Motorsport.com. "They've worked well together previously.
"We went through the race together beforehand and also discussed the scenario in question as it eventually unfolded.
"About that we said 'Look, you're free to race, but the rules of engagement are team first and respect each other, respect the car you're driving, and we want to bring home maximum points'.
"And they've done that."
PlanetF1.com recommends
Damon Hill backs Sergio Perez to withstand Max Verstappen pressure at Red Bull
Are Red Bull cracks widening with Sergio Perez calling for a 'review' of communications?
Jos Verstappen: 'Sergio Perez knows he doesn't get chance to win that often'
As for Verstappen going for the fastest lap time at a time when both drivers had been told a target time, Horner said: "I think, inevitably, as Max said on the radio, the point for the fastest lap meant a great deal to him, and there was no reason for us not to let either he or Checo have a crack at it."
However, Sky Sports pundit David Croft reckons Horner may be deluding himself a little bit as to the harmony within his team.
"I am not sure everything is how Christian Horner would like it and how the team would like it for a smooth domination," he said.
"They are dominating Formula 1 on the track but they came very close to not having that one-two in Bahrain and had issues [in the race in Saudi Arabia].
"In the cooldown room after the race, there was still friction between the two drivers. Checo was not a happy man at being asked to do target lap times that were slower than his team-mate.
"Perez is in the last year of his contract and if there are no signs of another deal coming, what's in it for Sergio to help his team-mate in the way Red Bull would like? I think there are a few banana skins down the road.
"As for Max's dad, all is clearly now well in Jos Verstappen's mind when his son finishes and leads the world championship, yet he can barely break a smile!"
Two races into this season Verstappen is on 44 points with Perez one behind, Fernando Alonso is in third has 30 points.