Christian Horner: Every time we speak to Lando Norris he signs with McLaren the next day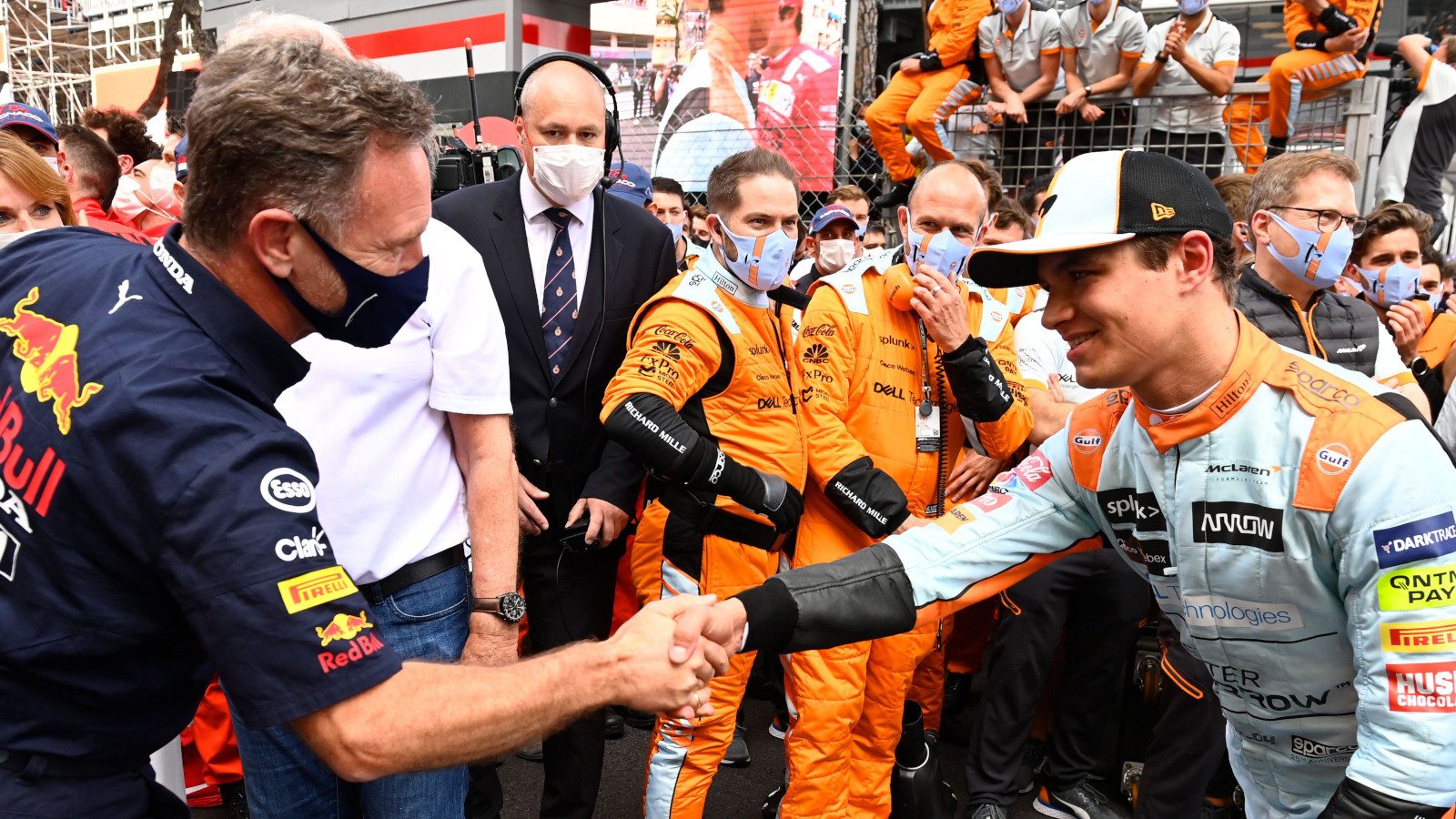 Lando Norris has clarified recent comments he made about speaking with Red Bull prior to re-signing with McLaren, saying they weren't "talking heavily".
Arriving on the grid with McLaren in 2019, Norris' first objective was to secure his future, the driver re-signing with the team through to 2022.
Emerging as one of the stars on the grid and billed as a potential World Champion, he shocked many in the paddock when, at the beginning of this year, he put pen to paper on a new long-term deal with the Woking team.
Pundits questioned his decision, especially as seats at top teams such as Mercedes and Red Bull would be opening in the not too distant future.
Norris was recently asked about that by Auto Motor und Sport and told the German publication there had "been talks with Red Bull".
But those talks, he's now clarified, were never serious and instead were more just a "chat".
"It's more just I was coming to the end of my contract, and it wasn't like we (Red Bull and I) were talking heavily," Norris said according to Sky Sports.
"I literally said, it was just, everyone always tries to speak to all teams at some point, so I spoke to them, I spoke to a few other people.
"A chat's a chat, it's not like, 'what we can do straight away?' Just keeping in touch, things like that, it's as simple as that sometimes.
"It was just coming to the end of the contract, you see what options are available, you just kind of find out what's possible, what might be possible over the next few years.
"It wasn't just Red Bull. Every driver has chats with a lot of the different teams on what could happen, and it's as simple as that basically."
Lando Norris has 'always been happy' with McLaren
Norris insists his talks with rival teams was never a case of him not being happy with McLaren.
Although the Briton would like to be in a position to fight for race wins and the World title, he insists he is "happy" at McLaren.
He's also big on the stability and security that his long-term McLaren deal gives him, Norris set to stick around until the end of 2025.
"I've always been happy with McLaren, as much as I could be happier, I've always been happy," he said.
"Before I've ever spoken to anyone else, my talks have always been with McLaren first, that's always how it goes.
"As much as sometimes you might like what could happen, the best thing for me is signing the contract that I have now, just having that confidence that you're going to be in F1, and the knowledge that you're going to be in F1 for three, four, five years.
"For me that's like the best feeling, just because it makes you more relaxed, more comfortable in the environment that you're in."
The Christian Horner effect
With six podiums to his name in a car that is a midfield runner, Norris has shown himself to be someone for rival teams to watch.
Horner's been doing just that.
His early 2022 talks were not the first time that he's sat down with Norris to speak about the future, but every time he does, the 22-year-old commits to McLaren the "next day".
"We've spoken with Lando a couple of times over the years," the Red Bull team boss said as per GPFans.
"But every time we've had a conversation, the next day he's signed a contract with McLaren."
Horner doesn't foresee speaking with Norris again any time soon with the Briton locked in for a further three years.
"He's on a long-term contract with McLaren," he continued, "and it looks like he's going to be there for a few more years."
Read more: Why Lando Norris could be tempted to look for the McLaren exit door