Horner on track limits and Hamilton's 'howler'
Red Bull principal Christian Horner was left frustrated by track limits in Portimao with both Max Verstappen and Sergio Perez affected.
Defining where the track ends and run-off starts is not new in Formula 1 as gravel and grass continues to vanish, but in 2021 track limits have been a constant subject for debate. And that did not change at the latest round in Portimao.
Verstappen set the fastest time of Q3, but it did not earn him pole after it was deleted for going beyond track limits. Then on the final lap of the Portuguese Grand Prix the Dutchman also saw that quickest time which he set binned for the same error, and with it a precious bonus point.
His Red Bull team-mate Sergio Perez also found himself in a moment of track limit controversy as Lando Norris appeared to go off the circuit to complete a pass, but there was no movement in the stewards room.
So for Horner the frustration is coming from what he believes to be a lack of consistency in how track limits are enforced, although he was pleased with the race result as Verstappen split the Mercedes in P2 behind Lewis Hamilton.
"Well we've managed to split the Mercedes," Horner told Sky F1.
"You can see it's very, very marginal. Marginal gains. I think we were better on the medium tyre and Mercedes looked a little stronger on the harder tyre today.
"It was frustrating not to get that point at the end [for fastest lap] but we'll definitely take that [P2 and P4].
"Track limits are a bone of contention and the consistency of their application. This Championship will come down to all the marginals."
Asked about Norris' pass on Perez, Horner replied: "He got overtaken with a car going over the track limits. That's what I'm saying…we get a document from the FIA, it changes one day to the next and the application of these [rulings] are frustrating. Sergio was super frustrated by that.
"Once he was clear of the McLaren, his race pace was really good. We kept him out late to get him onto that softer tyre towards the end to have a go at the fastest lap. He managed to get that but obviously Valtteri responded and then we responded again with Max."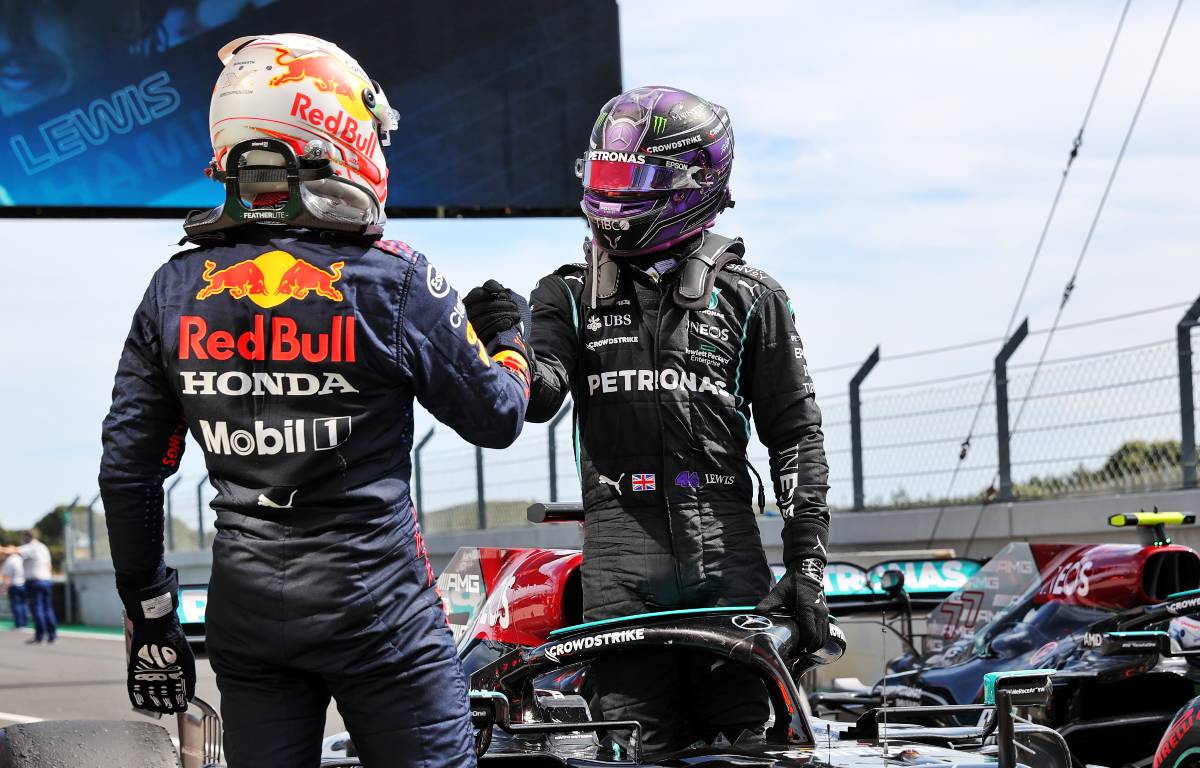 Check all the latest 2021 teamwear via the official Formula 1 store
In this title race of fine margins Imola saw a costly trip into the gravel for Hamilton which denied him a shot at leader Verstappen, and in Portimao it swung again as Verstappen missed out on pole and the fastest lap bonus point through his errors.
Horner made it clear though that it will be a "marathon and not a sprint", so he is focusing on the fact that Red Bull threatened Mercedes at a track which he believes favoured the German outfit.
He also made the point of bringing up Hamilton's "howler" at Imola and how the red flag caused by the George Russell/Valtteri Bottas collision saved him.
"It's still at the early stage and we saw Lewis make a howler of a mistake last race weekend and he got away with it with the red flag, so yeah these things are going to happen," Horner explained.
"But I think Max is driving the wheels off the car and it's super, super tight between them.
"It's race three and we're only eight points behind in the drivers? It's nothing. This Championship is going to be about being a marathon and not a sprint. We knew this track was going to favour Mercedes so to push them and split them the way we have is really encouraging. Next week will be another litmus test."
Follow us on Twitter @Planet_F1, like our Facebook page and join us on Instagram!