Christian Horner reveals 'heart in mouth moment' as Verstappen closed in on Perez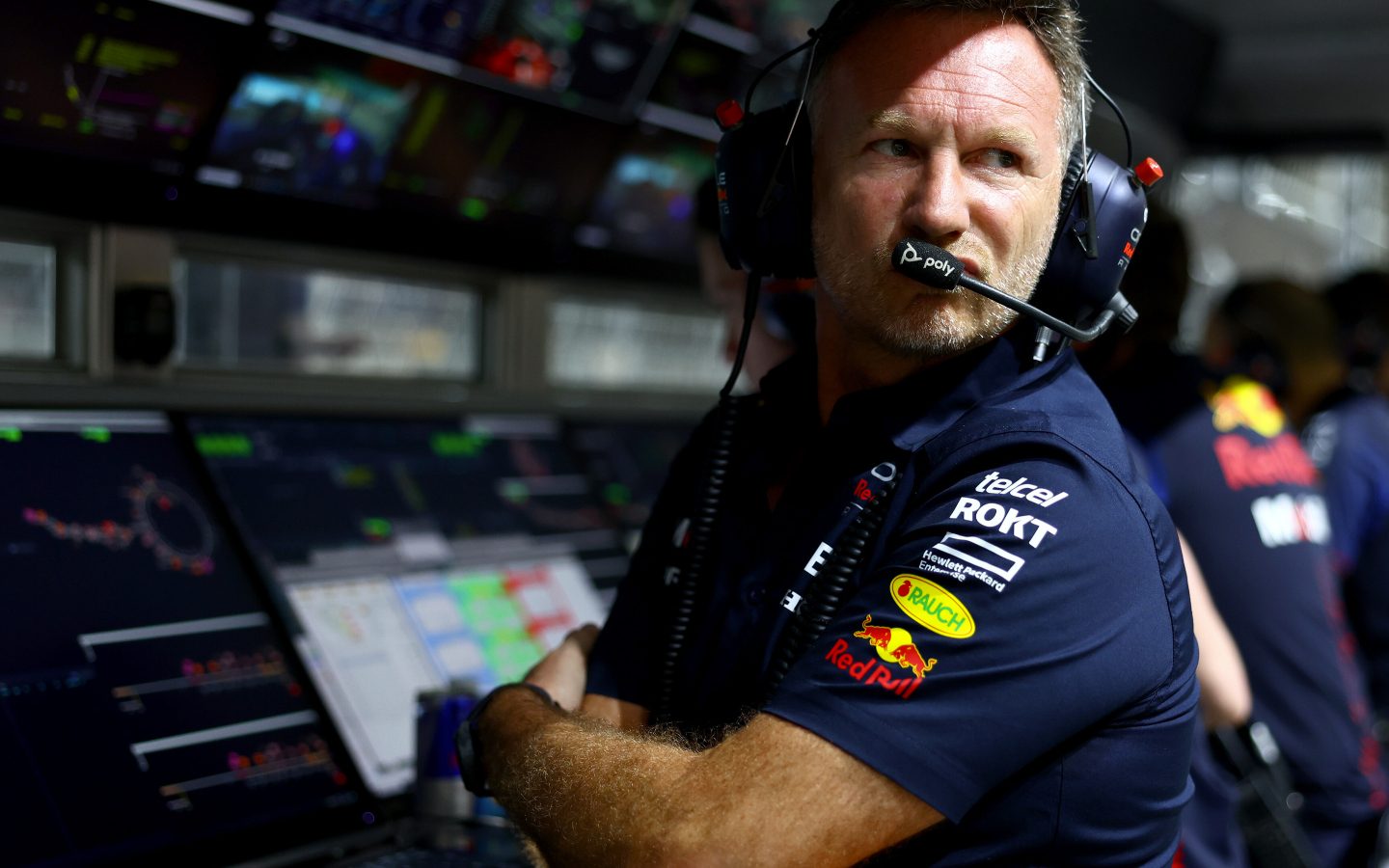 Red Bull's Christian Horner was expecting fireworks between his two drivers in the closing stages of the Saudi Arabian Grand Prix.
Red Bull secured a second consecutive 1-2 finish at the Saudi Arabian Grand Prix, with Sergio Perez taking his first win of 2023 to come home five seconds clear of Max Verstappen at the end of the 50-lap race.
While Perez won the race from pole position after an early fight with Aston Martin's Fernando Alonso, Verstappen's race was a much more difficult affair as the Dutch driver started from 15th on the grid due to a driveshaft failure in qualifying.
Verstappen had a patient first half of the race as he picked his way forward, but was handed a chance at the win when the Safety Car was deployed to cover the recovery of Lance Stroll's broken-down Aston Martin. While Verstappen quickly picked off George Russell and Fernando Alonso to climb up to second, the five-second gap Perez had built up remained insurmountable for Verstappen until the chequered flag.
Christian Horner: 'Checo's pace today was fantastic'
Speaking about the fact his drivers were pushing in what seemed a hotly-contested battle for the win, Christian Horner said he was feeling very nervous about how the closing stages might have played out had Verstappen caught up.
"Max is a racer. He's going to push," he told Sky F1.
"Coming from 15th on the grid to second at a street circuit, that's pretty unusual. But I mean, Sergio stepped up to the challenge after that Safety Car. Obviously, my heart was in my mouth at that point, because I was envisaging, within three laps, having two drivers going out it hammer and tongs, but it didn't materialise.
"Checo got the gap and was able to manage it and his pace today was fantastic."
PlanetF1.com recommends
Fernando Alonso stripped of 100th career podium after 10-second penalty demotes him to P4
Saudi Arabia GP: Sergio Perez wins race but Max Verstappen keeps championship lead
F1 fastest lap: Which drivers have won the most fastest lap points in F1 2023?
In the final laps, Perez could be heard querying his race engineer about the lap times Verstappen was putting in, and whether the team wanted them to slow the pace and secure the 1-2 in his favour – the answer given to Perez was to keep up the push.
"I don't think he wanted that answer!" Horner admitted.
"But, we've got a great car and two great drivers. We talked about it in the briefing earlier today that they were free to race, but… keep it clean. Both of them are so competitive. Today, Checo… I think that was his best Grand Prix, particularly after the restart on the hard tyres as he immediately built a five-second gap and then maintained and managed that."
Christian Horner explains late-race issue for Max Verstappen
With Verstappen reporting a suspected issue on his RB19 in the closing laps, Horner explained that the issue had caused a brief cessation in the battle as it was investigated.
"Those guys were going absolutely flat out until we thought we had an issue with Max," he said.
"Then we looked at all the data, checked the data, it was fine and then they were flat-out hard at it again.
"They were both pushing hard and, obviously, Max got the fastest lap at the end. What a weekend for him. [It was] no fault of his own yesterday with the drive shaft. He was patient at the start, picked the cars off, and then progressed through the field, so it was a phenomenal recovery for him."