Christian Horner recalls 'heated exchange' with Toto Wolff at British GP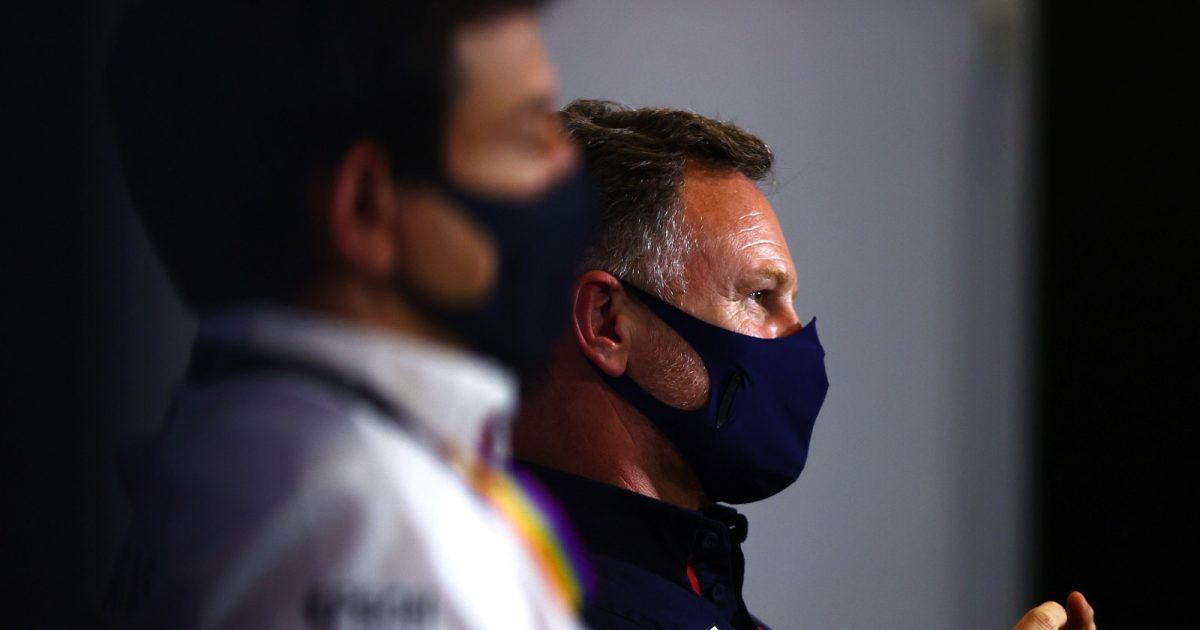 Christian Horner has explained how far his rivalry with Toto Wolff stretched last season, which included a "heated exchange" in Race Control at Silverstone in the aftermath of Lewis Hamilton and Max Verstappen's first-lap crash.
The Red Bull team principal said the origin of his and his Mercedes counterpart's tension came as a result of FIA radio messages being broadcast in public for the first time, having taken issue with his personal lobbying of then-race director Michael Masi during last year's Spanish Grand Prix.
The war of words between the two continued throughout the season as the tight title battle between their two teams intensified until the final lap in Abu Dhabi, in the controversial end to the year that saw Max Verstappen crowned World Champion for the first time.
Having had his concerns in Spain to start with, the two title challengers coming together in Britain was the moment where he and Wolff butted heads in Race Control, as they looked to make their case after the high-speed incident at Copse.
Wolff's anger in Abu Dhabi was clear when the Safety Car was pulled in for the final lap, with his radio message being broadcast to the world as the last-lap showdown was set up.
Horner believes stopping the public transmission of these messages is the correct thing to do, but the arguments between him and the Mercedes team boss escalated at times last season.
He explained on the Beyond the Grid podcast: "It started with Toto for the first time because the messages started to get broadcast, which I was probably guilty of, because I was pushing for that within the Formula 1 strategy meetings and commission meetings to say that 'there's an awful lot of intercom that goes on, that I think the spectators should be aware of' – and that's mainly between the team managers and the referee.
"The result of that is that hopefully, we may get less of it. But I think it would be [a] fascinating exchange, because the team manager is only going to call up the race director, if they feel they've got something really strong to argue they're not going to bitch about something that's fairly trivial. And it was in Barcelona that suddenly, I hear they broadcast Toto on the phone to Mikey, I thought, 'that's a bit strange'.
"I never had a one-to-one channel, it had always been sent through our team manager. And then it really permeated at Silverstone where, suddenly, there was an awful lot of dialogue suddenly from Toto to Michael, and then he's sending him an email, and then he's coming up.
"And I thought, 'right, okay, I'm not having that, I'm going up.'
"Because I felt it was incredibly one-sided that a team principal should not be able to lobby and influence the race director and, with hindsight, Toto and I had a fairly heated exchange in Race Control at that event, where Toto was obviously arguing his corner that his driver shouldn't be penalised, and I've got a driver in hospital and a car taken out of the race, [which I] was obviously feeling pretty aggrieved by.
"Really, after that race, I think we should have said, 'right, you know what, there should only be one communication between the race director and team managers.'
"But, of course, at that point the competitiveness [had] become so driven that it's only natural, you're going to do the best that you can for your team.
"So of course, you're going to argue as strongly for your team as you as you possibly can. And I guess that came to no greater head [than] in Abu Dhabi, where Toto at several points during the race was trying to not get a Safety Car.
"Then he was trying to steer the course of the race, and I guess as soon as you hear that, because I get that transmission, my immediate reaction is defence.
"I want to make sure my best form of defence is attack to say I want to represent our position in this so that it's not one sided, because the worst thing is the last person in somebody's ear has the greatest influence – and so I think it's right that that has stopped."
He was then questioned about the authenticity of his and Wolff's rivalry, given the attention that was paid to the dynamic between the pair in the media and the narrative which became a sub-plot of every race weekend.
But Horner thinks multiple factors went into the intensity between the two, not least when Red Bull's new engine division was being founded and they poached a collection of Mercedes staff members – which only added to the needle last year.
"I think that we're in such a competitive sport, such a competitive business, and there was a huge amount going on on-track," he said.
"And there was a lot going off track as we were establishing Red Bull Powertrains and I think that Toto, I think, has always seen Red Bull as a as a threat, because it's a team that he's not ever managed to have a control or an input into, and so we've always been a bit of a maverick.
"So it was very intense and because there was a lot going on off track whilst recruitment was going on of key people from within Mercedes to come across and join Red Bull Powertrains.
"Then there was an awful lot of lobbying with the FIA on different car components and using the drivers' voices to do that, whether it was rear wings on our car in Barcelona, and yet, front wings were allowed to flex with no issue.
"And it felt like we were being played a bit and there was a bit of a media circus as well. that was being utilised.
"And so there was a narrative being created against Red Bull that I certainly felt was a bit unfair. Well, certainly against Max, that was very unfair."
Read more: Mercedes 'are going to do a Red Bull copy next year, and then they'll be back'