Horner renews call for FIA action against Mercedes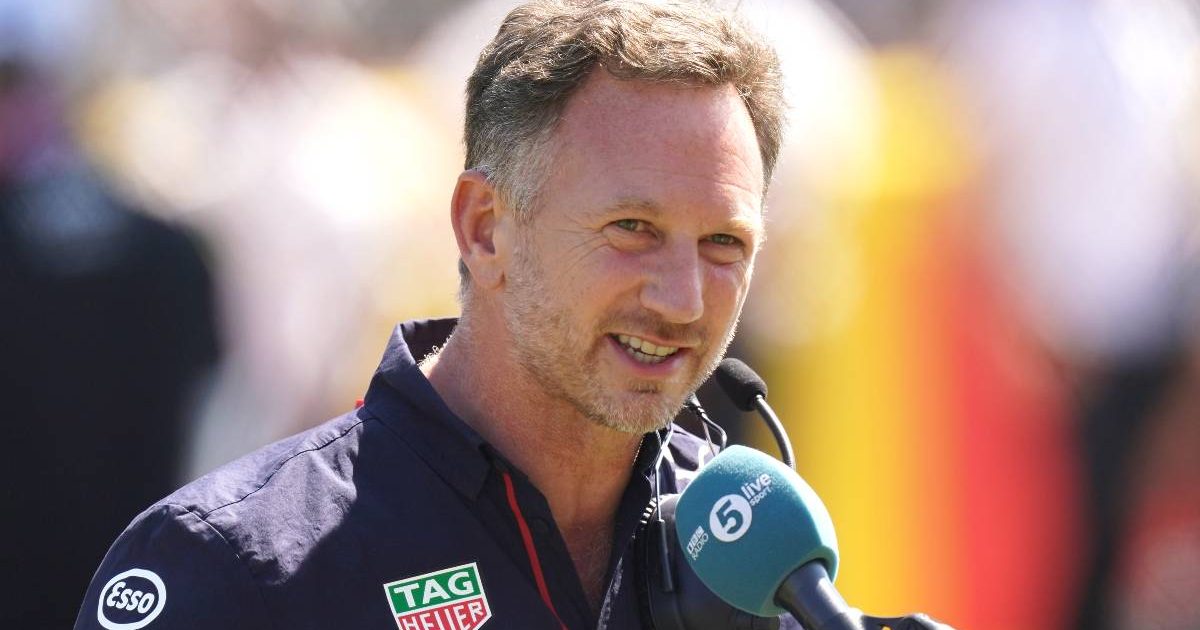 Christian Horner made another call for FIA action against Mercedes after a "brutal" Hungarian Grand Prix for his Red Bull team.
After a disastrous Sunday at Silverstone a fortnight earlier, when they failed to score a point, Red Bull added only one to their tally at the Hungaroring as they lost the lead in both the Drivers' and Constructors' World Championships.
It came via Max Verstappen's 10th-place finish after the Dutchman and his team-mate, Sergio Perez, were innocent victims of a Turn 1 melee caused by Mercedes rival Valtteri Bottas on a greasy track dampened by a rain shower.
Perez joined Bottas in exiting the race, while Verstappen was able to continue after the red-flag stoppage but was nowhere near full competitiveness due to the damage his RB16B had sustained.
Lewis Hamilton finished third behind shock winner Esteban Ocon and the provisionally reinstated Sebastian Vettel, to move six points ahead in the Drivers' standings.
After Verstappen had collided with Hamilton at Silverstone, the latter incurring what was ultimately an academic 10-second penalty, Red Bull tried and failed to convince the FIA to impose a greater punishment that would have consequences.
Now, with Verstappen's engine having had to be replaced for the Budapest race because it was damaged and Perez's also looking irreparable after the incident with Bottas, Horner has again urged motorsport's governing body to consider sanctions against Mercedes.
"The cost of the damage, it looks like an engine on Sergio's car, and for Max…the mechanics worked wonders to get that car even running," the Red Bull team principal told Sky F1.
"Max has run with half a car – the entire right-hand side of the barge board was missing. That's brutal for us, but I think the team did well to get the car back out there. Max fought for that one point and that could prove vital at the end of the year."
Just before his interview, there was a brief exchange between Horner and his Mercedes adversary Toto Wolff.
Nico Rosberg just said on Sky F1 Germany that Toto Wolff went to see Christian Horner to say sorry, but Horner did not accept the apology. #F1 #HungarianGP

— Tobi Grüner 🏁 (@tgruener) August 1, 2021
Red Bull merchandise is available to purchase now via the official Formula 1 store
Asked if Wolff had apologised, Horner said: "Is he going to pay the bill? It's racing.
"Toto wasn't driving the car, his driver was driving the car. I'm sure he didn't tell them 'crash into Red Bull'. I'm sure he wasn't that sorry to see the result, but I'm sure he didn't tell Valtteri to do that.
"But the consequence for us is brutal and in a cost-cap environment that needs looking at by the FIA."
Horner acknowledged that from being in a position of strength heading into the British Grand Prix, Red Bull's fortunes have completely turned around – but hopes there will be another transformation after the summer break.
"Look at the first half of this year. We've had six grand prix victories, the races we've lost were with a tyre explosion, we were taken out at Silverstone and this race this weekend," said Horner, omitting any reference to Hamilton's wins in Bahrain, Portugal and Spain.
"I think we've got a lot to be positive about and the whole team is fully motivated. We'll take a couple of weeks out, get recharged and come out fighting for the second half of this championship. It's all to play for.
"There's only a difference between a first and second [place] between the two guys. I think it will be epic, the second half of this year, and we're not giving up anything."