Horner hoping for an apology from Hamilton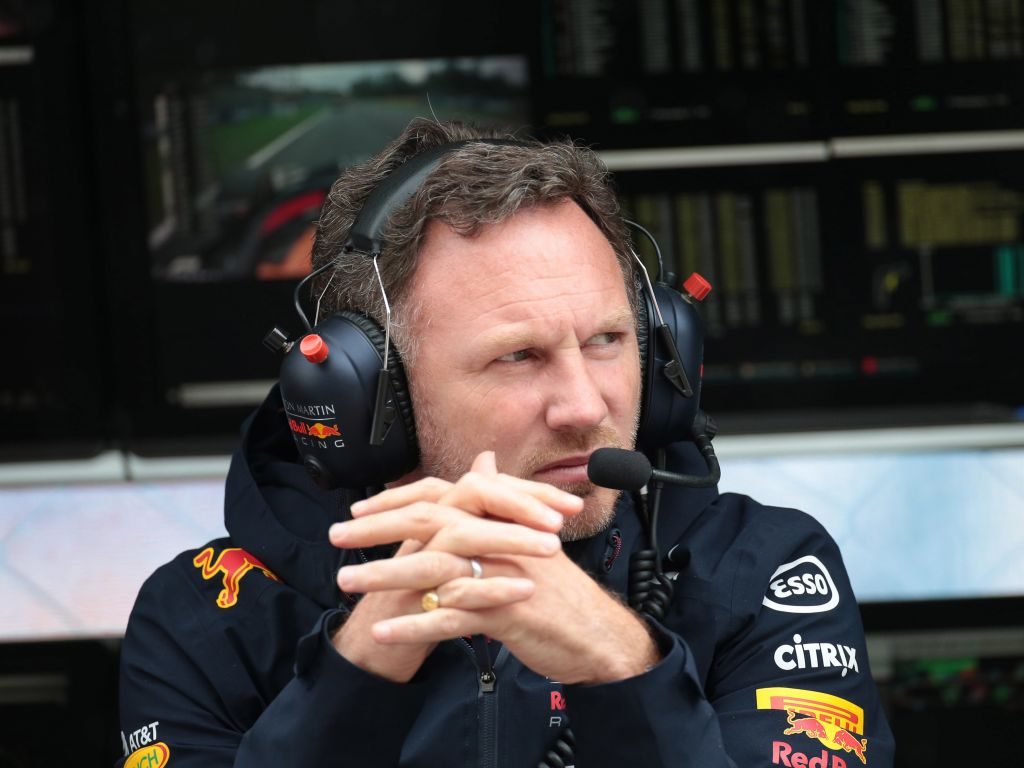 Red Bull principal Christian Horner is expecting Lewis Hamilton to apologise for again making contact with Alex Albon when he was in podium contention.
The Safety Car had returned to the pits following Kimi Raikkonen's retirement, and Albon went about taking P2 away from Hamilton.
Both Mercedes were struggling with gearbox sensor issues and were told to stay off the kerbs.
And, using DRS, Albon had a run on Hamilton down into Turn 4, shades of the classic Brazilian Grand Prix of last year.
Based on Hamilton's reaction, he's not at fault for the incident with Albon. #F1 | #AustrianGP pic.twitter.com/rNdZnXsvY4

— JJ (@TomcatNASCAR_2) July 5, 2020
 Get your hands on the official Red Bull 2020 collection via the Formula 1 store
But just like what happened at Interlagos back in November, Hamilton and Albon collided with the Red Bull man sent into the gravel and to the back of the pack, once again ending his hopes of a first podium finish.
Hamilton was given a five-second penalty, meaning he dropped from P2 to P4, whilst Albon would retire from the race shortly before the end.
After their first coming together back in Brazil Hamilton apologised for the incident, and Horner is hoping for another one.
"It's been one of those days, this sport can be pretty brutal sometimes and it feels like today has been one of those days," he told Sky F1.
"Alex drove a good race, he didn't deserve that, five seconds [penalty] doesn't do anything for him.
"He could have won that race, strategically we had made the right call to have gone on to the soft tyres, he was in a strong position.
"Twice in three races, you'd start to think he's got something in for him.
"There was a very similar incident the other way around where Alex squeezed him but gave him enough room at the start of the race.
"You can say that [you need to be patient], but he got the job done, the pass was made, it wasn't like he was on the entry or whatever, so what overtake is safe at the end of the day?
"I doubt Lewis was every going to wave him past, so we had to use that grip advantage [of the soft tyres] and the grip is in the corners.
"So he has done that. It was just a misjudgement by Lewis at the end of the day, it would be good if he apologised for it."
Horner said the problem which caused Albon to retire late on was a "totally different" issue to the one which had earlier handed team-mate Max Verstappen a DNF.
"No, it looks something totally different, it looks like something on the power unit side with Alex," he said.
"But we don't know whether that's a result of the knock that he's had in the trip through the gravel, so we need to get the car back.
"We turned the engine off as a precaution."
Asked for any positives from the weekend, Horner replied: "That it's over.
"Coming out with zero points having been in a position to challenge for a victory with Max early on, again we got the tyre call right there and he would have had a really competitive afternoon.
"And for Alex to come away with zero points, in what is going to be a shortened season, feels pretty brutal.
"The positives are we were able to put together a competitive race, but we have some pace to find before next weekend, some work to do, and we will come back in a weeks' time to try and do a bit better."
Hamilton has since said that he thought the crash was a "racing incident".
Follow us on Twitter @Planet_F1 and like our Facebook page.