Christian Horner: Max Verstappen would not have won from so far down with 2021 car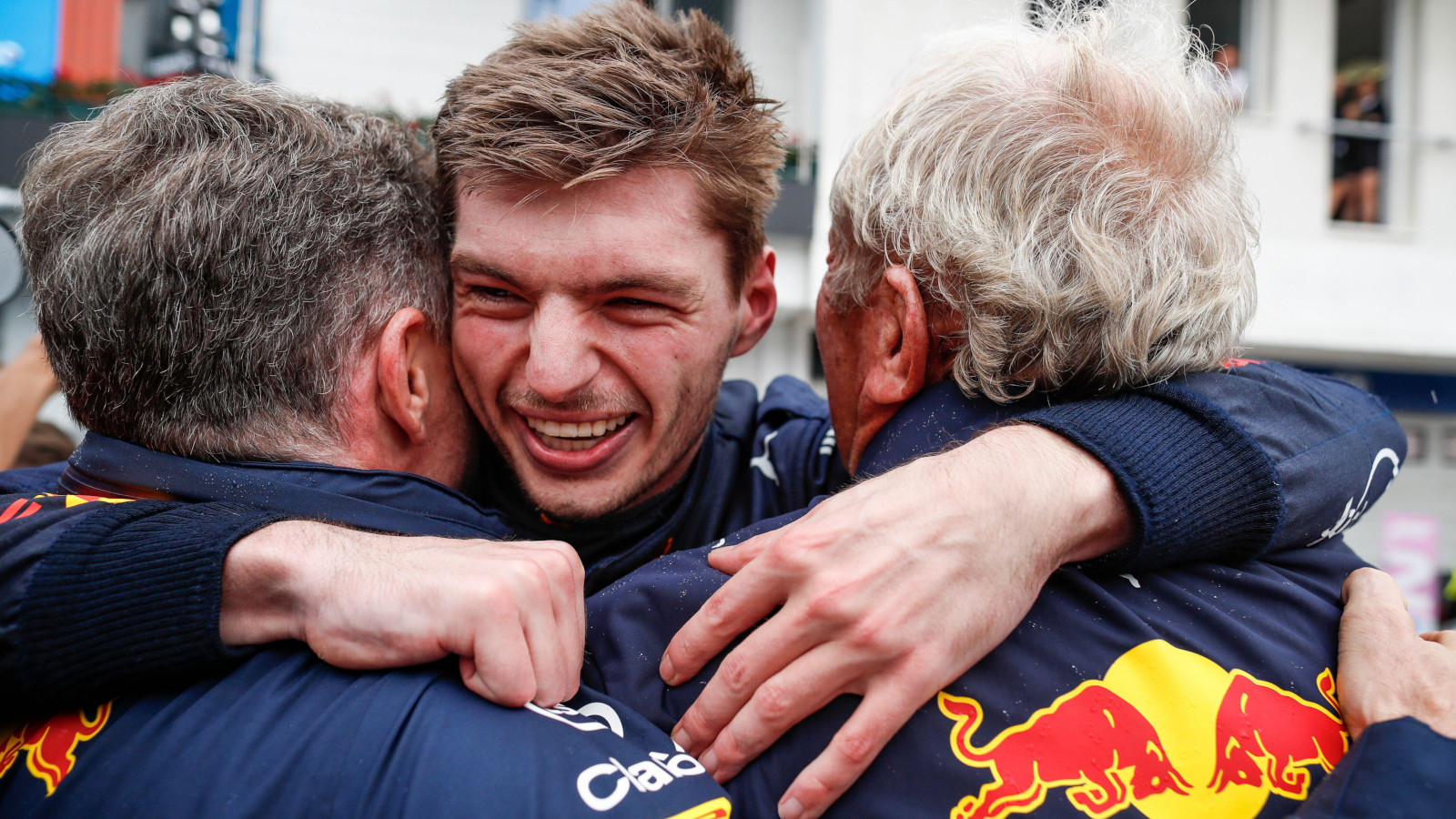 Christian Horner is of the opinion that Max Verstappen's life has been made easier by the new regulations on the occasions he has needed to fight his way up through the grid.
The Dutchman is closing in fast on a second World Championship title, sitting pretty at the top of the standings with a very comfortable 116-point gap to nearest rival to Charles Leclerc.
Along the way, most notably at Hungary and Spa, Verstappen kept his current winning streak alive after starting from P10 and P14 respectively, and did so with ease.
A combination of Verstappen's supreme ability, Red Bull's majestic RB18 machine and Ferrari's self-inflicted problems have all played a major part in this year's 'title race', but Horner thinks the new aerodynamic regulations introduced this season have helped when needed as well.
Asked on the latest episode of the Beyond the Grid podcast whether Verstappen could have carved his way through field as easily in 2021, Horner replied: "No, I don't think so.
"I think the cars were so hard to follow [last year]. The wake from the car was so interrupting to the car that was following that it was it was very difficult.
"But then again, the racing we had in 2021, particularly between Max and Lewis [Hamilton], it was just on another dimension, I mean that those two guys were going at it every weekend hammer and tong and it was two titans at the top of their game.
"It was fantastic to be part of."
Horner also deemed the new aerodynamic regulations for F1 2022 and beyond a big success, warning Formula 1 and the FIA not to start tweaking them so, in time, the entire F1 field can bunch up ever closer together – hopefully providing everyone with title battles more memorable than this year's effort.
"When you introduce such radical regulation changes, somebody's going get it right, someone's gonna get it wrong, he summarised.
"Over a period of time, the field will converge and the most important thing is not to mess with those regulations to allow that convergence to happen.
"But I think what the one thing that the regulations have done is that they have improved the racing that the cars are able to follow closer. And we've seen that at so many events this year, where the racing has been fantastic.
"Thinking back to those early races in Bahrain and Saudi between Max and Charles [Leclerc] has been some phenomenal racing.
"And for Max, we've won races like he did in Budapest from 10th on the grid or Spa from 14th on the grid just demonstrates that these cars can overtake, they can follow closely.
"I think that's been a big step in the right direction."
The new regulations do not detract anything away from Max Verstappen's ability
The anti-Max Verstappen camp will no doubt take Christian Horner's comments as more 'evidence' that the Dutchman has had to do very little in his Red Bull rocket ship to clinch a second World Championship title.
However, while the new regulations have made it easier for cars to follow each other, they should not be viewed purely in isolation to Verstappen. The changes don't just help him, they help everyone.
The return to a ground-effect philosophy this season has helped set a foundation for what will hopefully be some memorable F1 seasons in the not-too-distant future as drivers and teams alike continue to get a better understanding of the regulations and right the initial wrongs in the car design processes that occurred ahead of this major shake-up.
The Red Bull boss is right to warn the higher ups not to start messing with the regulations too much as each season passes, but it would still be great to see the power of DRS weaken further to help promote more natural racing between drivers on track.
Read more: 'Mercedes will do a Red Bull copy next year and they'll be back'