Horner wary of Mercedes' 'mighty' straight-line speed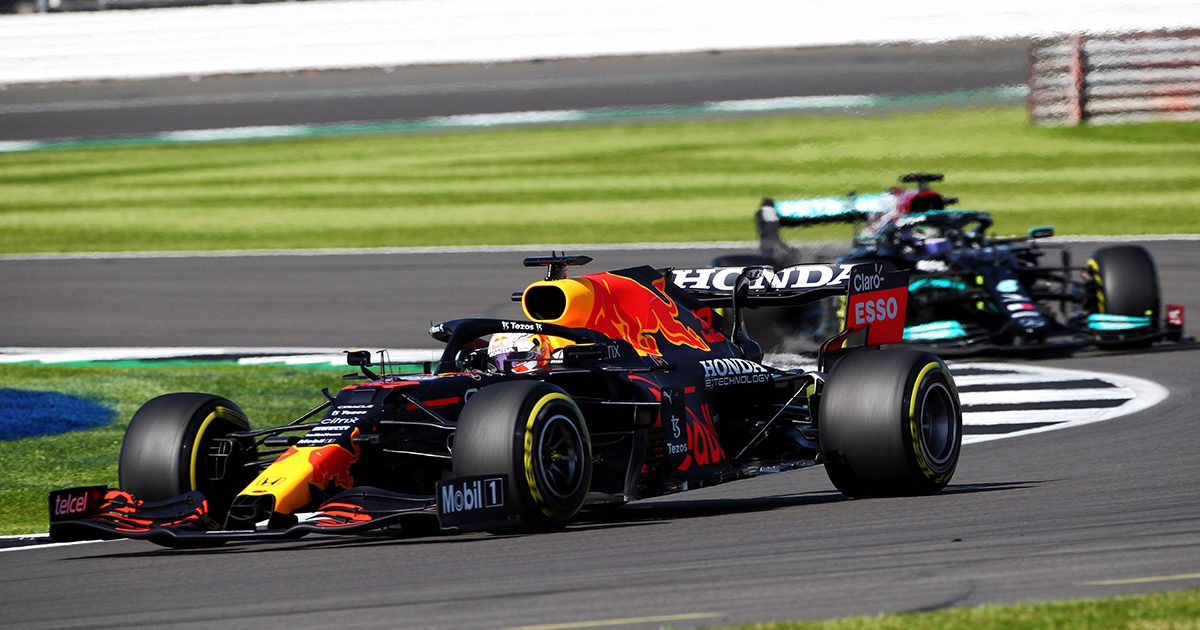 Red Bull boss Christian Horner celebrated a perfectly managed sprint race from Max Verstappen as he secured pole at Silverstone – but is wary of the Mercedes threat.
The first ever edition of sprint qualifying is now in the history books, and it will show Verstappen and Red Bull as the winner.
For the third time this season Verstappen took the lead from title rival Lewis Hamilton into Turn 1, defending an early retaliation from the Briton before going on to take a comfortable victory over 17 laps.
And with that win Verstappen put himself on pole for the British Grand Prix, ending Mercedes' streak of Saturday dominance at Silverstone.
"We got our first pole [here] I think in ten years," Horner told Sky F1.
"It's achieving pole position in a different way, obviously in that sprint race, but it's the first time that we, or anything other than a Mercedes in the last nine years, will be starting from pole tomorrow.
"Max managed the race incredibly well, the start was crucial for us."
LAP 7/17

A big spin from Sergio Perez – no real damage done apart from dropping him down to P18 👀#BritishGP 🇬🇧 #F1Sprint pic.twitter.com/oEqmYDBgX7

— Formula 1 (@F1) July 17, 2021
You can follow all the action from the brand-new sprint race weekend via F1 TV Pro! Subscribe here for the ultimate F1 viewing experience.
F1 TV Access, meanwhile, is available in over 30 territories and the full list of eligible countries can be found here.
Sadly it was not all positives for Red Bull though, with Perez suffering a costly spin which sent him tumbling down the order.
Perez would keep his Red Bull out of the barriers after losing the rear end, but with the vibrations from his flat-spotted tyres so severe, Red Bull were forced to retire his car to ensure that it is fit to race tomorrow with parc ferme conditions active.
Perez is now set to start the British Grand Prix from the pit lane.
"It's just a shame that we haven't got Checo up there as well after that high-speed spin, but thankfully the car and driver are okay," said Horner.
"He has just lost the rear of the car, there was no major issue, but it put a huge flat spot [on the tyres], thankfully we didn't hit anything.
"And then the level of vibrations were so high, that's why we retired the car, that then enables us to check it all over fully in time for tomorrow."
Although F1 bosses did not want sprint qualifying to take on the feel of a full blown race, that is exactly what it became with battles for position throughout the pack.
And what it did was allow Red Bull to spot Mercedes' "strengths and weaknesses", with Horner concluding that the Black Arrows are faster in a straight line, while his team carry more pace through the corners.
"We knew that Mercedes in particular were particularly strong in that first sector, so staying ahead down the first main straight was going to be incredibly important to us," he explained.
"You get to see strengths and weaknesses, you can see there was very little between the cars in terms of tyre wear, I think we were probably slightly better off than Lewis.
"We're quicker in the corners, they're quicker down the straights, it's just a different way of achieving the lap time but they are mighty in a straight line, you can see that also with the wing level they are running."
Hamilton had no answer for Verstappen as the Dutchman romped to pole, but Horner does not feel that this session was a preview of what will unfold on Sunday, citing the completely different demand on the tyres once the cars get fully fueled up.
"I don't think so, they have started with a much lower fuel load, so putting more energy into the tyres as well," he said when asked if sprint qualifying represents what will happen in the race.
"They will be starting fat and heavy tomorrow, and then the tyre actually gets a bit of an easier workout in the corners to begin the race.
"So it's going to be interesting, it's going to be even hotter tomorrow, and we will see what effect that has on things, but fantastic to be starting from pole position, great to get that first ever victory, and I think great for the fans to see a different format of racing."
Follow us on Twitter @Planet_F1, like our Facebook page and join us on Instagram!