Christian Horner quizzed on Max Verstappen's team order refusal at Sao Paulo GP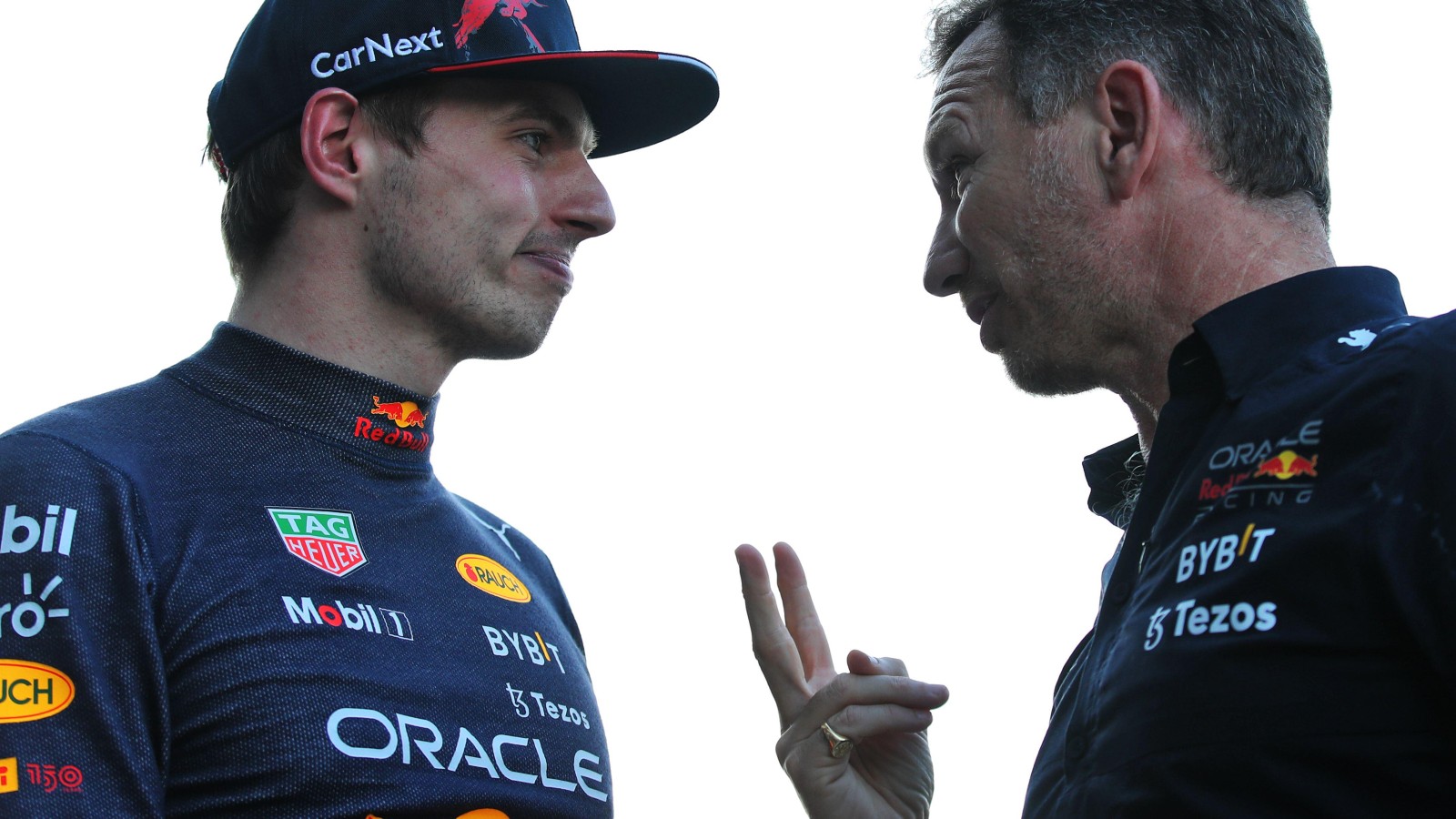 Max Verstappen refused to yield to Sergio Perez in Brazil and said Red Bull knew his reasons, though Christian Horner was tight-lipped.
Verstappen's second World Championship and Red Bull's Constructors' title are wrapped up, with the focus now on ensuring that Perez finishes P2 in the standings ahead of Ferrari's Charles Leclerc.
Perez was told to yield to Verstappen in Brazil after a late Safety Car restart, Red Bull planning to unleash Verstappen to attack Leclerc, Perez having begun to lose positions on his medium compound tyres.
Red Bull told Perez that if Verstappen did not pass Leclerc, then they would revert the positions. This is where everything got a little tricky.
Both drivers crossed the line with Verstappen still ahead of Perez, Verstappen initially silent with his team before telling Red Bull that he has already told them why he would not give a position to Perez.
Sky Sports F1 attempted to get some answers from Red Bull principal Horner.
"We discuss these things internally, I'm not going to go into what we discuss behind closed doors," Horner affirmed.
He did though state that both of his drivers had shook hands and moved on, with attention now switching to the season-ending Abu Dhabi Grand Prix.
Perez now goes into that race tied on points with Leclerc, Horner making it clear that Verstappen will play his part there in helping Perez should he need to.
"The drivers have obviously spoken about it as well," Horner continued. "They're very, very clear.
"And for us, Checo is now tied on points with Charles, Ferrari didn't switch their cars round. Now we go into Abu Dhabi as a team to do the very best that we can for Checo to achieve that second place and Max will fully support that.
"The drivers have discussed it, they've shaken hands and we're absolutely focused on that next race. We work as a team, we race as a team and our objective and priority is to see if we can get Checo to finish runner-up in the championship.
"It's something we've never achieved as a team before, and Max has given his commitment as well. We'll be doing the best we can in Abu Dhabi to achieve that. So it's a straight fight between Checo and Charles and if Max can help in any way, he will do.
"Checo has done a phenomenal job all year and he deserves that second place. And I think that as a team, we will do our very best to support that to achieve that in Abu Dhabi."
Read next: Max Verstappen tells Red Bull 'don't ask that again' after rejecting team orders