Horner is adamant Mercedes' reign will end
All cycles come to an end in Formula 1, and Red Bull boss Christian Horner says it will be no different for Mercedes.
A run of seven Drivers' and Constructors' title doubles puts Mercedes atop the Formula 1 mountain for dominant streaks. No other team has pulled off seven in a row across both championships.
But all good things come to an end as they say, something Red Bull know all about after Mercedes ended their stint at the front.
Between 2010-2013 Red Bull won the four Drivers' and four Constructors' titles on offer, before Mercedes took over in 2014 to start their dominant spell which rolls on to this day.
However, the 2021 season has seen Red Bull re-emerge as a title threat and, after victory for Max Verstappen at the Monaco Grand Prix, the Dutchman became leader of the Drivers' Championship for the first time in his career.
P4 for Sergio Perez meant that Red Bull also took over P1 in the Constructors' Championship.
Could the end finally be here for Mercedes' stranglehold on Formula 1? Well, Horner assured that they can not win forever.
"All cycles come to an end. Mercedes won't win forever. That is the only thing we can be sure of," he said, as quoted by the Daily Mail.
"I can't guarantee they won't win this race but they won't always win it."
Mind games have been a huge part of this title scrap so far between Mercedes and Red Bull.
Off the track Mercedes boss Toto Wolff and Horner have reguarly been trading shots, with Wolff often trying to push the favourites narrative onto Red Bull through the media.
But while Verstappen is "driving the wheels off" the RB16B, Horner stated that the talk of them having the faster car is "bulls**t".
"Max is driving the wheels off the car. There is all this bulls**t about Red Bull are favourites this season," said Horner.
"Mercedes are seven-times champions consecutively. Last year their car was dominant, this year's car is a carry-over from that; yes the regulations affected them a bit, but you can see they still have a quicker car than us.
"Max is doing an amazing job to extract as much from it as he is. He is the only one keeping Lewis honest. He just gets in and gives it 100 per cent. He is a bit Mansell-esque in that respect. He's an attacking driver and doesn't know any different. That's what makes him so exciting.
"He has passed Lewis four times this season, including when he had to hand the place back in Bahrain. He's not afraid to do that. I don't see anyone else who could."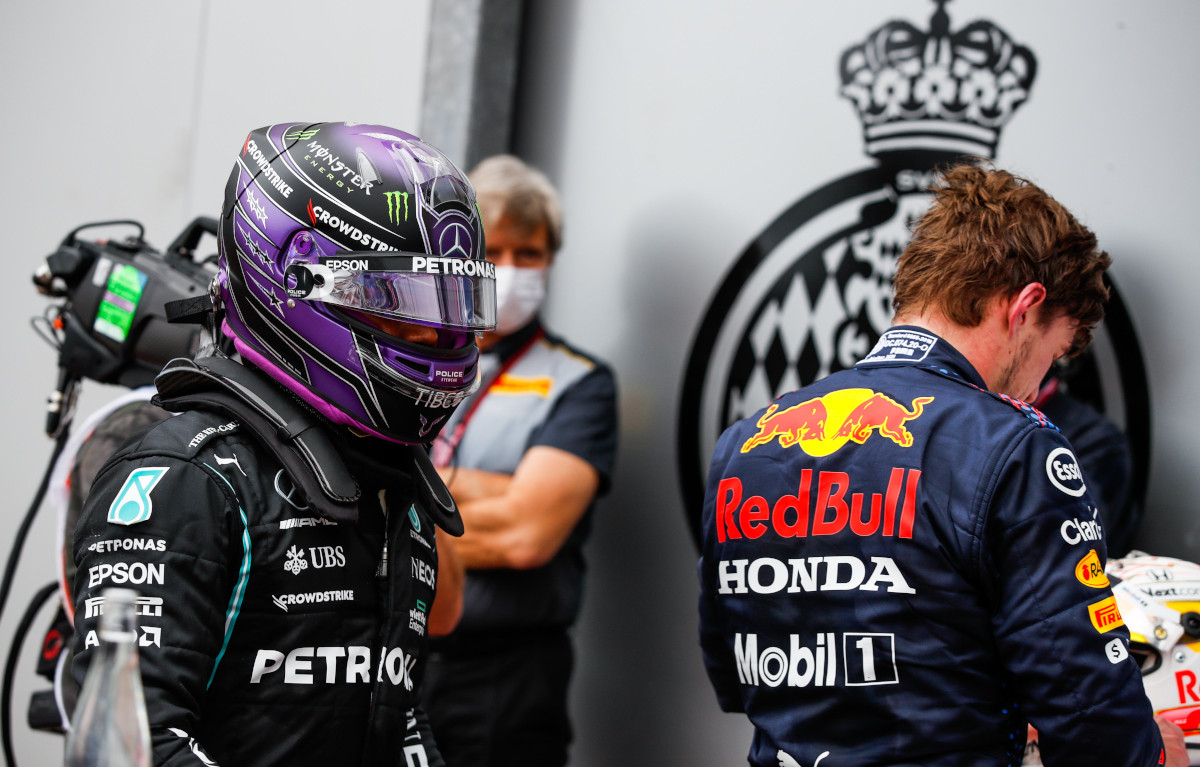 Red Bull merchandise is available to purchase now via the official Formula 1 store
Horner actually still remembers comments passed by Hamilton years ago, who believed that a drinks company like Red Bull had little chance of becoming a force in Formula 1.
"Red Bull, as a certain famous British driver once said, is just an energy drink. And they can't compete with McLaren and Ferrari. I think we have demonstrated we absolutely can," Horner affirmed.
"We're taking control of our own destiny. The only other team that has their chassis and engine departments under the same roof is Ferrari. Mercedes are split between Brackley and Brixworth and have different shareholdings now. It's a long-term strategic advantage for Red Bull."
Red Bull's return to the top has been very timely indeed considering the constant speculation surrounding Verstappen.
The Dutchman does reportedly have a performance-related exit clause, and Red Bull have not tried to hide the fact that keeping him would have been a struggle without a strong 2021.
Over at Mercedes though both Hamilton and Valtteri Bottas are out of contract at the end of the season, meaning the long-standing speculation persists that Mercedes could look to poach Red Bull's star driver.
But for all that talk, Horner believes Wolff needs to look closer to home and figure out how to manage his own driver situation.
The Austrian manages both Bottas and George Russell, and it seems he will have to deny one of them the Mercedes seat they desire for 2022.
"We have a contract with Max. It will be interesting to see what Toto does with his second seat," said Horner.
"He's a little bit conflicted because he manages both drivers [Bottas and Russell] as well as employs them. Who is he actually negotiating with?
"When George jumped in the car in Bahrain and drove as well as he did, it was the best and worst thing he could have done."
Follow us on Twitter @Planet_F1, like our Facebook page and join us on Instagram!