Horner explains Mercedes W12 'score mark' image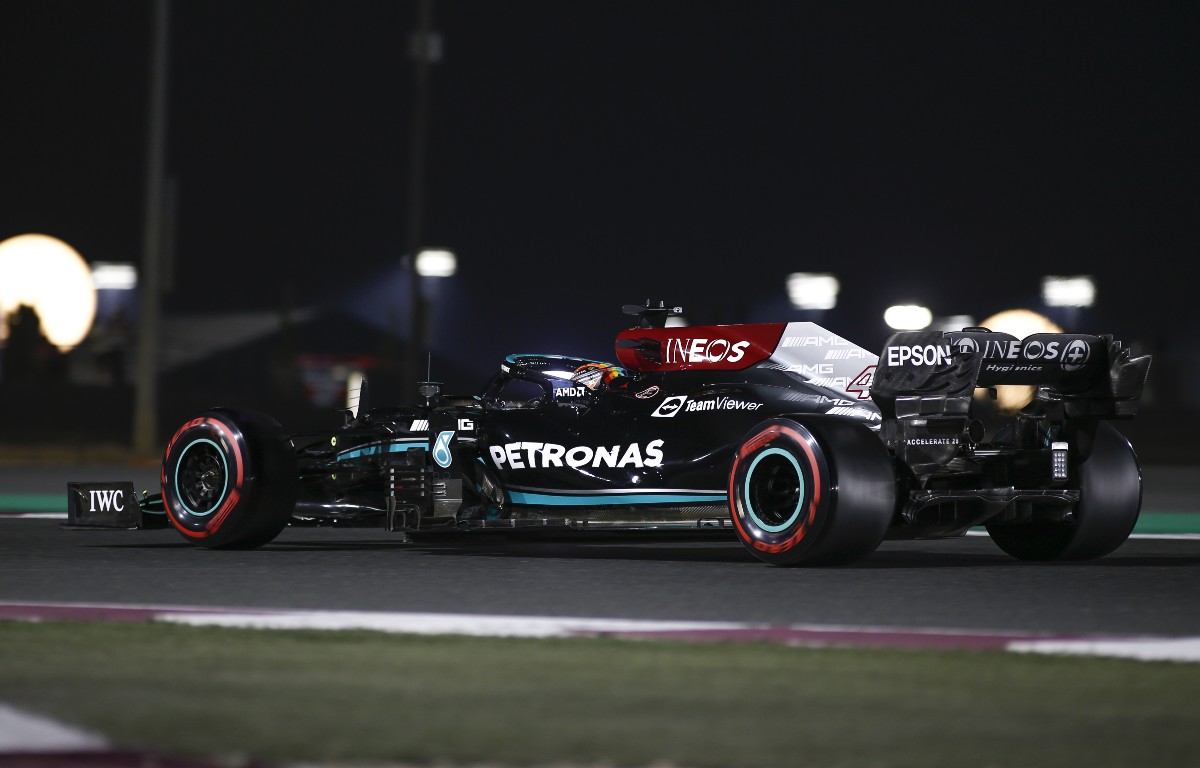 Red Bull team principal Christian Horner believes the mark photographed on the Mercedes W12 rear wing is proof of flexing.
The technical war between title rivals Red Bull and Mercedes has returned, with Red Bull now focusing on the rear wing of the W12 as they search for answers to Mercedes' rapid pace in a straight line.
And with a pool of images now collected, Red Bull released one of them as Horner discussed his concerns with Sky F1 before qualifying in Qatar.
Highlighted was a score mark close to the end plate, which Horner said was evidence the wing was moving to reduce drag, therefore creating a speed boost for their rivals.
Score marks on the rear wing end plate of Mercedes?
Via: @racefansdotnet #F1 #Qatargp pic.twitter.com/m9XkDEk9lf

— F1 News.Live (@f1newslive_) November 19, 2021
Explaining the image, Horner told Sky F1: "The grey shadow area is where that lower part of the wing is what we call fretting against, it's where it has backed off, where it has moved and flexed.
"We have numerous pictures from each of the recent grands prix that you can see this has been happening, and that's what our concern has been.
"Mercedes said there was no sign of any fretting yesterday…I think it's quite clear.
"It's only one part of a piece of a puzzle. We are not going to disclose a full protest document here, it's just to give you an example of what is happening and why we are seeing this exponential straight-line speed.
"But the FIA have got all that. They are the people that can go and check those things, and really delighted to see they have introduced a fact-finding mission here, that after qualifying they will be testing these wings."
Asked if Red Bull have pictures of this Mercedes rear wing from Qatar, Horner replied: "We have pictures from each event. From Budapest onwards."
So, is this an issue they have seen at every race since then?
"We are seeing it to an increasing extent," Horner confirmed.
The cameras and broadcasters have been unable to gather any clear evidence of wrongdoing with the W12 rear wing, but Red Bull say it is hidden by the DRS flap, hence why they have focused on this score mark as the giveaway.
"Because it's under the flap, it's very difficult to see because the flap covers that, so from a rear-facing camera you can't see it," Horner explained.
"So anything from above 250kph, you can see that's when it starts to move.
"We just want to make sure that with so much at stake, the next three races are absolutely an even playing field."
Horner overstepped the mark with marshal criticism
Christian Horner was summoned to the stewards following out of line comments.