Horner calls for a rethink of red-flagged restart rules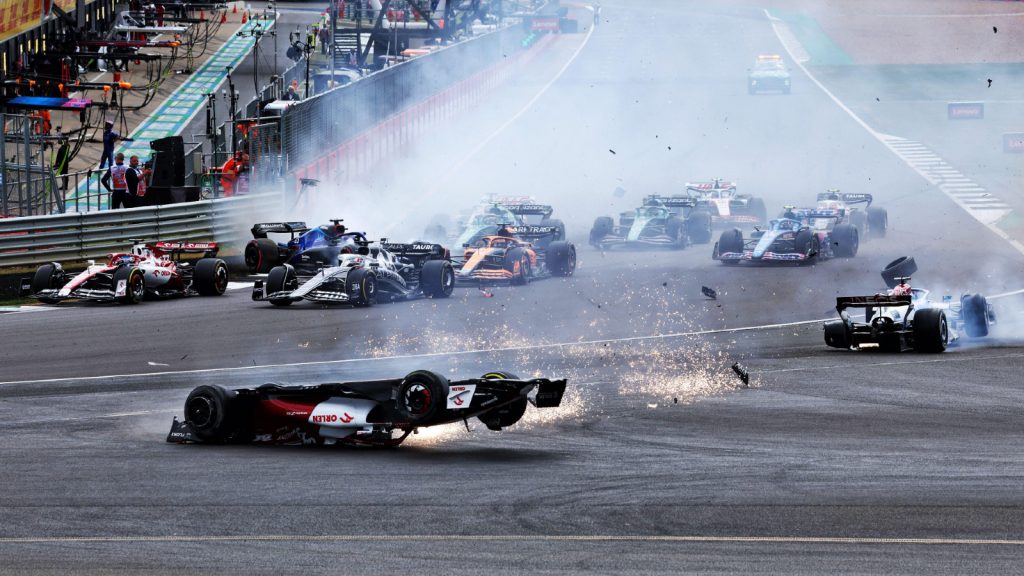 Christian Horner says F1 perhaps needs to look at the restart rules after Max Verstappen's flying start at the British GP came to nought when the race was red flagged.
Lining up behind the Ferrari of Carlos Sainz on the grid, Verstappen opted to start the grand prix on the soft tyres while Sainz went with the mediums.
That gave the Red Bull driver the extra seven metres said to be between the two compounds, the driver up into the lead at Turn 1.
However, behind him chaos was unfolding.
George Russell hit Zhou Guanyu, flipping the Alfa Romeo upside down and triggering a multi-car crash, while Alex Albon was clipped by Sebastian Vettel, spearing nose first into the concrete wall on the pit straight.
The race was immediately red flagged, Verstappen in the lead ahead of Sainz.
But because not all the drivers had passed the second Safety Car line, the restart order was put back to the original grid placings.
That meant Sainz was back on pole position ahead of Verstappen.
Red Bull were perplexed by the decision.
"We questioned it," Horner said as per GPFans.
"Not all cars had crossed safety car line [two] from what I understand.
"The only reference they had was the start line, which is why they went back to that order."
He added: "It is something that we perhaps need to look at."
The second restart wasn't as successful for Verstappen as, having swapped to the medium tyres, he didn't have the extra grip while Sainz, having learned his lesson on the first start, came with his elbows out.
Verstappen subsequently suffered damage to his car, a piece of Pierre Gasly's AlphaTauri destroying his floor and costing him performance.
He finished the grand prix in seventh place, losing a few points to Sergio Perez and Charles Leclerc in the Drivers' Championship.
Horner told Sky Sports: "The damage for us in the Drivers' Championship… Checo has extended his lead over Charles and Charles has only gained six points over Max.
"In the Constructors', we've only conceded 10 points so considering the day that we've had, that's not too bad."
Torquing Point: Reviewing a classic British GP
Henry Valantine is joined by Jon Wilde and Oliver Harden to dissect an incredibly dramatic British Grand Prix.