Christian Horner would sign Daniel Ricciardo if he was Alpine boss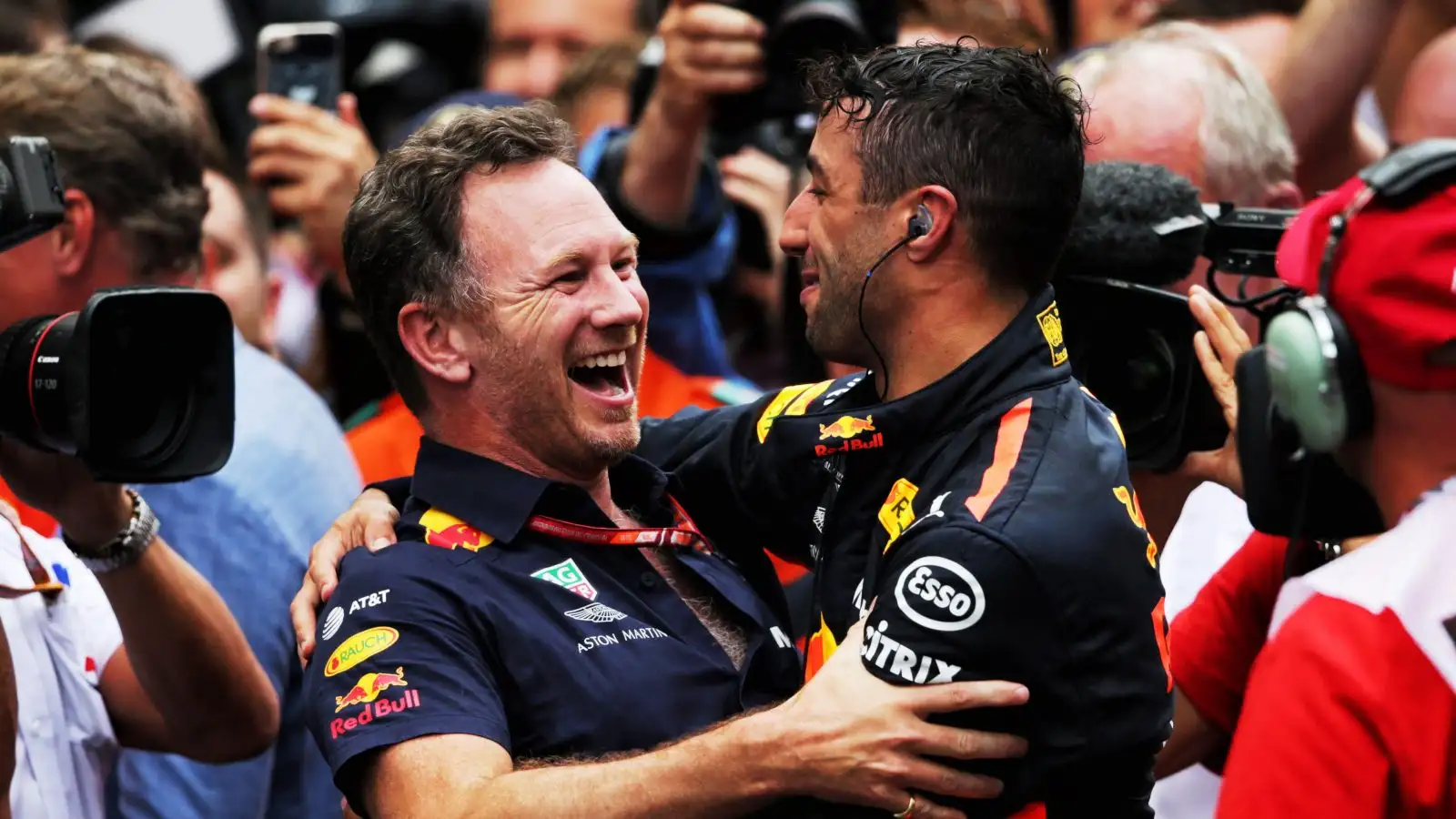 Christian Horner thinks Alpine could do a lot worse than take a chance on Daniel Ricciardo next year to re-form their 2020 driver line-up.
Alpine are seeking a partner for Esteban Ocon after news that Fernando Alonso is joining Aston Martin, plus the public rejection by rookie Oscar Piastri when he had already been announced by the team as the Spaniard's replacement.
Instead, Piastri is heading to McLaren, who have chosen to unseat Ricciardo from the final year of his contract in favour of his younger fellow Australian.
Ricciardo walked out on Renault, as Alpine were then branded, at the end of 2020 having agreed a deal with McLaren, so it would be a case of turning the clock back three years if the French team were to rebuild the bridges that were broken with his departure.
Of course, Ricciardo had already jumped ship from Horner's Red Bull team, for whom he had won seven grands prix, at the end of 2018 to plot his own course at Renault.
That occurred at exactly the previous time Horner had appeared on the 'Beyond the Grid' podcast, with the Briton saying the driver had "just handed in his chips".
Now the boot is on the other foot, but Horner hopes Ricciardo's exit from McLaren does not mean he is leaving F1 itself.
"Unfortunately, he's been handed his chips," said the Red Bull boss. "Which is a great shame because I think he's a big personality and a great driver. He's obviously lost his way a bit, but it would be great to see him remain in the sport."
Asked whether, if he was in charge of Alpine, he would hire Ricciardo, Horner added: "I think I probably would, to be honest with you.
"They obviously know him from a couple of seasons ago and he was very together during his last season there, scoring podiums, and I think he's the type of guy that you could rebuild him.
"It's obviously been not a great experience for him [at McLaren] for whatever reason and you just have to think back to some of the drives he did for us, some of the wins he had, the podiums, some of the stunning overtakes he was capable of. That's still in there, I'm sure, and it just needs a bit of a reset."
After two underwhelming years in which he has been consistently beaten by his team-mate Lando Norris, confidence could be an issue for Ricciardo according to Horner.
"Like in all sports, confidence is a big element and for whatever reason he hasn't got the feeling from the car across two sets of regulations," added the Briton.
"That's probably eked away at his confidence, but there's still a very capable driver in there and you don't just forget how to deliver.
"I hope for him he gets another opportunity and gets himself back on the grid for next year."
Is a move to Alpine still feasible for Daniel Ricciardo?
At the time of writing, a three-day Alpine test involving Antonio Giovinazzi, Nyck de Vries and Jack Doohan was drawing to a close at the Hungaroring.
But would any of that trio represent a fitting team-mate for Ocon next year? Nothwithstanding De Vries' impressive recent race debut at Monza for Williams, all of them would be an obvious downgrade on Alonso.
Ocon may well be ready to start playing a leading role at a team in the upper midfield, but surely if Alpine could bring in Pierre Gasly, or even Ricciardo, why wouldn't they?
Despite concerns about the personal relationship between the two Frenchmen, Gasly would look to be the ideal choice from the perspective of his career trajectory. He desperately needs a move away from the Red Bull operation to show everything he is capable of.
Ricciardo, meanwhile, has had a bad two years – apart from his shock 2021 Italian Grand Prix win – but it could just be that McLaren was the wrong move for him.
We think the 33-year-old is worth one last chance to show he still has what it takes in Formula 1, be it at Alpine or elsewhere – but make no mistake, if that opportunity does come along and he fluffs it, that will be curtains.
Read more: Ranking the contenders to replace Fernando Alonso at Alpine in 2023