Christian Horner surprised as Mercedes again throw win away with hard tyre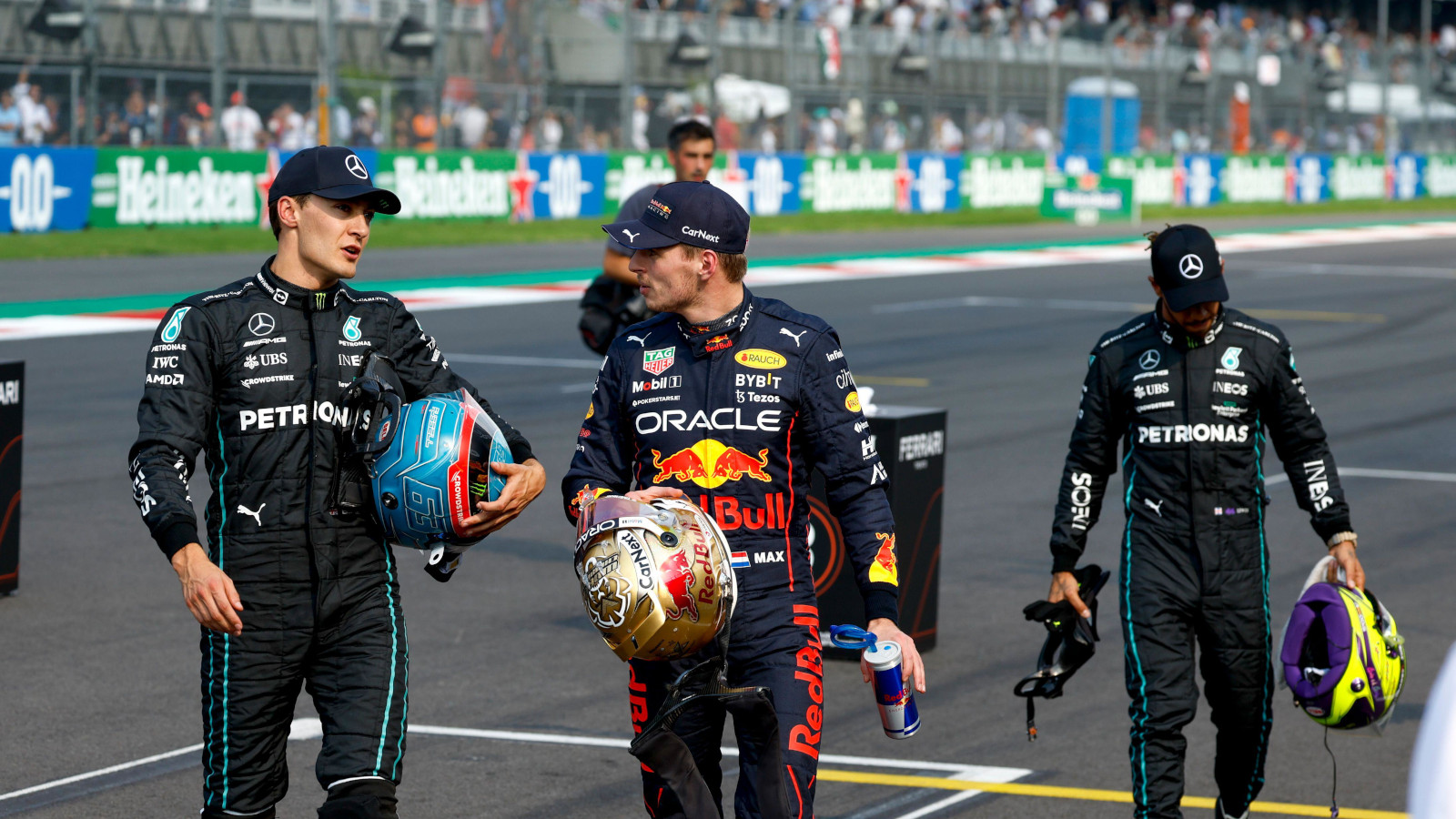 Although Christian Horner reckons Max Verstappen would have won anyway, he's "surprised" Mercedes threw away a chance of fighting for the Mexican GP win with a "conservative" strategy.
Lewis Hamilton and George Russell lined up on the Autodromo Hermanos Rodriguez grid second and third, both drivers on the medium tyres as Mercedes' pre-race simulations ruled out a soft-medium attack.
But that was exactly what Verstappen used as he raced his way to a record-breaking 14th win of the season.
He started on the softs, Hamilton on his mediums roughly seven seconds behind in the opening stint, before swapping to the mediums while the Briton went onto the hards.
Verstappen pulled away, taking the win by 15 seconds over his 2021 title rival.
According to Horner and Red Bull's calculations, the "soft-medium looked like a quicker race than the medium-hard.
"With the hard, there's just not as much grip in the tyre.
"So we were quite surprised Mercedes went as conservative as they did with the medium/hard strategy.
"I think we still had the edge but they would have been a lot closer.
"If you hear their drivers, they're not very happy about the hard tyre.
"That's the second weekend in a row they've put that tyre on and it's cost them a victory. I was quite surprised at that."
LAP 14/71

Follow the leader…

Hamilton is keeping Verstappen in range 🔭#MexicoGP #F1 pic.twitter.com/Xa3dz46UNt

— Formula 1 (@F1) October 30, 2022
With Verstappen having declared after Friday's practice already the hard Pirelli's "didn't feel good", Red Bull ruled out using those in the race.
But Horner does acknowledge that his driver nursing the softs in his opening 25-lap stint set up the strategy.
"That gave us even more confidence that we would be able to go through with the medium tyre set," he added.
"The only question was how well you had to look after the tyres, but that's where Max has been masterful this year.
"He just has an amazing feeling for the tyres and what they need. He's doing it exceptionally well."
As for Verstappen, he says by starting on the soft tyres, Red Bull had all the potential strategy options available.
"We left the strategy open," he explained.
"We wanted to see how tyre wear developed in the race. That's why we started out on soft.
"But I never felt like I was under pressure. I was taking it easy on my tyres the whole time.
"The only question mark was how long the medium tyres would last, but after just a few laps it felt really good. We knew pretty early on that we could make it to the end."
Sunday's race was the second in succession where it was Mercedes and not Ferrari that proved to be Red Bull's closest threat.
Horner reckons Ferrari will fight back at the next race in Brazil.
"This track also suited their strengths," he said. "Ferrari seemed to have some limitations this weekend.
"We didn't see their real pace, so I expect them to hit back.
"The most important thing was to get Checo to score points. He is now back in second in the Drivers' race, that's our ultimate goal in Abu Dhabi."
Verstappen has already wrapped up this year's Drivers' Championship title with Perez up to P2 with two races remaining, five points ahead of Charles Leclerc.
Read more: Jolyon Palmer: Mercedes' sub-optimal strategy calls becoming 'a recurring theme'