Wolff's Silverstone conduct 'unacceptable,' says Horner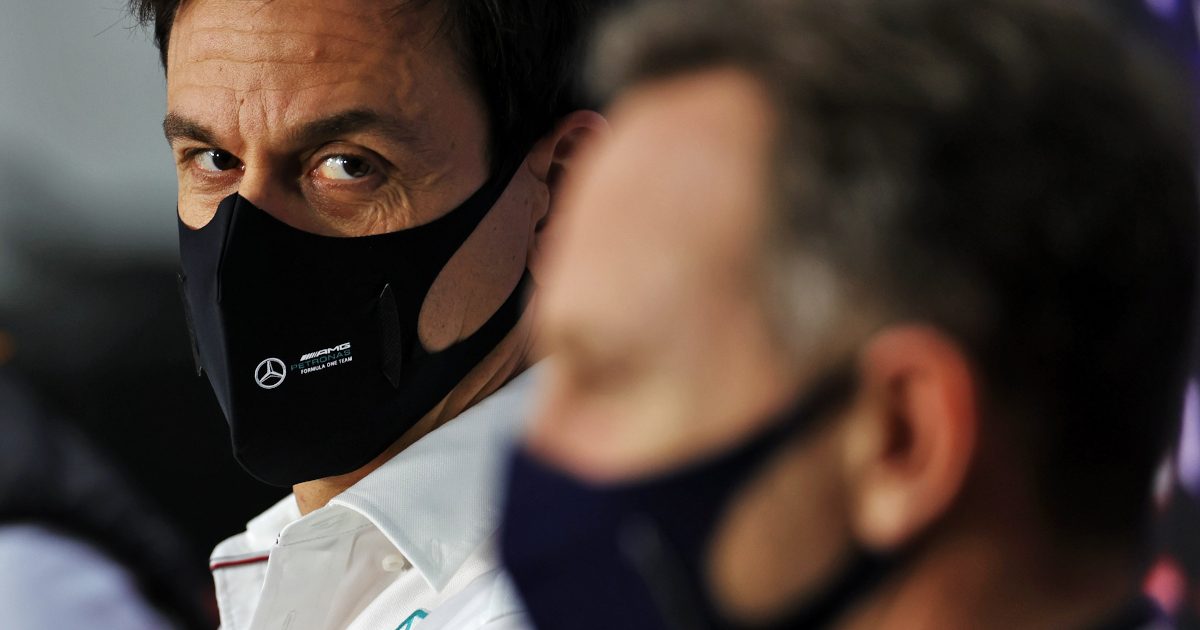 Christian Horner feels Toto Wolff's "lobbying" of the stewards at the British Grand Prix was "unacceptable."
Both on and off the track, Red Bull and Mercedes have clashed throughout the 2021 campaign and that was the case more than ever at Silverstone.
Max Verstappen crashed out at the start after coming together with Lewis Hamilton, and both team principals quickly made their feelings clear to the FIA.
Horner told Michael Masi that Hamilton had been dangerous and clearly deserved a penalty, while Wolff argued it was a racing incident, even emailing the Australian diagrams that apparently proved that to be the case.
The Austrian was apparently talking to the stewards too, trying to change their minds as they were deciding whether to penalise Hamilton, and this angered Horner significantly.
"I saw Toto, who was lobbying the stewards, which I heard he was going to do," said a furious Horner after the race, quoted by the Daily Express.
"I went to make sure our view was represented because I don't think it's right that team principals should go and lobby the stewards so that they are not influenced.
"For me, it was unacceptable that he had gone up there to lobby them."
Torquing Point - Recovery drive one of Hamilton's best?
Henry and Finley from www.planetf1.com podcast Torquing Point discuss Lewis Hamilton's race-winning drive as he overcomes a 10-second penalty to take pole position at the British Grand Prix.
The decision was ultimately made to award Hamilton a 10-second time penalty, and with the Briton still going on to win the race anyway it was a call that was widely criticised.
Masi has defended it though, saying the stewards do not consider wider consequences when making decisions, only looking at the incident in isolation and rightfully so, he feels.
"I think one of the big parts that's been a mainstay for many, many years," he said, quoted by Motorsport.com. "And this came through discussions prior to my time between all of the teams, the FIA and F1, and the team principals were all quite adamant, is that you should not consider the consequences in an incident.
"So when they judge an incident they judge the incident itself, and the merits of the incident, not what happens afterwards as a consequence. And that's been something the stewards have done for many years.
"And have been advised to do from top down. And I'm talking team involvement and so forth. So that's the way the stewards judge it because [if you] start taking consequences into account, there's so many variables rather than judging the incident itself on its merits.
"I think if you look at it on that basis you'll never find a penalty that will address an imbalance like that.
"If you look at it in that particular circumstance…so that's why going back a few years the teams, or team principals, made a clear distinction that they didn't want consequences taken into account, they wanted it based on the incident itself."