Horner suggests Wolff 'keeps his mouth shut' over wings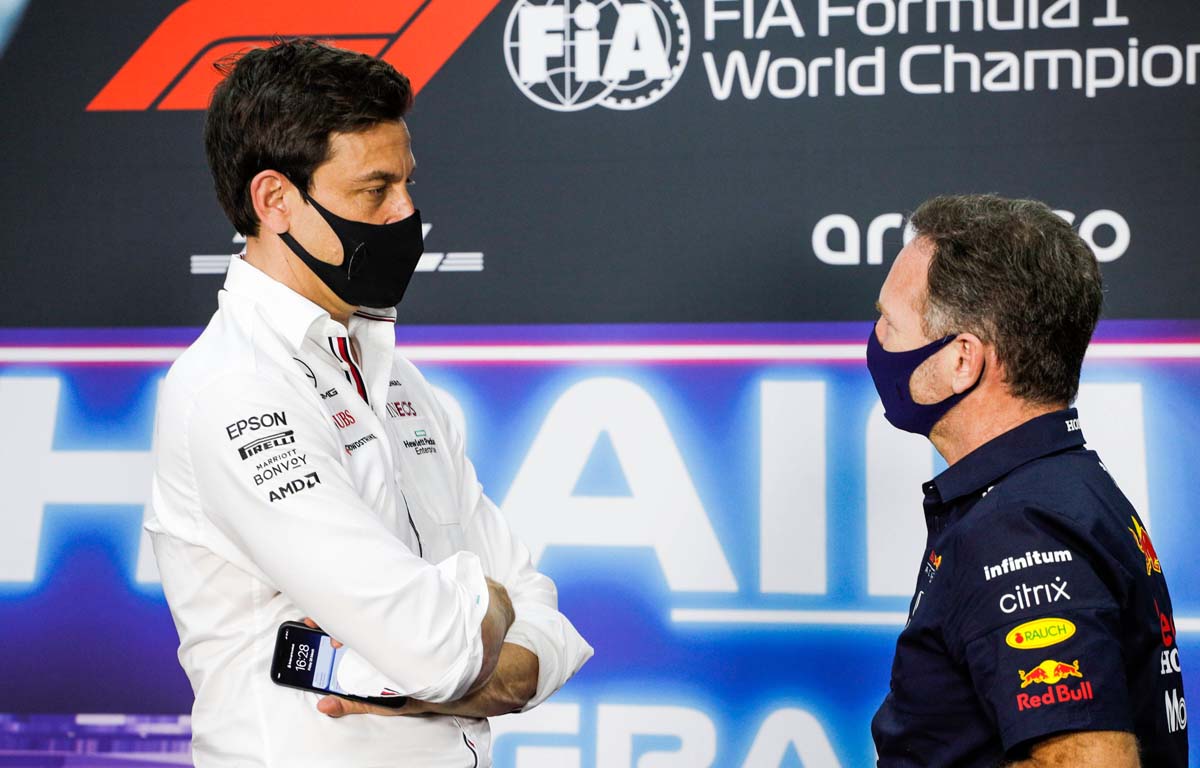 After seeing the front wing on the Mercedes W12 in Baku, Christian Horner would be keeping his mouth shut if he was Toto Wolff.
Wings have been the talk of the paddock ever since Lewis Hamilton first commented on the 'bendy' Red Bull rear wings at the Spanish Grand Prix, and since then the FIA have announced new tests to come into force as of the French Grand Prix.
The bickering though has continued between Mercedes and Red Bull, and after Friday practice in Baku we heard the latest dig.
Mercedes' gripe is with the flexibility of the rear wing on the RB16B, but spin the cameras around and Horner said he would be keeping his mouth shut in Wolff's position, due to the flexibility of the front wing on the W12.
"I think there has been a lot of noise that Mercedes have been driving about the rear wings, and the bottom line is if the car complies with the rules, it passes the tests, then it's legal," Horner told Sky F1 as they showed him footage of the Mercedes rear wing, which also looked pretty bendy in Baku.
"The FIA come up with the tests. That if anything around here looks maybe a bit worse than ours. It would be more interesting to see the front of the car, than the rear of the car.
"So you are opening a complete can of worms, and that's why there are stringent tests in place that the cars are designed to comply with.
"If you are picking on one end of the car then you have to look at the other, you can't look at one part in isolation and say 'oh that set of rules only applies to that element on that car', you have to look at all areas.
"So sometimes you have to be a little bit careful with what you wish for. I think if I was Toto, with the front wing he has got on his car I would keep my mouth shut."
Top two in FP2 🏁 @SChecoPerez ends Friday fastest with a 1:42.115 and @Max33Verstappen is P2 with a 1:42.216 💪 #AzerbaijanGP 🇦🇿 pic.twitter.com/d5iwCVSt4I

— Red Bull Racing Honda (@redbullracing) June 4, 2021
F1 TV are offering PlanetF1 readers 10% off their Access and Pro subscriptions! Click here and use the code PLANETF10 at checkout*
*offer expires midnight on Sunday, June 6
Of course the new tests will not only affect Red Bull and Mercedes, further down the field Alfa Romeo expect to be impacted significantly.
And while Horner accepts that the rules must "evolve", he also stressed that Formula 1 would become Formula 2 if the push carried on to standardise parts.
"All cars have a degree of flexibility with the weight that is going onto these wings, it's impossible to make an entirely rigid structure there when you have got tonnes of downforce being applied to it," he explained.
"So I think even teams from Alfa Romeo upwards, even Haas I think are struggling with the introduction of these new tests.
"But it's nothing new, it's been around for years and years and years.
"The rules have to evolve, you've got some very bright technicians that are designing components to comply with the rules, that's their job, that's what we pay them for, that's what Formula 1 is all about, that engineering ingenuity.
"If we want standard cars then we would be Formula 2, so I think that is part of what the competition of this sport is. Pushing the boundaries, that's what Formula 1 is all about.
"You have got to be legal, you have got to be within the rules, but you've got to push those boundaries and that is what we like every other team in the pit lane does."
Follow us on Twitter @Planet_F1, like our Facebook page and join us on Instagram!