Horner: 'No real rivals for Toto in last seven years'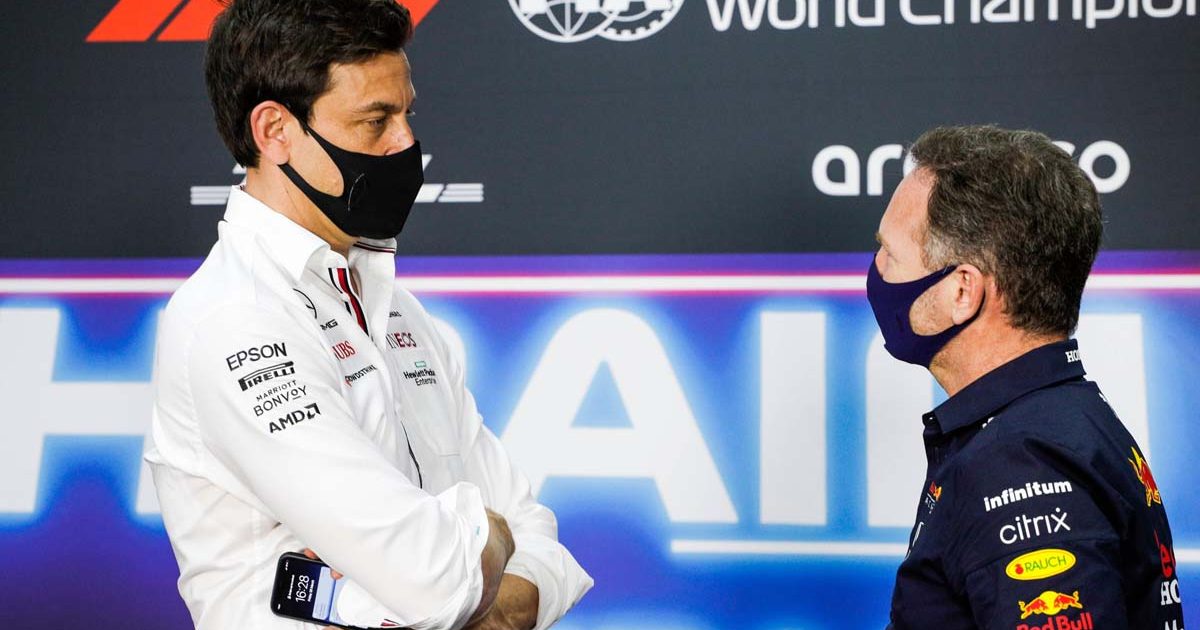 Christian Horner says that, unlike himself, Toto Wolff isn't used to having to deal with a rival as he hasn't had any in the hybrid era.
As their teams and drivers are locked in tight fights for the two World Championships this season, the Red Bull and Mercedes team principals have clashed a number of times.
Wolff has been highly critical of the Brit on multiple occasions, accusing him of playing to the cameras and making personal attacks on Lewis Hamilton.
Horner believes that such comments have come because Wolff hasn't had to deal with rivals before and doesn't know how to do, given how dominant Mercedes have been since 2014.
"I think Toto hasn't had any real rivals to fight with in the last seven years," he told La Gazzetta dello Sport.
"He's not used to them. It's a new experience for him.
"On the contrary, we have won at least two of the four titles [2010 and 2012] after close battles, especially against Ferrari."
The Red Bull also says that tensions have been increased by the fact that the new regulations favoured his team more than Mercedes, and because they've taken some staff from the German outfit for their new engine-manufacturing operation.
"There has been a lot of politics off the track," he added.
"Already starting with the winter tests, when it came to high rake cars benefiting from regulations over low chassis inclination ones.
"And then we are building an engine factory. Obviously, we have tried to hire the best talents in the United Kingdom by taking them also from Mercedes.
"And this certainly does not put you at the top of the list of people to send postcards for Christmas."
Red Bull have formed a powertrain company after reaching an agreement with Honda to use its F1 power unit technology from 2022#F1 pic.twitter.com/6Nq68YvvTD

— Formula 1 (@F1) February 15, 2021
Red Bull made the decision to make their own engines when it was announced that Honda were to leave the sport at the end of this year.
The move was driven by a desire to not be a customer team to another constructor again, but working with a company that doesn't have their own like Honda didn't, could be an option in the future.
However, Horner says there are no plans in the works in that regard.
"Never say never, but it is not in the plans at the moment. It will be our own engine," said the 47-year-old.
If it were to happen, Porsche and Audi would two likely candidates, with both reportedly having an interest in joining the sport, and he does admit that's good, especially as it's coming at the expense of rival series Formula E.
"It's good that other big companies are interested in entering F1," he stated.
"It means that this category is still attractive. Whereas in Formula E we see the opposite phenomenon, because many are leaving.
"Whatever engine we have in 2025-2026 will have to sound good and entertain, because F1 is about spectacle. Electric racing has not broken through. Grand Prix, on the contrary, must maintain a clear purpose."
Is Russian Grand Prix about damage limitation for Red Bull?
Damage limitation for Red Bull in Sochi?
Russia has not been Red Bull's favourite circuit, but Sergio Perez needs to up his game in qualifying to help the team.