Horner: Bottas' Spa penalty 'not a real punishment'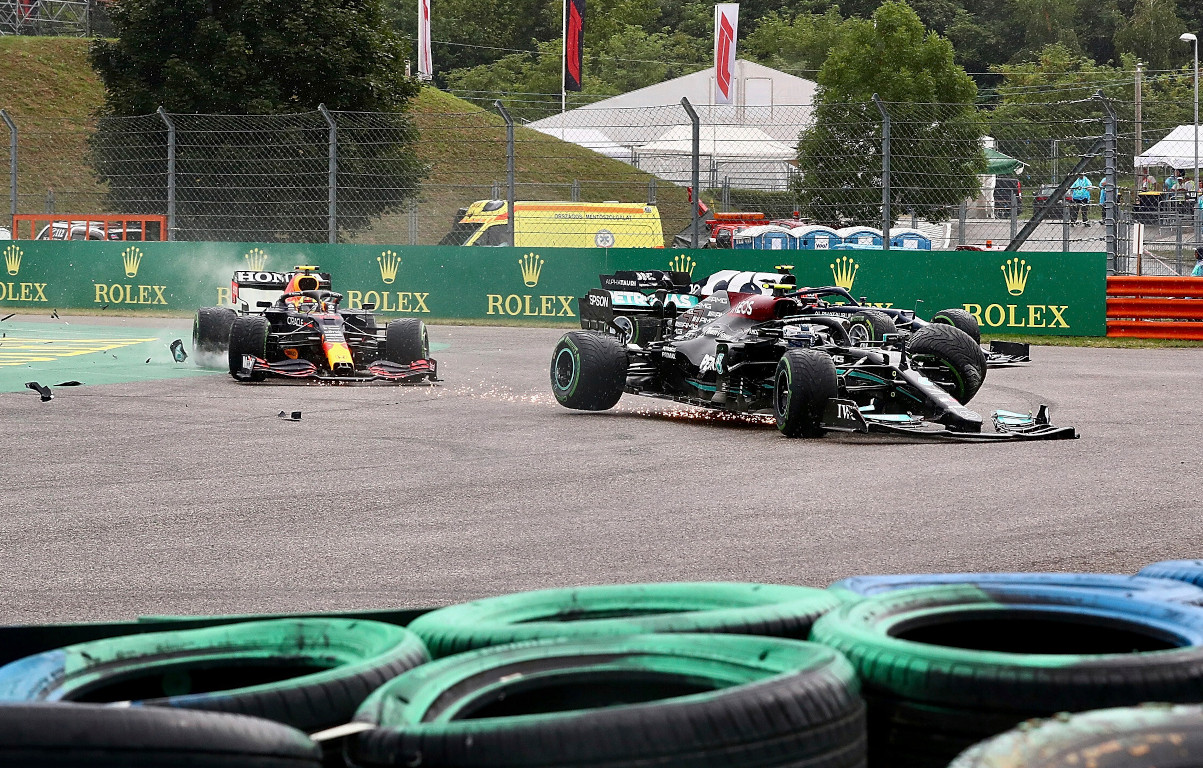 Christian Horner says Mercedes used a "great strategy" in Hungary as Valtteri Bottas took out both Red Bulls, and got a pointless penalty as a result.
Bottas created a multi-car crash on the opening lap of the Hungarian Grand Prix as, racing on a damp track, the Mercedes driver got his braking point wrong and ploughed into Lando Norris.
That forced Norris into Max Verstappen while Bottas' trajectory also saw him hit Sergio Perez.
Perez and Norris joined Bottas in retiring from the race while Verstappen was left to nurse a damaged RB16B to tenth place.
"Great strategy from Mercedes," Horner told Auto Bild.
"Valtteri did a great job for them by knocking out both of our cars."
But while Horner did say in the immediate aftermath that he didn't believe it was deliberate, he feels the stewards' decision to hand Bottas a five-place grid penalty for the next race, the Belgian Grand Prix, was too lenient.
Given the superiority of the Mercedes, a car matched only by Red Bull's, the team boss reckons that penalty will be negated in just two laps.
"Valtteri gets the penalty for the next race, but he makes up for that in two laps at Spa," he said. "It's not a real punishment."
Torquing Point - Bottas' crazy turn one accident
Michelle and Finley from www.planetf1.com podcast Torquing Point discuss Mercedes' Valtteri Bottas' braking mistake which caused a multi-car pile-up at the start of the Hungarian Grand Prix which eliminated several drivers.
Red Bull merchandise is available to purchase now via the official Formula 1 store
It also doesn't help Red Bull with their repair bill from Sunday's race, a repair bill that came on the back of the $1.8m for the damage Verstappen suffered at the British Grand Prix in yet another crash with a Mercedes driver.
"It [the grid penalty] doesn't repair the damage he did to us," Horner continued, "especially when you look at the budget cap. The effects are immense, the costs are brutal."
The costs be made worse with grid penalties later in the season for Verstappen and Perez as Silverstone and Hungary left them with damaged engines.
Red Bull had to change Verstappen's PU after qualifying in Hungary, the engine having developed a crack as a result of the Silverstone crash weakening it, while Perez's PU suffered a blow in Hungary.
"The first impressions indicate that Perez's engine is no longer operational either," Horner said
"It's very frustrating, also for Honda, because it doesn't come from reliability, but from accidents that we did not cause."
Red Bull also lost the lead in both championships as a result of Sunday's crash.