Conclusions from the Italian Grand Prix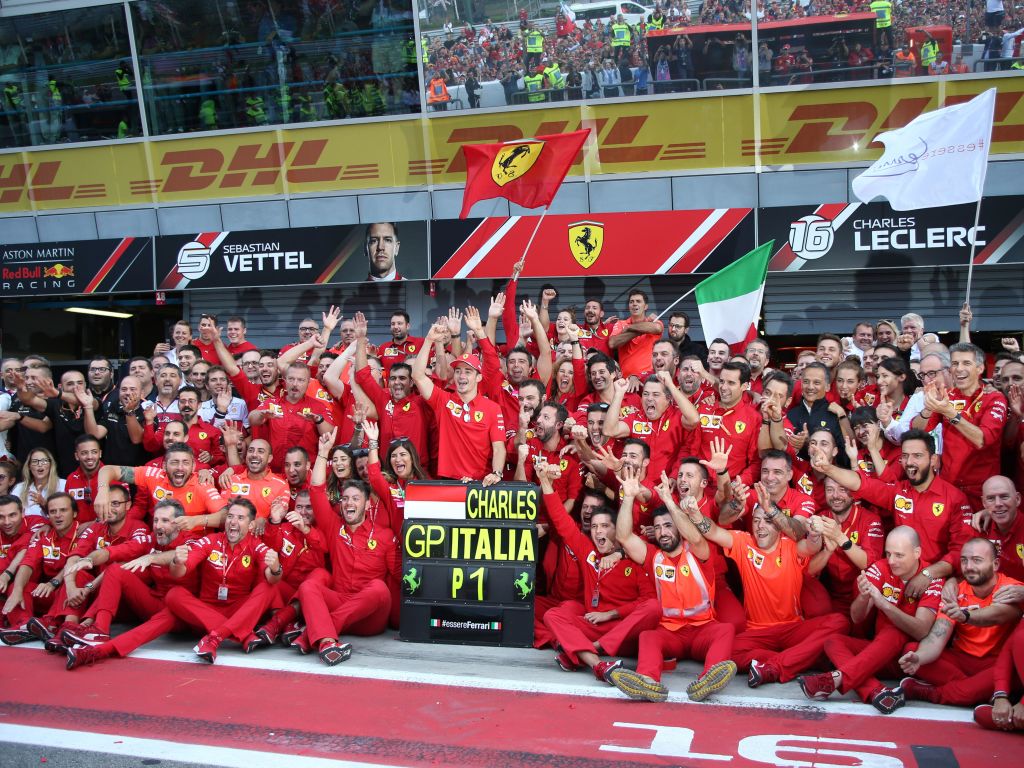 Ferrari have a new legend, the strategists come good at last, the love is still there from a struggling champ, Mercedes maximise, Renault show up after 11 years, Racing Point rue what could have been, and Red Bull look to the future.
Charles, King of Monza, is now a Ferrari legend
He's done it!

Charles Leclerc claims Ferrari's first win at the #ItalianGP since 2010! #F1 pic.twitter.com/PlGvuEJSZu

— PlanetF1 (@Planet_F1) September 8, 2019
If qualifying for the Italian Grand Prix was a farce, race day was an epic that will forever remain stitched into the tapestry of Ferrari mythology. Charles Leclerc showed speed where it mattered most and the mental fortitude of a champion to repel not one but two Mercedes challenges. The SF70H's traction through the Parabolica proved to be vital as it meant the Silver Arrows could not get quite close enough down the straight to affect a pass.
Leclerc not only absorbed the pressure, in particular from Lewis Hamilton, but also refused to be bullied by the World Champion when the Mercedes got close to the Ferrari. Hamilton, in wheel-to-wheel racing, has the better of Valtteri Bottas and Sebastian Vettel – but Leclerc was not afraid to get his elbows out and for the most part his racing was hard yet fair. On balance Leclerc edged Hamilton in close quarters and joins Max Verstappen as the only driver on the current grid to achieve that.
In the bigger picture, this hard-earned and fully deserved win elevates Leclerc to the status of legend in the eyes of tifosi who have waited nine years to see a red car take the chequered flag. Fernando Alonso was the last Ferrari driver to win at Monza but the Spaniard could never win a title with the Scuderia. On a day like today few Ferrari fans would expect the same fate to befall Leclerc. They will instead be hoping for Leclerc to take up the mantle of seven-time champion Michael Schumacher, who won his first Italian Grand Prix for Ferrari on September 8, 1996.
Ferrari get strategy right for once
The decision to put hard tyres on Leclerc's car was a masterstroke from Ferrari's strategists, who have come under criticism in recent seasons for making the wrong call more often than not.
The hard rubber's longevity was crucial in helping Leclerc defend against the Mercedes duo, who were on mediums. It was a key decision that contributed to a brilliant victory, especially in light of the errors made by Vettel that left Leclerc in a one-man fight against the might of the Mercs.
Where is the love?
Oh dear…what are we going to do with you, Sebastian? #ItalianGP 🇮🇹 #F1https://t.co/XatIdJCUri

— PlanetF1 (@Planet_F1) September 8, 2019
It was a tale of two races for the home outfit, with Vettel's unforced error, and subsequent unsafe re-entry to the race track and penalty relegating the former team leader to the bottom half of the grid. After the race a crestfallen Vettel was asked if he still loved F1, and although he indicated he still enjoys what he does, there is a growing feeling that the German's passion, and talents, are waning.
More telling, perhaps, is the fact that the four-time champion is in such a position to be asked that question in the first place. The Vettel of previous years seems a distant memory and whatever happened internally at Ferrari in 2018, and externally in his unsuccessful bid to beat Hamilton in 2017 and 2018, seems to have broken him. And seeing his upstart team-mate win two in a row will not help one bit.
Merc maximise in Monza
Given the relative strengths and weaknesses of Mercedes and Ferrari, Toto Wolff and co will be delighted to have taken the fight to the men from Maranello. A double podium and fastest lap is a decent return all things considered.
The result further extends Mercedes' lead in the constructors standings while Hamilton is sailing relatively effortlessly towards a sixth title.
Renault rise to the occasion
Pizza power!@DanielRicciardo finished P4 at Monza as @RenaultF1Team celebrated a double top-5 finish for the first time since 2008 🍕🍕🍕#ItalianGP 🇮🇹 #F1 pic.twitter.com/HpRxWuuR5G

— Formula 1 (@F1) September 8, 2019
Daniel Ricciardo's early overtake on Nico Hulkenberg was decisive as it gave the Australian P4, with his team-mate coming home fifth to record Renault's best combined result since the 2008 Japanese Grand Prix when Fernando Alonso won and Nelson Piquet Jnr finished fourth.
It was a typical Ricciardo performance to eke out the most on offer and be at the ready to capitalise on a problem for the frontrunners, while Hulk will be happy enough with fifth as he seeks a new seat after being dumped by the French constructor for 2020 with Esteban Ocon in line to replace him.
Racing Point in the points but it could've been better
Sergio Perez put in another classic Sergio Perez drive to claim seventh despite starting at the back of the grid due to a power unit change. Disaster befell Lance Stroll, however, who was the unwitting victim of Vettel's moment of madness, which resulted in a penalty for the Canadian for a similar unsafe re-entry onto the track and damage to his car. As he was running well into the points and with good space at the time of the incident, it could have – and should have – been much better for the pink panthers.
Red Bull will be singing in Singapore
The high-speed, high-power demands of Spa and Monza have not been good for Red Bull, which lacks the grunt of the Ferraris and Mercs. Alex Albon took an excursion into the gravel after trying to go around the outside of Carlos Sainz but managed to recover to finish sixth. Max Verstappen had set his sights on fifth before the race after starting at the back due to a penalty. A first-corner incident ended hopes of such an elevated finish as it required a front-wing change.
Verstappen will not be happy with P8 but watch out for Red Bull in Singapore. The tight, twisty nature of the circuit will suit Red Bull's aero philosophy and both Albon and Verstappen will be targeting a clean weekend and are likely to be in the mix for a podium, at the very least.
Richard F Rose
Follow us on Twitter @Planet_F1 and like our Facebook page.