Crunch talks planned as overtaking fears continue to concern F1 drivers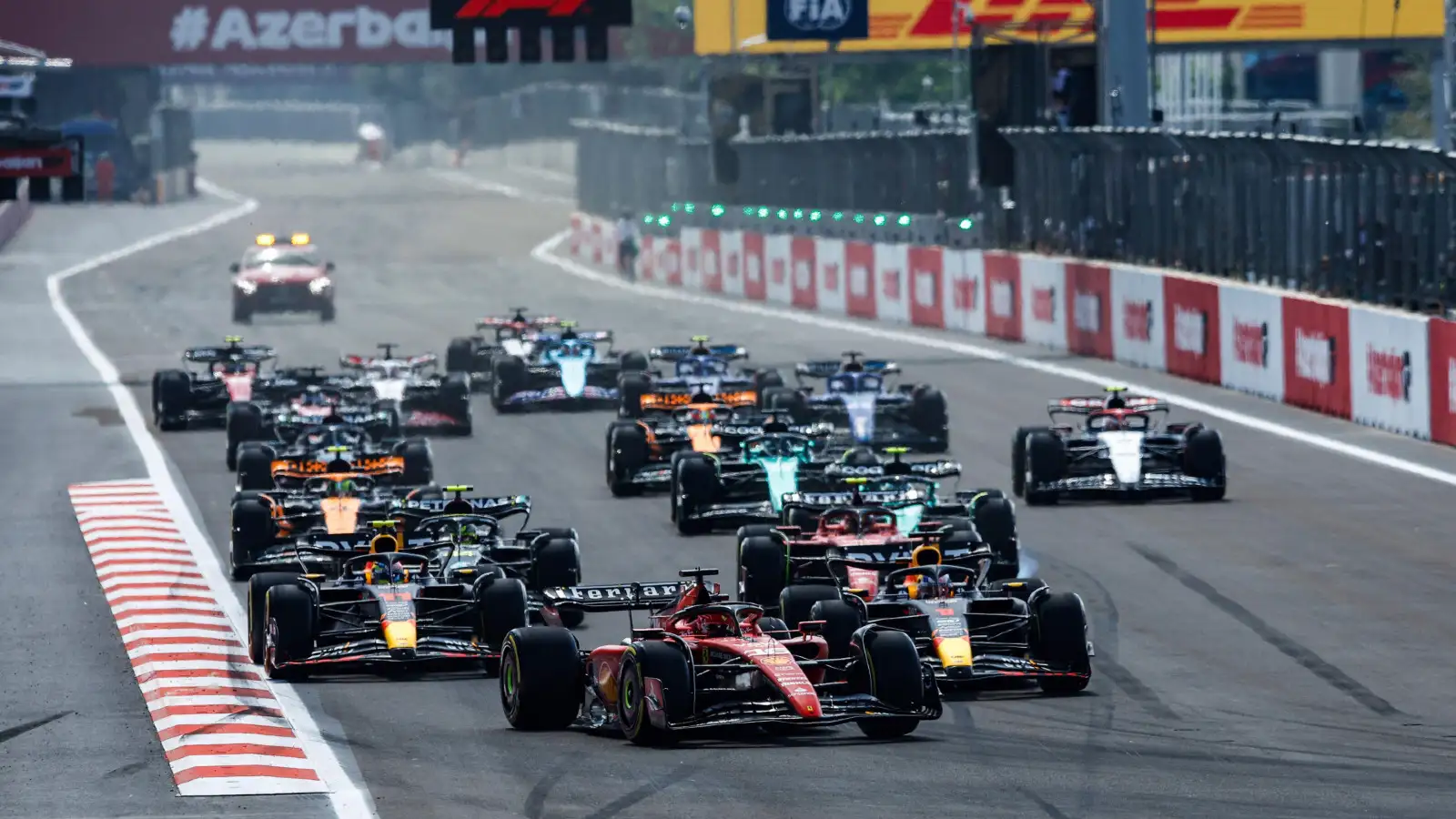 While George Russell has warned against "knee-jerk" reactions to overtaking seemingly becoming harder again in F1, he says the drivers have an "ultimate dream" which they are talking to series bosses about.
A rather dull Azerbaijan Grand Prix was arguably the catalyst for complaints that the main aim of the new-era F1 cars, introduced from 2022 and relying on ground effect aerodynamics, is starting to come undone.
Into the second season of the regulations teams are tapping into huge chunks of extra performance, with lap times approaching two seconds faster in some cases compared like-for-like with 2022. This is apparently contributing to the 'dirty air' effect becoming more prevalent once more.
The latest round in Miami did feature more overtaking action, though Mercedes racer Russell said that the drivers had come together before the race in Baku to discuss concerns that growing overtaking difficulty was becoming a trend.
Russell did make it clear that no drastic steps should be taken, but pointed out that the fears which the drivers had in Baku ultimately came true, with the decision to shorten the DRS zone by 100 meters down the main straight there drawing some criticism.
"I think for a couple of races now it's been challenging to overtake," Russell claimed. "For sure, Baku wasn't the most exciting race in the world, but there are a number of factors for that.
"But yeah, there should never be a knee-jerk reaction, but we were all talking about this issue prior to the race in Baku, and then the race obviously went on to be as dull as we all expected."
This has pushed the drivers to voice their concerns to the Formula 1 bosses, with Russell saying the "ultimate dream" is to have a situation like in their karting days where they can really go to battle in race conditions.
One of the main points of concern, which Russell said was brought up by Alpine's Esteban Ocon, is the Pirelli tyres with clear one-stop strategies having been the order of the day in Baku and Miami.
"I think at the end of day, we all want the best races, the most exciting races," Russell stated, "and there's probably a few easier ways to achieve this in the short term, like Esteban [Ocon] said about the tyre degradation.
"It's been easy one-stops in the last couple of races. And when everybody's pushing flat out, there are less exciting races.
"Obviously the DRS has gone in the wrong direction. So there's a couple of small things, but you know, for sure, we're going to speak with the FIA and F1 about this.
"We want to be able to race, we want to be able to fight, as we all did in go-karts, where there was no aerodynamics. So that's the ultimate dream.
"I think the sport took a really good turn for the better when these new cars were introduced, but we need to take it to the next step now."
PlanetF1.com recommends
F1 boredom crisis? Martin Brundle highlights two factors hurting the show
Mercedes offer new insight into 'different development direction' with Imola upgrades
While a Formula 1 where aerodynamics are eliminated from the equation will likely never come to be, Russell would double down on his calls for the Pirelli tyre compounds to be addressed, requesting a more "consistent" tyre that at a certain point falls off the cliff and necessitates more pit stops.
Pirelli are introducing a stronger construction from the British GP onwards, but their compounds will remain the same, with this instead a response to the escalating downforce levels that the teams are finding.
"We're pushing Pirelli to deliver a good tyre, a consistent tyre and when it is difficult, you know, the drivers, myself included, we don't like it," Russell continued.
"But in an ideal world, you have a very strong tyre, which at a certain point falls off the cliff and means you have to do a few more pit stops and gives it some different opportunities in the races."
After five rounds of the F1 2023 campaign, Russell finds himself P6 in the Drivers' standings with 40 points, while his Mercedes team are P3 in the Constructors'.