Abiteboul takes blame for Ricciardo jumping ship
Cyril Abiteboul has accepted the blame for Renault being unable to hang on to Daniel Ricciardo for next year.
Just as Renault are finally making strides forward competitively, with their first podium finish since 2011 achieved in the Eifel Grand Prix, Ricciardo is preparing to say goodbye.
The Australian, who was third at the Nurburgring behind Lewis Hamilton and Max Verstappen, decided before this season began that he was jumping ship to join McLaren for 2021.
It was the result of a disappointing first year with Renault for Ricciardo after he had chosen to leave Red Bull, and he cited McLaren securing Mercedes engines for next season as an important factor in opting to move.
Giving notice to Renault did not go down well with Abiteboul at the time, although relations between the driver and the team principal appear to have subsequently improved – understandably, considering Ricciardo's impressive performances this term.
The Parisian, who will turn 43 on Wednesday, is even set to honour his promise to have a tattoo to commemorate Ricciardo putting Renault back on the Formula 1 podium as part of a wager struck between the duo.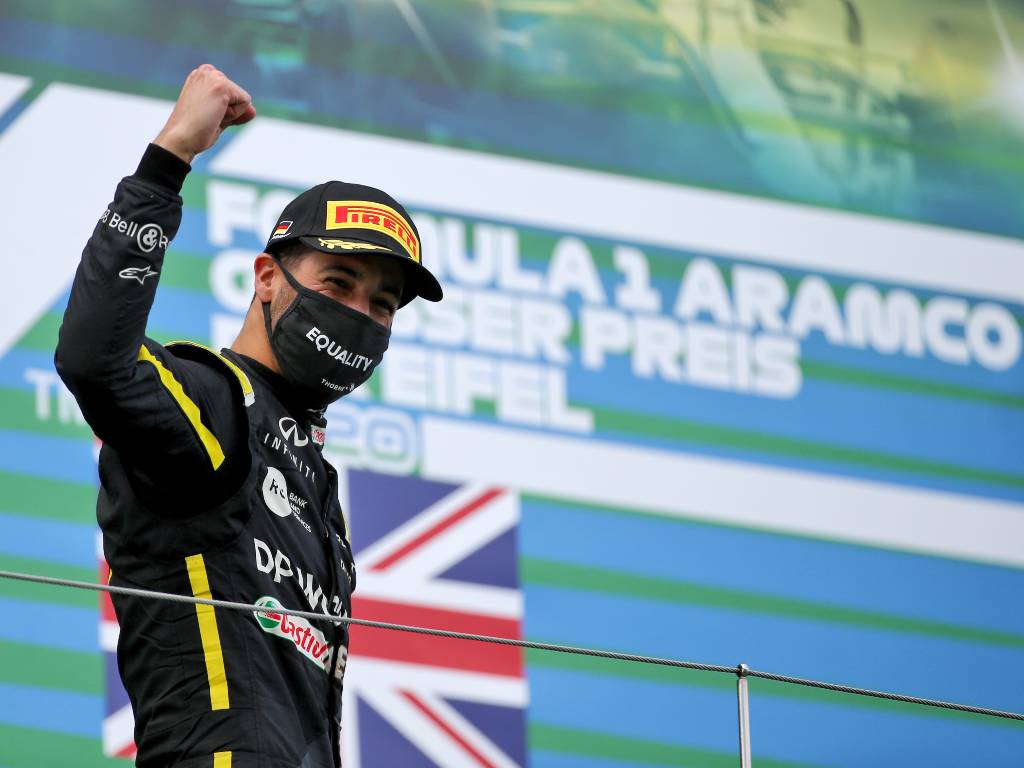 Get your hands on the official Renault 2020 collection via the Formula 1 store
But Abiteboul recognises that Ricciardo was tempted by his next employers simply because Renault had not put together a good enough package during 2019, when they finished 54 points behind McLaren in the constructors' World Championship.
After the Eifel Grand Prix, Renault trail McLaren by only two points this time around and are on a more upward trajectory than their rivals.
Even though Fernando Alonso, a two-time former World Champion, is incoming to the team for 2021, Abiteboul admitted he is "sad" to be losing Ricciardo.
"It blew me away to hear him announce his departure because this winter, I felt the car had potential," Abiteboul told L'Equipe.
"The pandemic stopped everything, but I blame myself for not having been able to show Daniel what was the true potential of our project."
The project is now starting to bear fruit, however, and third position in the Championship behind Mercedes and Red Bull is starting to look a very achievable goal.
"It's a wonderful feeling," said Abiteboul of the third-place finish at the Nurburgring, after Ricciardo had ended up P4 on three previous occasions this season.
"It's a long path to where we want to go and we have taken an important step. We have seen it coming for quite some time actually."
Follow us on Twitter @Planet_F1 and like our Facebook page