Argument Norris on Perez was hard racing 'might not hold up'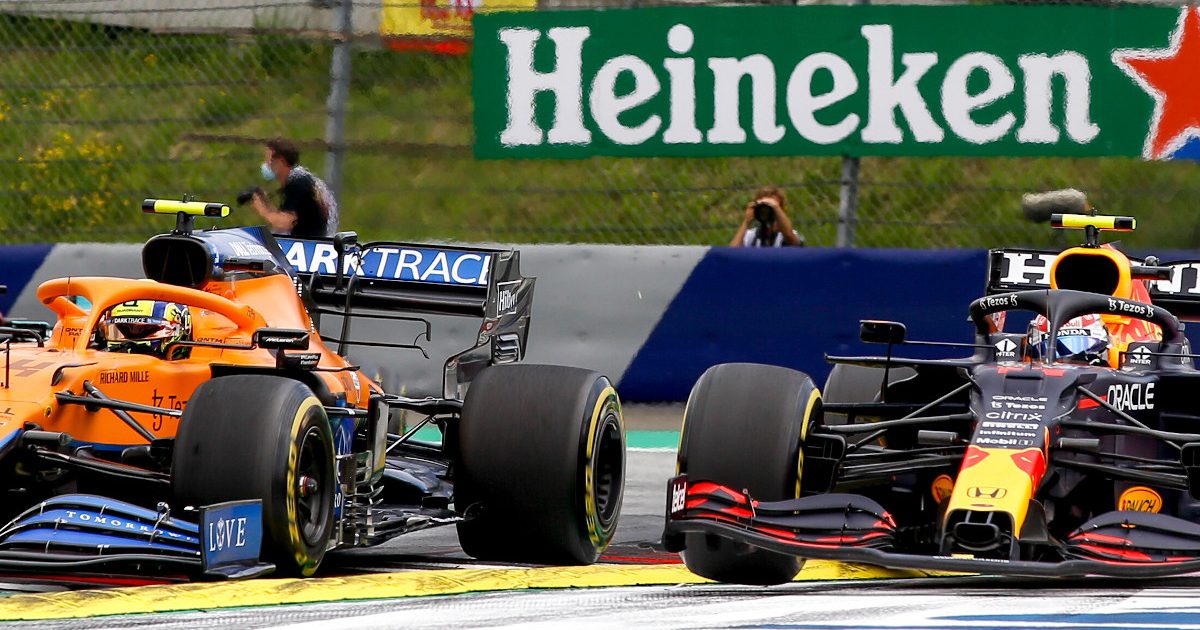 Lando Norris' comments that a driver trying to pass around the outside should expect to be leaned on don't hold any weight with former F1 champ Damon Hill.
Norris was hit with a time penalty at the Austrian Grand Prix when he pushed Sergio Perez off the track as the Red Bull driver tried to pass him around the outside at Turn 4.
Perez ate dirt, lost places, and Norris was penalised five seconds by the stewards.
Told of his penalty by the McLaren pit wall, Norris replied: "What did the guy expect running around the outside?"
But while Norris strongly disagrees with the penalty, saying it was "stupid" of Perez trying to pass around the outside, Hill has a different take on it.
"He [Norris] was racing the way he's grown up racing," the 1996 World Champion said in the 'F1 Nation' podcast. "He did actually say somewhere that [in] karting, everyone knows if you go around the outside, someone's going to lean on you and put you in the dirt.
"Is that right? That's like saying if you get into the penalty box [in football], then you can trip someone up. I'm going to take a different tack and see what happens.
"I agree, I also like hard racing and you can't really expect someone to give way, just by going around the outside.
"But by the same token, I used to race against a certain driver called Michael Schumacher and he used to do that to me – and there was uproar when it happened in those days, but now it's changed.
"So, the trend is towards people wanting to see action. Clearly, the fans want to see a bit of hard knock, a bit of argy-bargie.
"Maybe times have changed but, if you go back even further, if you put someone off into the dirt, you could kill them. It was very dangerous to do that.
"We have to make a decision. If, for example, it was made illegal to push someone wide on a corner, then Lando would have had to back off in the corner and make room for Sergio, who's on the outside – and then you might get closer racing.
"So, the argument that it's good racing might not hold up, because drivers can't push people off the road. It might mean that drivers have more opportunity to go around the outside."
Would like to see where the 'forcing Sergio Perez off the track' happened 🧐 #F1pic.twitter.com/vzEptFybKY

— Planet F1 (@Planet_F1) July 4, 2021
Stand out from the crowd with McLaren merchandise via the official Formula 1 store
Norris' clash with Perez wasn't the only incident of the race with the Mexican driver later involved in a similar one with Charles Leclerc. This time Perez was deemed to be at fault, slapped with two penalties.
Hill reckons it all comes down to track limits, one of this year's hot topics.
If drivers can't run wide without exceeding the track limits, then they can't be forced wide by rivals either without consequences.
"At the moment, we're talking about track limits a lot, people losing time because of track limits. Drivers have started to accept that they can't just drive wide on the circuit, on the kerbs and gain an advantage.
"They're starting to apply tighter regulations to the track limits, what if they started to apply tighter regulations to the way people drove? Because I think that, most people would argue, if you allow people to run people off the track, then you're just going to get chaos out there, aren't you?
"There is an argument to say that the tighter the regs can be on running wide when you've got a car on the outside of you, the better racing you're going to get.
"It means that somebody will try to go around the outside, and the driver on the inside has to make allowances for that.
"So, in other words, if you get a car going alongside going into a corner, you've got to come out together – not just one of you.
"It's a different way of looking at the regs so, if they're taking the sport in that direction, it might mean that it's taking away the contact element. In other words, contact is to be avoided. Sergio had to avoid contact [on Sunday]."
Follow us on Twitter @Planet_F1 and like our Facebook page.