Damon Hill defends Max Verstappen not backing up Charles Leclerc: 'You're joking?'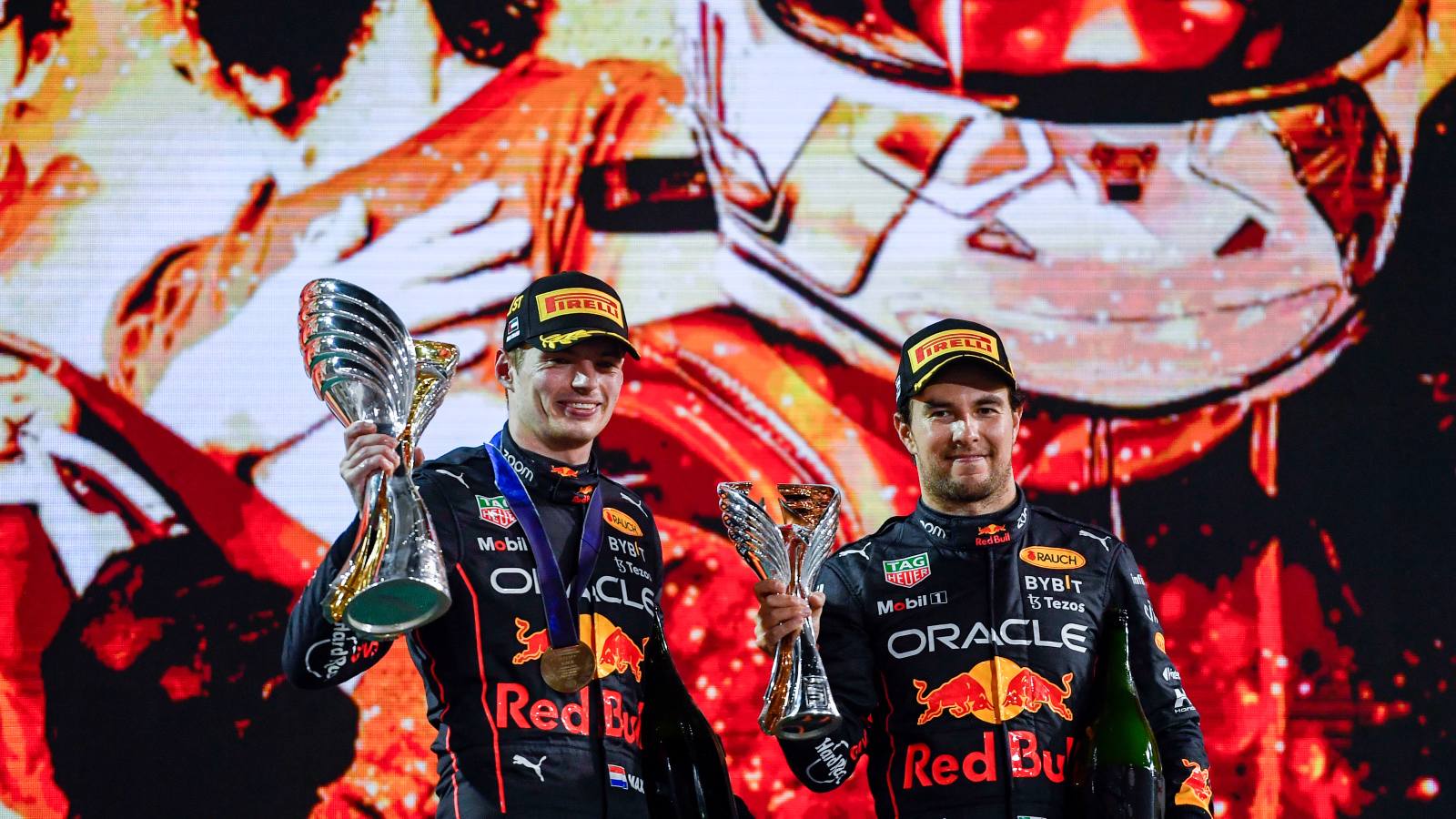 Damon Hill has scoffed at the suggestion Max Verstappen should have backed up Charles Leclerc to give Sergio Perez a run at the Ferrari driver late in the Abu Dhabi season finale.
Although Verstappen had already wrapped up the World title, Red Bull went into the Yas Marina race with a lot still on line as the Constructors' champions dreamed of total domination with a 1-2 in the Drivers' standings.
But it was not to be with Perez's two-stop strategy dropping him behind Leclerc, and although he came close to chasing down the Ferrari driver, he missed out by 1.3s.
That meant he also missed out on the runner-up spot in the Drivers' standings, finishing the season three points behind Leclerc.
F1 pundit Tom Clarkson reckons Verstappen could have helped his team-mate by slowing down to back up Leclerc into his clutches, similar defensive driving such as Perez did with Hamilton to help Verstappen in the 2021 title-decider.
"The only thing that Max might have been able to do," Clarkson said, "was back-up Leclerc into his team-mate a little bit, like funnily enough Checo did last year when he slowed Lewis Hamilton down."
Hill was baffled by the mere suggestion.
"You're joking?" he started by saying.
"You don't want this guy breathing all over your gearbox when you're leading the race. You're just going encourage him and he'll get DRS and then fly past you."
Red Bull under-estimated Leclerc and Ferrari
Fellow pundit Natalie Pinkham is convinced that if there had been an "obvious opportunity" to help Perez, Verstappen would have done that.
One race earlier in Brazil he refused to help Perez score an extra two points, ignoring Red Bull's team order to give P6 to his team-mate.
He told that media that had to do with something that happened in the past but, now that the air had been cleared, he would help Perez if he could.
Aside from trying to back up Leclerc, there wasn't an opportunity on Sunday for him to do so.
"I think after everything that happened in Brazil, had there been an obvious opportunity to help Checo, I'm sure Max would have done it," Pinkham said.
"He really emphasised the importance of teamwork pre-race. It wasn't, to me, an obvious opportunity."
She reckons the biggest mistake Red Bull made on the day was Perez's two-stop strategy.
"I think that ultimately the two-stop was Checo's undoing," Pinkham said. "It felt like he had a lot of work to do.
"And they were under-estimating Leclerc if they thought that he wouldn't be able to defend but he did defend with all his might at the end, it looked like Checo might catch him."
Verstappen was asked as to why he didn't try slow Leclerc, telling the media including PlanetF1: "You can possibly block but I mean, is that fair racing? I think [that is] not the nicest way going out of the championship, out of the season you know?"
Read more: Ferrari praised for 'rare strategy masterclass' at Abu Dhabi Grand Prix