Hill: Uncomfortable drivers told 'sit on wallet' back in my day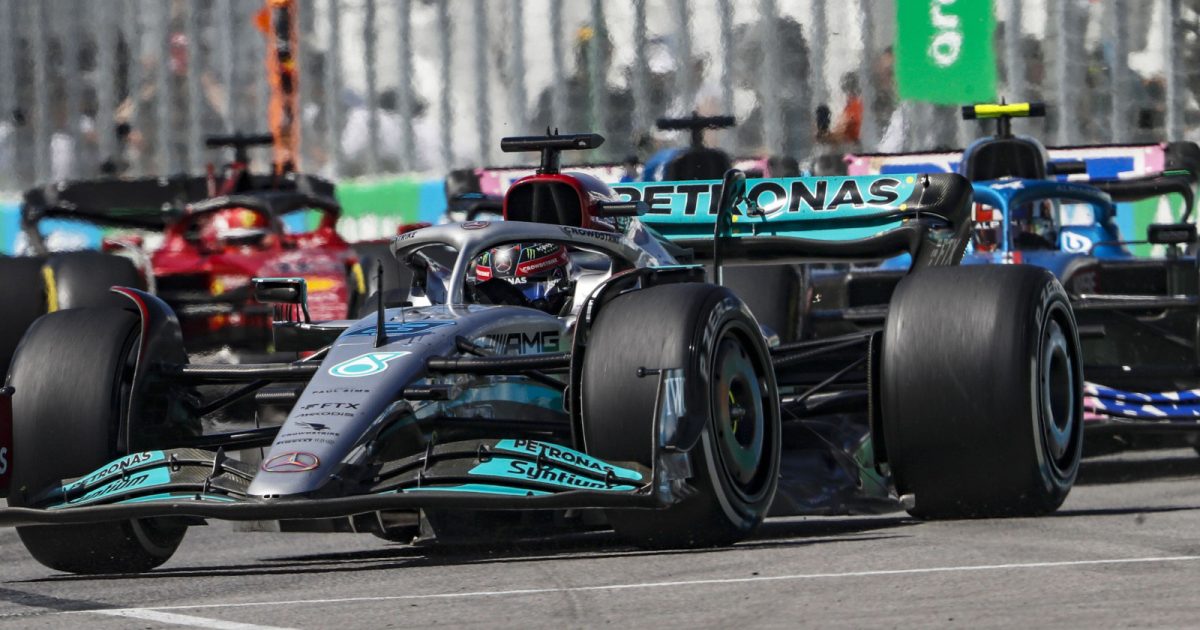 Damon Hill says back in his day F1 team bosses didn't care about spines and concussions, they'd tell drivers to "sit on their wallets" if they wanted a comfortable ride.
This year's championship has seen a growing number of drivers complaining about the porpoising of this year's cars and voicing concerns about their long-term health.
Porpoising is a consequence of using ground effect aerodynamics, the car bouncing up and down as the aero kicks in and out.
While initially it was Mercedes and Carlos Sainz leading the charge, Pierre Gasly, Kevin Magnussen, Mick Schumacher, Daniel Ricciardo and Fernando Alonso all added their voices after a bouncy Azerbaijan Grand Prix.
Citing concerns for their health if the porpoising continues, the FIA stepped in to announce a new technical directive but one that was met with mixed opinions even though it is said to be aimed at protecting the drivers.
1996 World Champion Hill told Sky F1: "There was a little bit of suggestion that maybe Mercedes were complaining because they were suffering more than anybody. But it does seem that there's more noises coming from the drivers and other teams.
"Also the FIA who have been monitoring the vertical acceleration that these guys are subjected to. So that means that the amount of upwards and downwards movement and also bottoming because the cars are now whacking the ground. So, these these poor drivers.
"I don't suppose there is much sympathy for racing drivers, they get paid well for what they do and they're enjoying it but the problem is could this have a long-term effect?
Horner suspects Mercedes are overplaying the dangers of their porpoising 👀 pic.twitter.com/odHb3Zk7oV

— ESPN F1 (@ESPNF1) June 13, 2022
"So, similarly in rugby and other sports, we've looked at how the driver or the athlete can have effects later in life, we don't want to injure the drivers so the FIA is taking this very seriously and then they will instigate further motions later.
"Lewis has made some comments to the fact that he could have maybe crashed in places like Baku and clearly you always temper because the quotes from the drivers…you wonder whether or not they're over egging the pudding to try to make some other advantage.
"We can see now that data is recorded on the drives from the cockpit, and the FIA can see whether they're actually telling the truth or not, but the fact of the matter is we don't know what the maybe long-term effects to whether someone's spine get injured or their neck gets injured or their brain, even."
It is a very different attitude to yesteryear when the drivers were told by their team bosses to "sit on their wallets" if they wanted to cushion their seats for a more comfortable ride.
"So it's a bit of an imponderable at the moment," Hill continued, "but certainly when I was racing, nobody cared. It wasn't really on the agenda.
"They used to say to the drivers when we first brought in ground effect cars, the team managers used to tell the drivers to sit on their wallets and that might make it a little bit more comfortable. So that was the that was the attitude back then."
The FIA will meet with the teams' technical gurus later this week to try find consensus on a way forward to limit porpoising.
The porpoising debate rages on
The FIA issued a technical directive last week to combat porpoising, and not all the teams agree on the issue.