Hill felt Alonso was 'testing the boundaries' at COTA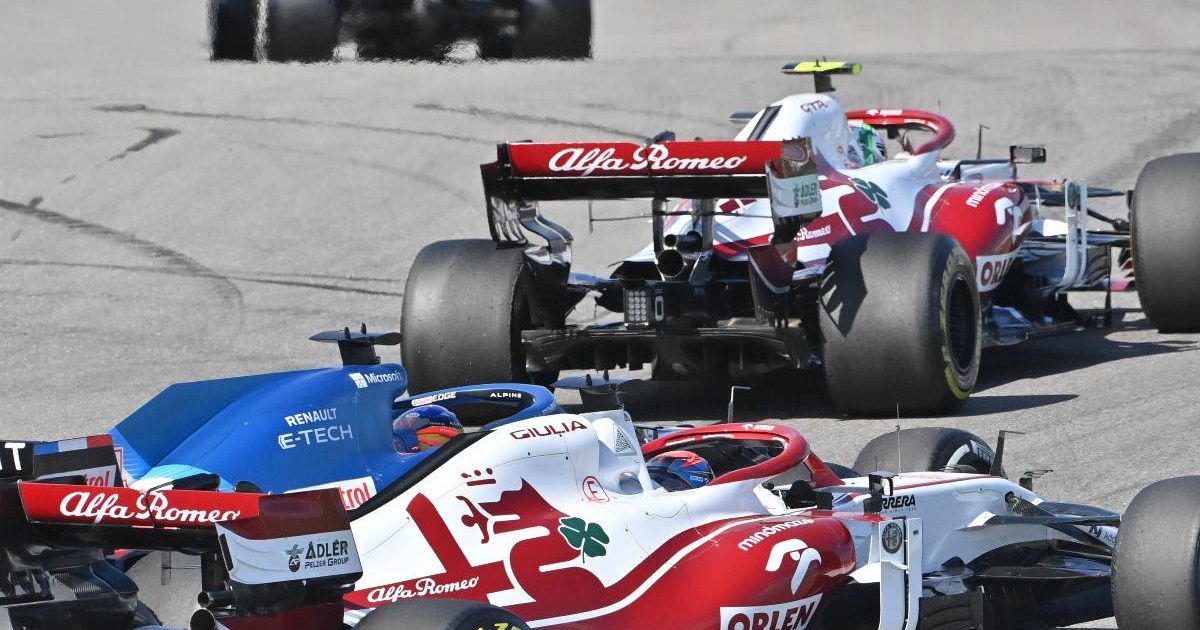 Damon Hill enjoyed Fernando Alonso's Turn 1 antics in the United States Grand Prix – but felt he had been "testing the boundaries" of the rules.
Alonso was involved in incidents at the opening corner of the Circuit of The Americas with both Alfa Romeo drivers before ultimately having to retire his Alpine car.
The Spaniard was overtaken by Kimi Raikkonen, whom he had forced to run off the track by pushing him wide, and immediately got on the team radio to insist the place be given back – which it was not as the stewards decided no infringement had occurred.
Later, the boot was on the other foot as Alonso dived down the inside of Antonio Giovinazzi, overshot the apex of the corner and with full use of the run-off area, completed an overtake.
However, that time he was ordered to allow the Italian to regain his position, doing so before eventually getting past at the second attempt – ironically when Giovinazzi ran off track and had to relinquish the place.
Hill found it all very "entertaining". But like many Formula 1 fans, he wishes everything was much clearer in terms of what is and is not within the rules regarding exceeding track limits.
Buenas batallas y camino de los puntos aún saliendo desde atrás. Mucho mejor ritmo hoy que en las prácticas! Mexico , vamos a por ti 😍

Good battles today and on the fight for points starting from behind. Much better pace today than in practice! Mexico, we are going for you 😍 pic.twitter.com/FdVhcixSXM

— Fernando Alonso (@alo_oficial) October 24, 2021
"There is a reality to this, which is that there is such a thing as the edge of the track and if you run off the edge of the track…," said Hill on the F1 Nation podcast.
"People were being pushed wide and then getting on the gas on the run-off and getting a bit of a squirt on and getting their place back. Is that fair racing? That's the debate and what we haven't got an answer to right now because that's what happened with Alonso and Raikkonen, and later on with Giovinazzi as well.
"Fernando just dove (sic) down the inside when he was never going to make the corner, went onto the run-off and then rejoined and tried to fight for his position.
"I think Fernando, being Fernando, was testing the limits and I thought it was fantastically entertaining. I thought his dive down the inside of Giovinazzi was fantastic and his battle with Raikkonen as well. I thought that was pure entertaining."
But was it fair? That is what the 1996 World Champion, like so many others, struggles to decide for certain.
"That was when the debate started as to when is it okay and when is it not okay to rejoin the track and keep your position," added Hill.
"So it's a problem because we have these run-offs so drivers can get away with going wide. The trouble is whether they get away without gaining an advantage.
"He was a bit naughty in Russia, Fernando, going straight on across the run-off thing and rejoining the track, avoiding all the melee of getting through the traffic. Whether he gained a position or not didn't really matter because he just avoided having an accident or losing his front wing, which was quite clever.
"But he's testing those boundaries, testing that argument.
"There has to be some jeopardy, I think, for running off the track and grass seems to work really well, in slow corners anyway. When you've got an exit of a corner, a bit of grass is a bloody good deterrent for putting a wheel off."
Double DNF a poor return for Alpine in Austin
Having both Fernando Alonso and Esteban Ocon retire led to a poor weekend for Alpine in the United States.