Damon Hill predicts Ferrari will be 'all over the back of Red Bull' in Jeddah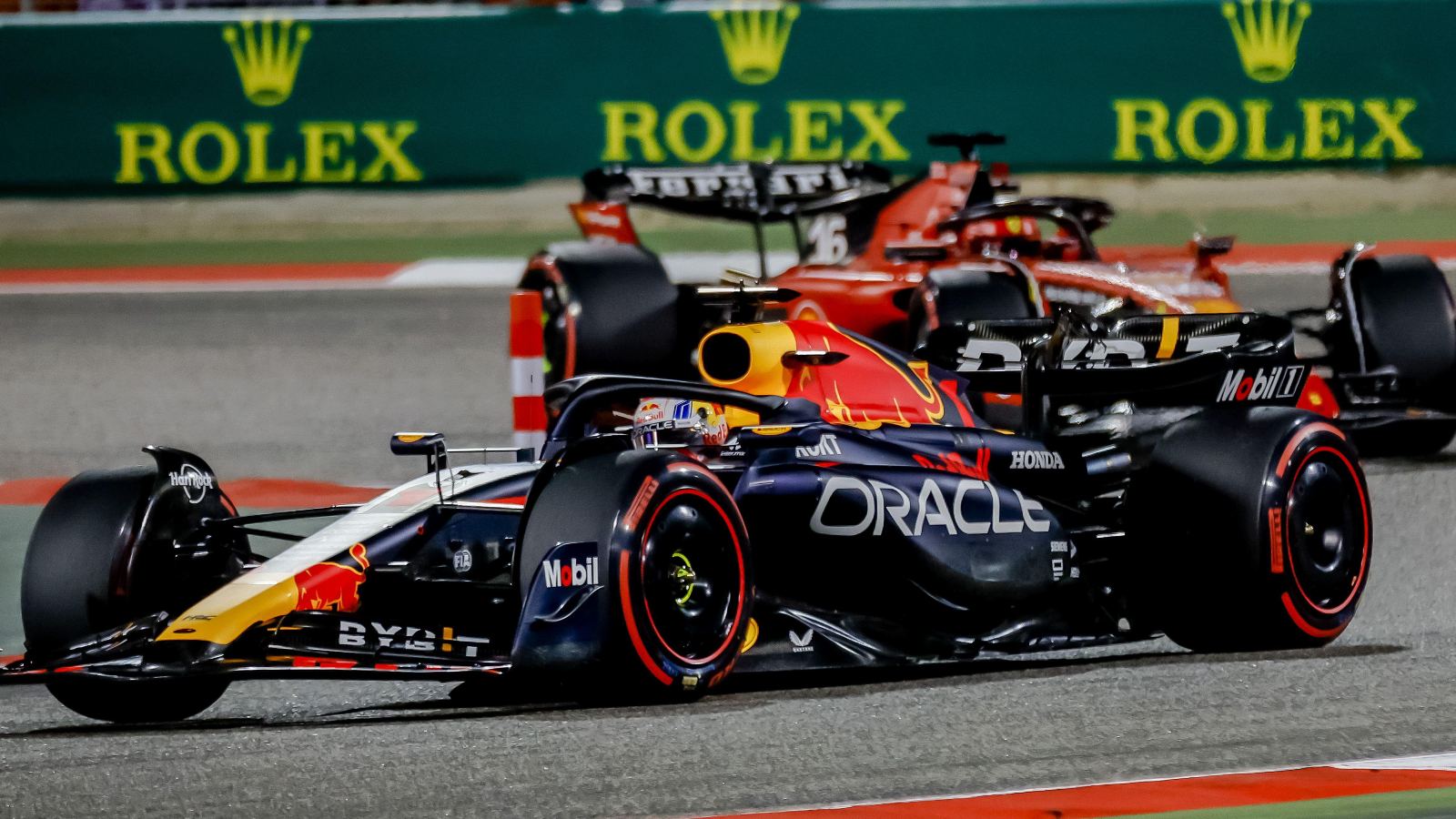 Damon Hill, the 1996 Formula 1 World Champion, has predicted that Ferrari will have a resurgence and be "all over the back of the Red Bulls" at this weekend's Saudi Arabian Grand Prix.
Expectations for an exciting season have diminished following a timid start to the 2023 campaign in Bahrain, where Max Verstappen led a commanding one-two finish for World Champions Red Bull.
With Verstappen winning with a 38-second gap to the nearest non-Red Bull car, fears have grown that F1 is entering another era of one-team/driver domination.
Ferrari endured a troubling start to the season in Sakhir, struggling with tyre management as Carlos Sainz finished a distant fourth and team-mate Charles Leclerc retired as the team's reliability problems of 2022 resurfaced.
But with Red Bull chief technical officer Adrian Newey warning that the "peculiarities" of the Bahrain circuit – which features a highly abrasive track surface and places a large emphasis on traction – may have flattered his team's advantage, Hill is expecting Ferrari to hit back at the Jeddah track.
Speaking via the F1 Nation podcast, he said: "It's going to be different [to Bahrain].
PlanetF1.com recommends
Fred Vasseur responds to reports of Charles Leclerc requesting Ferrari chairman meeting
Revealed: Adrian Newey's key area of focus on Red Bull's RB19 challenger
Villeneuve Pironi: An unrelenting tragedy through the eyes of their families
F1 TV Pro* viewers can watch all the live action from all 23 race weekends this season completely ad-free! Click here for the ultimate F1 viewing experience.
*Available in selected territories only. Click here to see eligible territories.
"We're going to realise Ferrari have got pace, they have got the ability to race and they'll be all over the back of the Red Bulls with the DRS zones and everything. It's going to be great.
"A lot of people if not all of the people we spoke to after Bahrain – [Aston Martin team principal] Mike Krack included, Adrian Newey called it a sample of one – [agreed that] Bahrain is not a typical circuit.
"It's extraordinarily abrasive and the combination of corners is very tight and twisty, I can't think of another circuit it compares to really [for] high rear-tyre deg.
"We're going now to a circuit which has got very different characteristics and demands on the car, so the order will not necessarily be exactly as it was in Bahrain."
Hill believes the Saudi Arabian round will offer a better clue to how the rest of the season will unfold, claiming there is no guarantee that Aston Martin's podium-contending form in Bahrain will be sustained.
"I think what's going to be really important as an indicator for how the season will pan out is going from Bahrain to Saudi, which is a different type of circuit," he explained.
"It is going to give a pointer as to whether there's any chink in the armour for Red Bull, whether it actually is track specific; the performance of maybe Ferrari will be much more competitive and a circuit with less tyre deg, certainly in race conditions, and also their horsepower as well.
"Aston Martin have now kind of created an expectation that they're going to be brilliant at every event, so they are going to find out that you've got to keep it up if you're going to do well."