Damon Hill: George Russell has managed not to be 'crushed' by Lewis Hamilton
Damon Hill has praised George Russell for 'stamping his authority' at Mercedes, having become Lewis Hamilton's teammate for the 2022 season.
Russell stepped up to become a Mercedes driver for this season, having circulated near the back of the field for the past three seasons when he drove for Williams.
His promotion to a front-running team came with inevitable question marks, but Russell has proved to be one of the most consistent drivers on the grid as he pumped out relentless top-five finishes – a run that only came to an end on the first lap of the British Grand Prix.
Russell picked up the baton again to pick up a further six consecutive top-five finishes but struggled in Singapore and Japan to finish in 14th and eighth place respectively.
The British driver is currently fourth in the Drivers' Championship, with Ferrari's Carlos Sainz and Mercedes teammate Lewis Hamilton in sixth – Hamilton closing the points gap down to 27 after finishing fifth at Suzuka.
With four races remaining, all eyes are on the Mercedes pair as Russell attempts to finish ahead of Hamilton during their first season as teammates.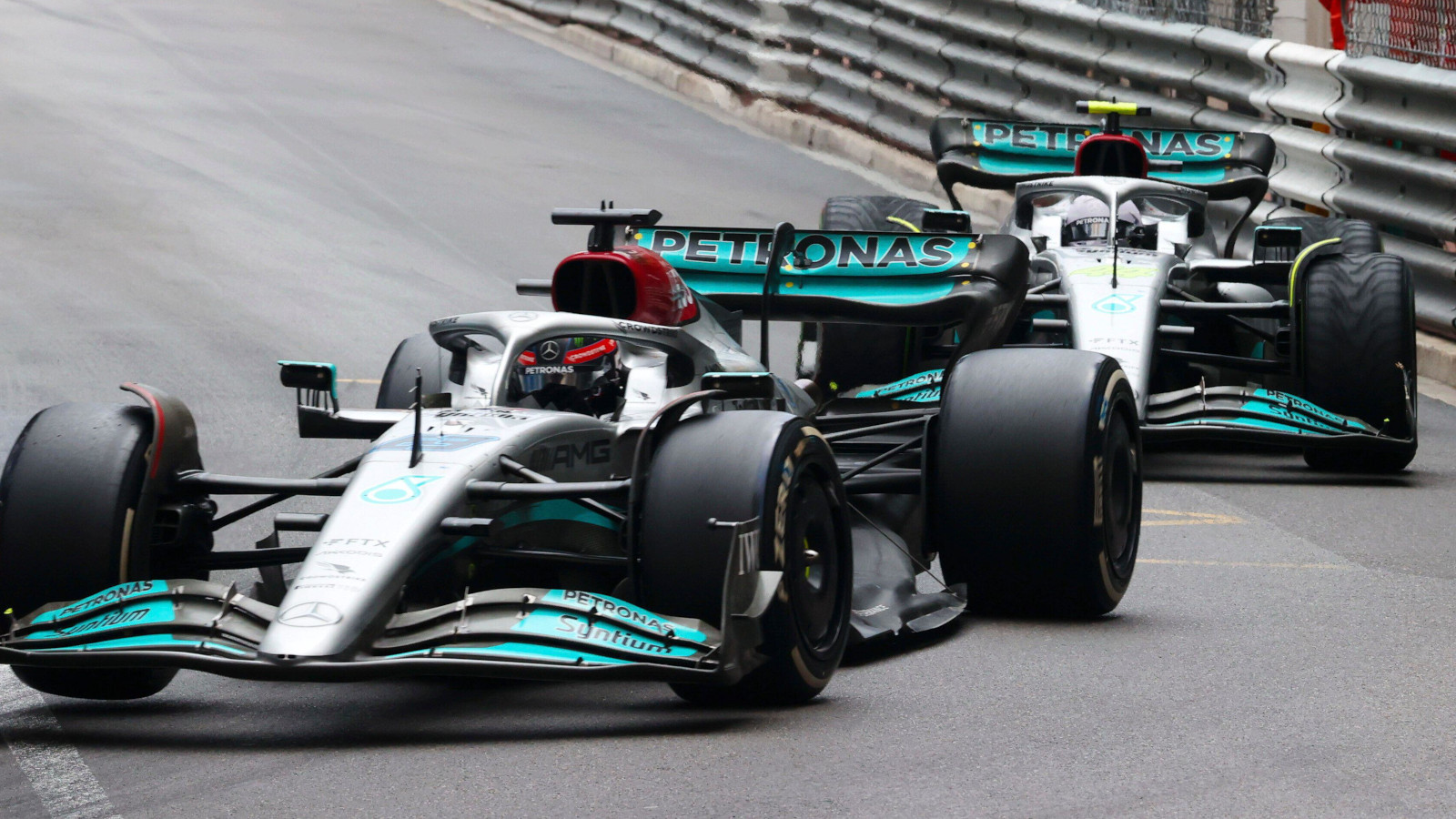 With Hamilton no easy prey over a season, 1996 F1 World Champion Damon Hill has been very impressed by how Russell has performed during his first year at a top-flight team.
"George Russell has come in, and he's come into this very difficult situation," he said on the F1 Nation podcast.
"It really is putting your head in the lion's mouth. He's absolutely stamped his authority and credentials on this team and also as a viable contender and a viable teammate to Lewis Hamilton.
"There's not many people that have managed to not be crushed by that relationship. And Lewis has had some bad luck this year. Maybe he wasn't all there at the start of the season, for good reasons, but he's coming back."
Damon Hill: George Russell needs to double down to beat Lewis Hamilton
Hill said that Hamilton has come to life as the season progresses, and the momentum of the latter races could favour the seven-time World Champion – he urged Russell to engage another gear if he wishes to finish in front of his illustrious teammate.
"When Lewis has started to be more motivated, which he seems to be this latter half of the season, sniffing the opportunities of better results, I think George is starting to find out quite what a competitor Lewis is," Hill said.
"His shine, although he's ahead on points, I think that Lewis is definitely creeping and recovering those points gradually over the last few races of the season. So he needs to double down a little bit and his first season with this team has been absolutely fantastic. Outstanding, and he's shown what a quality driver he is – definitely got championship potential."
Could George Russell fight for an F1 title?
Hill has been left with little doubt that, given the right equipment, Russell could challenge Hamilton for a World Championship title – and believes that opportunity could come as soon as 2023 if Mercedes can get on top of their performance issues.
"George has shown that, even in difficult circumstances, he's able to pull out a result," he said.
"He's able to think things through, and understand what's going on and he's got a very powerful intellect on top of his speed and determination. So, as an individual, he is very impressive.
"There's a good chance that Lewis could be fighting for the championship again next year, as could George. We could have a humdinger of a season next year, but they've struggled through this year. It's been tough for them, hasn't it, for Mercedes?
"It's very exhausting to stay at the sharp end of Formula 1. And then to put your heart and soul into a car that comes out and it's not good – it can shake your confidence but then that spreads throughout the organisation."
Read More: Toto Wolff: There is 'nothing mystical' about Mercedes' W13 issues