Damon Hill has followed up his eulogistic tweet about Lewis Hamilton by describing the seven-time World Champion as F1's Goliath.
After qualifying for the Spanish Grand Prix, when Hamilton claimed his 100th pole position, Hill said his fellow Briton was "one of the most talented people ever to have walked the Earth".
You do realise you are watching one of the most talented people to ever have walked the Earth, don't you? He really is a phenomenon. Can only watch on in awe #f1 https://t.co/0InWWIfTjg

— Damon Hill (@HillF1) May 8, 2021
The following day, after his 98th race win, Hamilton was asked for his response and said: "I saw that and felt so much gratitude to Damon because I remember growing up watching Damon and having, as I do now, so much respect for him and I remember rooting for him as a Brit, wanting him to succeed even when he didn't have a great car or a good team.
"So it's definitely humbling when you see people you've admired, watched and grown up and taken inspiration from or whatever it may be and having them say respectful, positive things like that…it's an amazing moment when that happens."
The mutual admiration continued in the F1 Nation podcast, in which the 1996 World Champion elaborated on what he referred to as his "rather stupendous tweet".
"I like to compete with the hyperbole so I think I won that one," joked Hill about his comment that Hamilton is among the most talented people in history. "In a racing car, he is. Who can deny that? It's unbelievable.
"He's in his majesty at the moment. I think we're seeing Lewis totally in command of his art."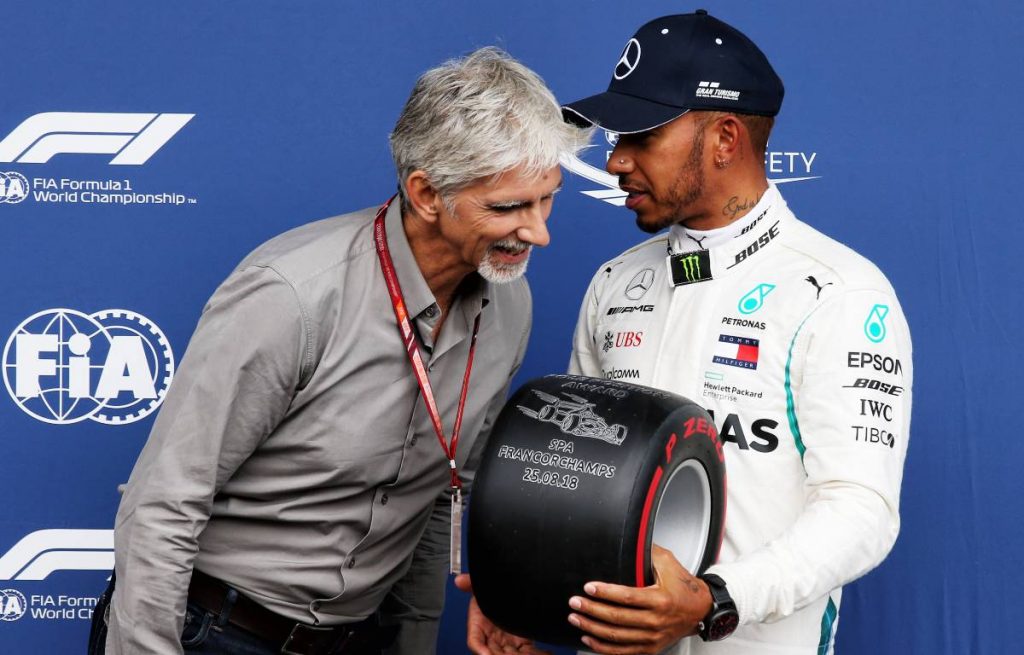 Check out all the latest Lewis Hamilton merchandise on the official Formula 1 store
Hill also feels Hamilton has been re-energised by his battle with Max Verstappen, the duo having dominated the 2021 season so far but with the Briton having claimed three victories to the Dutchman's one.
"He's needed this for a long time. He's needed someone to come to him," added Hill.
"It's like the story of Goliath, he stands there beating his chest saying 'who's going to tackle me, who's going to take me on'.
"The great champions need someone they can spar with, someone they can measure themselves against and Max has obviously been much exalted and praised.
"Jenson [Button] in the Sky coverage said he thought Max was more naturally talented and I think all these things just give Lewis more satisfaction when he prevails.
"I think Lewis has been on tickover for a long time, I think it's been too easy and that's why he hasn't got the recognition he deserves.
"I think this year, Max has taken the challenge but also shown it's not as easy as it looks when you get to the sharp end."
Follow us on Twitter @Planet_F1 and like our Facebook page