Hill: Time for Mercedes to ask the big questions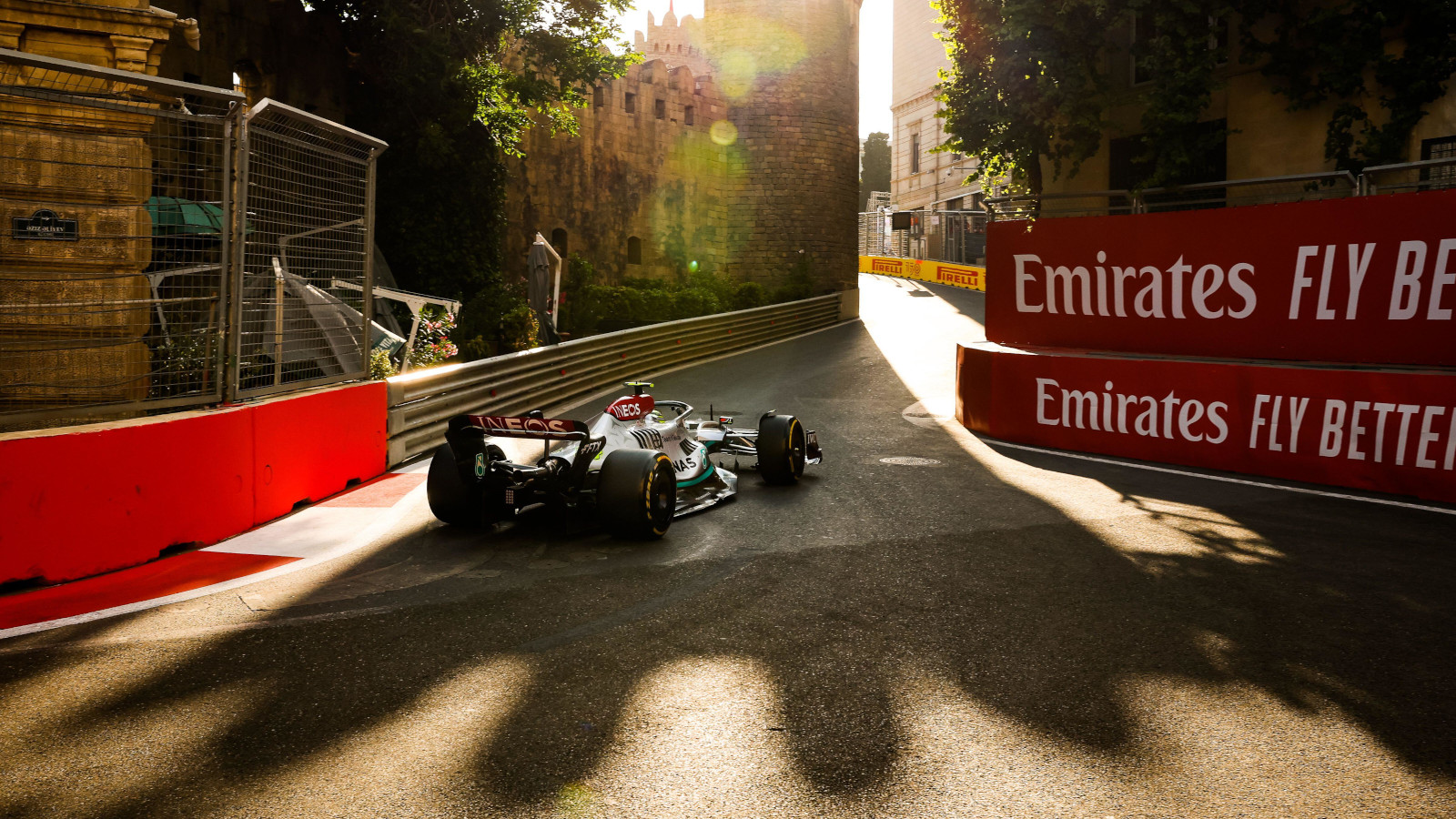 Damon Hill says the time has come for Mercedes to "take some big decisions" about their W13's design philosophy after the drivers bounced their way around the Baku circuit.
Mercedes is the team that has struggled the most with porpoising this season, the bouncing a consequence of using ground effect aerodynamics to create downforce.
The W13's zero-pod design has been largely blamed for this as the minimal design does not help stabilise the car's floor.
And the bouncing has shown in Mercedes' results with the team yet to win a grand prix, the first time since 2013 that they have gone seven races in one calendar year without a race win.
Falling further and further behind Red Bull and Ferrari in the standings, Mercedes motorsport boss Toto Wolff conceded prior to the Spanish Grand Prix that the team must be open to re-evaluating their position on the zero-pods.
But, a month ago, he was adamant they still had time.
However, after Friday's bouncing in Baku that left Lewis Hamilton feeling a "bit sore", Hill believes that time is up.
"It looks like they're trying everything they can think of, if you listen to Lewis saying that he tried another experimental set up yet again, without much success," the 1996 World Champion said on Sky Sports F1.
Lewis Hamilton on his Baku bouncing: "I'll get by, a bit sore. We're hitting some serious speeds at the end here and it's bouncing a lot." #F1 #AzerbaijanGP pic.twitter.com/CVMoPaYnuq

— PlanetF1 (@Planet_F1) June 11, 2022
"This is where you start to go, fundamentally have we gone wrong somewhere with our concept? Then, that's a bit more of a headache because you can't just do that with upgrades, it's difficult to do that with upgrades.
"They said that they felt like they had a direction in Spain, but it's been lost again.
"They need to ask themselves some big questions and take some big decisions, I think."
Both Mercedes drivers were over 1.3s off the pace in Friday's practice for the Azerbaijan Grand Prix with Hamilton putting that deficit down to the bouncing.
"I just can't really tell you where 1.6 seconds…that's a long way away," he said before adding that "a lot of it's on the straights.
"Bouncing, we hit some serious speeds at the end here and it's bouncing a lot."
Sky Sports F1's Naomi Schiff said that trying to resolve the bouncing means Mercedes cannot focus on overall performance.
"It's uncomfortable," Schiff said. "Clearly all the comments are saying that the drivers are suffering, and you saw it from Lewis, his back is hurting.
"For visibility as well, it's not great. It's more frustrating because I think really at this point, they want to be steering away from this issue and starting to focus on their real overall set up.
"I think that's the bigger issue, they haven't been able to solve it and there is supposed potential in the car, and it still hasn't been unleashed."
Mercedes unlikely to be 'transformed' in Baku
While Mercedes driver George Russell feels they'll be able to have a better weekend than the one in Monaco, it still may not be enough to challenge for the win.