Damon Hill foresees a 'real problem' for Mercedes with current cost cap structure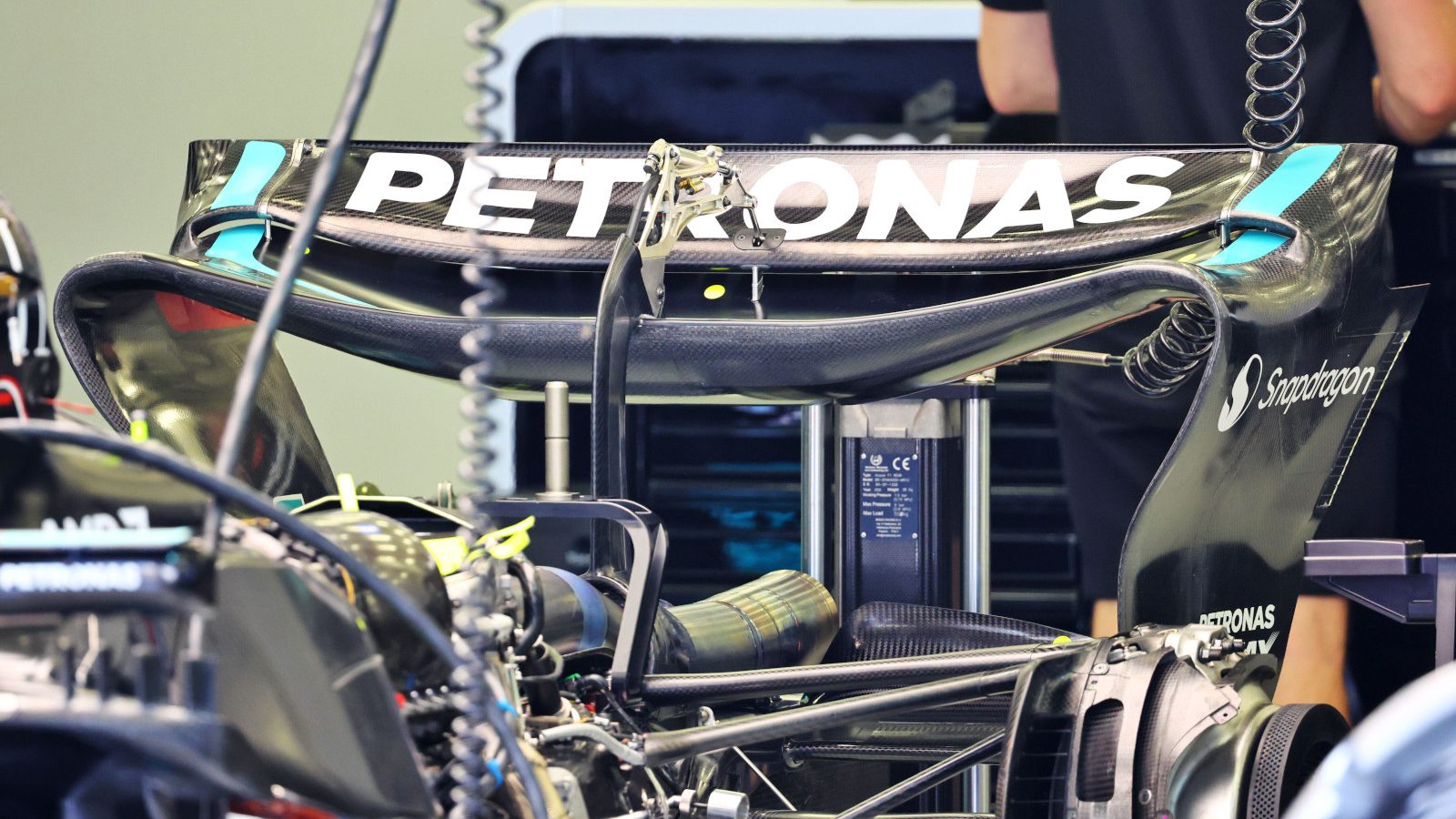 Beaten by Aston Martin at the Bahrain Grand Prix, Damon Hill says Mercedes are facing an even bigger problem as F1's cost cap means they can't throw money at their W14.
With their 2023 challenger lacking downforce and pace, George Russell and Lewis Hamilton found themselves six-tenths of a second down on Red Bull's pole-sitter Max Verstappen in the season-opening qualifying session.
And it didn't get any better on the Sunday.
The team-mates were both overtaken by Fernando Alonso during the grand prix, the Aston Martin driver putting his Mercedes-powered AMR23 on the podium while Hamilton was P5 and Russell also lost out to the other Aston of Lance Stroll.
The Mercedes pairing were over 50s behind race winner Verstappen with Toto Wolff calling it "one of the worst days racing."
Hill called it humiliating.
"Poor old Lewis and George Russell," the 1996 World Champion told Sky Sports News. "I mean this was a race that Toto described as his worst day in motor racing.
"They have been humiliated. They were beaten by a customer car."
It had Wolff declaring he does "not think this package is going to be competitive eventually", adding that Mercedes gave it their "best go and now we just need to all regroup and sit down with the engineers."
Hill, though, feels it "does seem a little bit early in the day" to scrap the current W14 concept.
PlanetF1.com recommends
Lewis Hamilton: Mercedes 'didn't listen' to me on W14, 'I know what a car needs'
Toto Wolff reveals Mercedes alternate concept has already 'been done in the wind tunnel'
The complete driver and teams' standings after the Bahrain Grand Prix
Mercedes can't throw money at the problem given the cost cap
Mercedes are facing an added problem given Formula 1 is operating under a cost cap these days, which means the team cannot just throw money at the problem.
Worried there could be "fundamentally something wrong" with Mercedes' design concept, the Brackley squad may need to redesign the entire car but that would take money they don't have to spend.
As such Hill says perhaps they'd be better off plugging away with what they have.
"But," he continued, "the thing is they came out with this very different looking car to everyone else's last year. And the question was 'well, that's different, why is everyone else going a different way to them?'
"Then throughout throughout the year they persisted with the car that was porpoising and bouncing up and down aerodynamically, and they had terrible trouble trying to fix it.
"They even got the regulations changed a little bit on safety grounds so that the cars were raised up another one and a half centimetres, and that hasn't helped them it appears.
"So maybe there's fundamentally something wrong with the direction they've gone in and if that's the case, then they've got a real problem.
"With the cost cap involved in from one now they can't just go back to the factory and spend a lot of money and redesign a car because that will also imply they have to abandon what they think they know and go and follow others who have gone in a different direction and they don't have any information on all of that, they don't have the wind tunnel knowledge.
"So bit of a problem now for Mercedes, they might have to just plug on with what they've got and prove everyone wrong with their design."
'Mercedes have not written it off the 2023 championship'
The former F1 driver turned pundit says it's now up to Mercedes to go "twice as fast" as their rivals to catch up but again concedes the cap will impact that.
Asked if Mercedes had already written off the 2023 season, he replied: "I don't think so, no.  I don't think they've written it off.
"But they are now faced with the reality because in testing you could get an idea and you think you might be close and even up to free practice three, so it was only in the final few moments of qualifying that you saw the fundamental gap in performance at six tenths of a second plus possibly.
"And in a race that grows every lap and you end up with a huge gap to find and they have restrictions now, they don't have the same amount of ability to just pour resources in and do an arms race development programme.
"They'll have to go twice as fast as their competing team to catch up and that's the nature of development in Formula One.
"They know that the task ahead of them is huge, and it's all got to be done in the factory and they're going to have to really have some inspiration or work doubly hard to get back to the front.
But that, he warned, "just gets them to the front, that's not even accounting for Red Bulls potential to improve."