Hill dismisses suggestion Russell is 'humiliating' Hamilton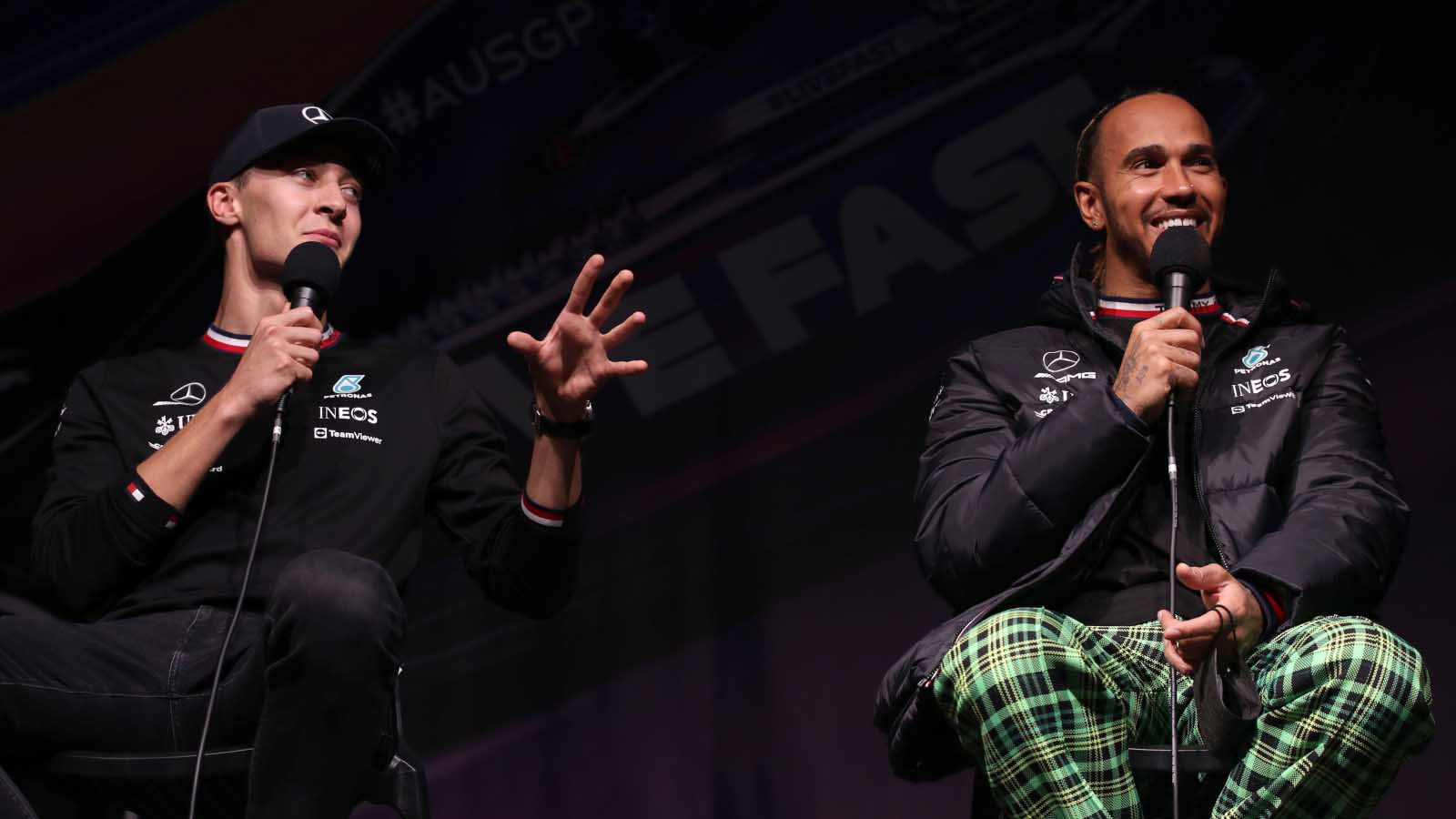 While George Russell is doing a "brilliant job" at Mercedes, Damon Hill believes Lewis Hamilton has been unlucky so far this season.
Russell has scored 21 more points than Hamilton in their first four races together as team-mates, but the seven-time World Champion ran his W13 with extra weight as the team added extra sensors to gather more data, and tried a different setup to Russell at Imola.
He ended up stuck in a DRS train outside the points, and was lapped by Max Verstappen two-thirds of the way through the Emilia Romagna Grand Prix, while Russell took advantage of Charles Leclerc's spin to make his way up to P4, after making up five places on the first lap of the race.
While the younger Briton has started well, the 1996 World Champion thinks there's more to it than meets the eye.
"He's done an absolutely brilliant job and is looking strong," Hill said of Russell on the F1 Nation podcast.
"I think Lewis has been a little unlucky and I think he's been delving around and [has] been happy to play the guy who tries the experimental setup for Mercedes a bit because he's got more experience with them.
#F1 has arrived in Florida, and there are unknowns aplenty heading into the inaugural #MiamiGP 🇺🇸@FinCrebolder previews the weekend's action ✍️https://t.co/yZQla9rgIB pic.twitter.com/NFtSOwjJ6J

— PlanetF1 (@Planet_F1) May 5, 2022
"So perhaps he's gone the wrong way sometimes and that has made him look worse off than he really is against George, but George is definitely doing a sterling job – and I think that's a very firm foundation for him going forward.
"He's not humiliated Lewis in any way, I don't think. I don't see it like that, I think Lewis is maybe a little bit downhearted as well, and George is very keen to establish himself."
Team principal Toto Wolff said that the team have now identified "several directions" where the W13 can improve, offering hope that they can become more competitive.
Mercedes have been running their car with a higher ride height to try and alleviate the worst effects of the porpoising on their car, which has left Russell with neck and back pain in the past.
But with that extra height comes a loss of performance, and Hill thinks that there's still more to come from the W13 this year.
"Would you completely rule out Mercedes? I mean, they've got a lot to think about but, perhaps, they could throw themselves into the pot," Hill said.
"They again have even less resources that they can use because they've had so much success, so they're actually on the limit almost with how much development, wind tunnel, all the rest of it, they can do and financial resources.
"They're almost a second off the pace, but that's because they can't get their car low enough, and they can't get their car low enough because of this porpoising."
Mercedes hoping for a better weekend in Miami
Mercedes boss Toto Wolff has said the team has "sever directions" for W13 imporvements.