Damon Hill questions Max Verstappen's 'odd' mindset after Azerbaijan Grand Prix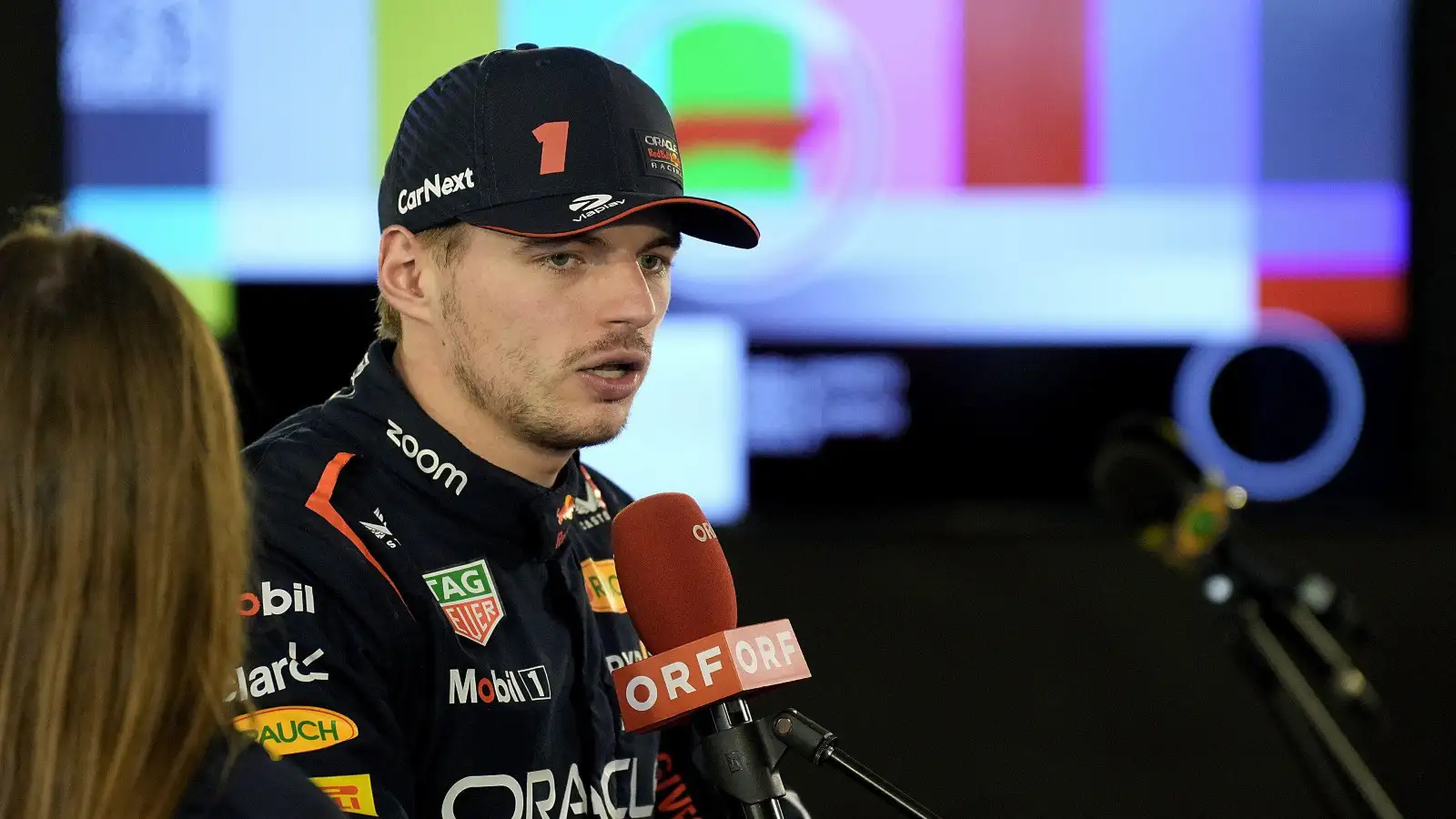 Damon Hill believes Max Verstappen talked himself down into a negative mindset coming into the Azerbaijan Grand Prix weekend.
Verstappen went without a pole position or victory in any of the competitive sessions during the Sprint weekend at the Azerbaijan Grand Prix, with Charles Leclerc taking pole position for both races and Sergio Perez winning both races.
While Verstappen was furious with the outcome of the Sprint race due to him feeling aggrieved with George Russell's driving on the first lap, the reigning World Champion was much more circumspect about how the Grand Prix played out as he accepted the misfortune of the Safety Car timing that cost him the lead.
But, with Verstappen going without any eye-catching session-topping performances as Perez took both wins, Damon Hill questioned whether Verstappen had talked himself down into a negative headspace coming into the weekend.
Damon Hill: Max Verstappen has done himself down by being down on the Sprint
Verstappen has made it very clear that he isn't a fan of the Sprint format, as well as stating that he may not stay in F1 for the long-term due to the push for more competitive sessions and Grands Prix from Liberty Media, and Hill said it's a strange mindset on display.
"Max has been off-tune hasn't he this week?" he told Sky F1.
"He's kind of done himself down a little bit by being down on the Sprint and not having a good race in the Sprint and all those things.
"I got the sense there's something a bit out of sorts with Max at the moment. He's talked about not wanting to race beyond 30 or whatever it is, weird stuff. Why is he talking about this now, he's right in the middle of a championship and it's a bit odd."
PlanetF1.com recommends
'Absolute shambles' as Esteban Ocon drives into pit lane full of people
Baku GP: Street magician Sergio Perez holds off Max Verstappen to win
Fellow Sky pundit Naomi Schiff agreed with Hill, saying that it's a strange topic for the 25-year-old Verstappen to be broaching as he has dominated F1 since winning his first title in 2021, but said she doubts it's had an effect on his performance.
"I was very surprised too", she said.
"For a driver that we know is someone who's so hungry that he's very upset when he comes second, he's a guy who wants to win, he wants to have these World Championships – I was very taken aback and surprised by the fact that he's mentioned he's not here to have multiple numerous World Championships and that he'd rather potentially retire coming into this weekend.
"He's obviously not been a fan of the Sprint format, and that's also a bit of a downer for him this weekend. But I don't think that's been a problem on track for him this weekend. I think it's been more that he's just not as comfortable maybe on this track as Sergio is over the course of the weekend. He's been quick but Sergio has been just as quick so there is that."
Christian Horner doubts Max Verstappen's mindset had an effect
Speaking with the pair in the immediate aftermath of the Azerbaijan Grand Prix, Red Bull team boss Christian Horner downplayed the possibility that Verstappen was mentally off-form in Baku.
"I don't think so," he said.
"You've got to think that he was obviously leading the Grand Prix, then the incident happened. I think that he didn't seem quite as comfortable with the setup of his car as Checo [Perez] did, he was obviously talking about the rear tyres already prior to that stop. Track position, when you're in the dirty air – there wasn't a lot of overtaking in that race and that probably didn't help his tyres as well."