Ricciardo resurgence is 'good' for Norris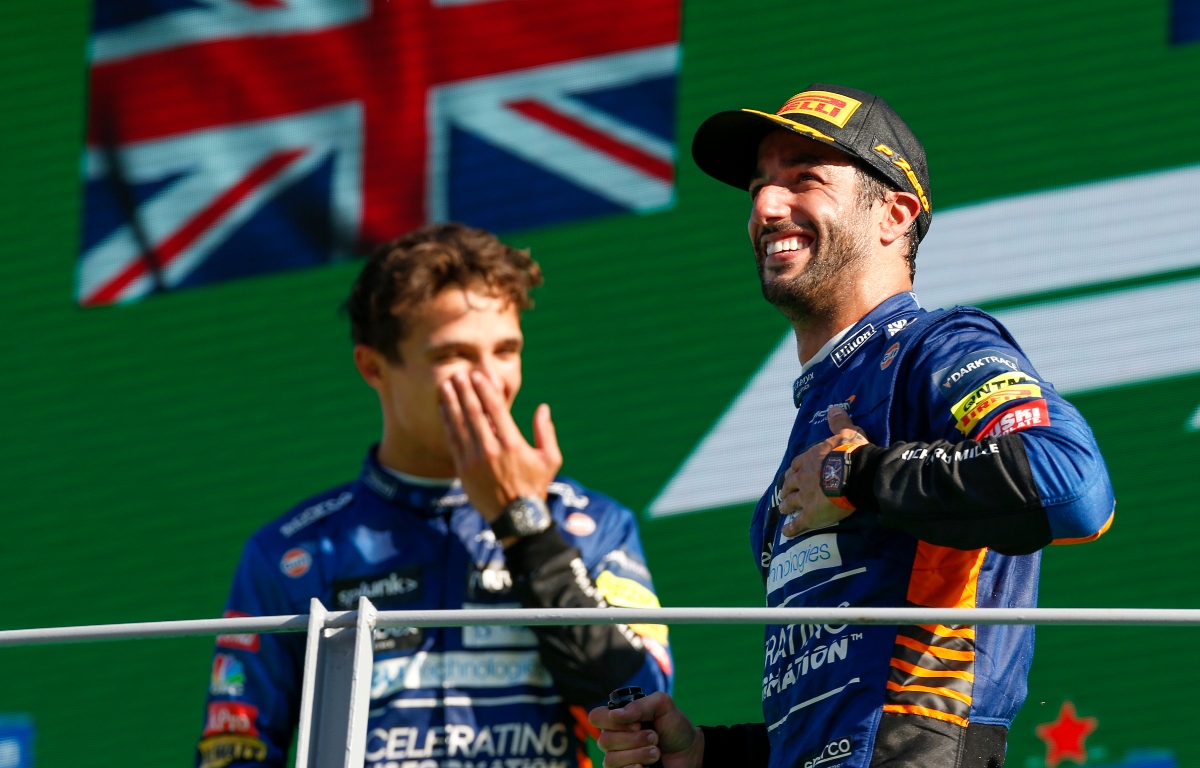 As much as he hated losing to Daniel Ricciardo at Monza, Lando Norris acknowledges his team-mate's resurgence is "good" for both him and McLaren.
After a sluggish start to his McLaren career, one that left Ricciardo baffled as to what was going wrong, the Australian has found some form since returning from the summer break.
Scoring in two of those three races, Ricciardo began with his best result of the season – at the time – in the Belgian Grand Prix and followed up with a race win at the Italian GP.
It was his first victory since 2018 and McLaren's first since 2012.
Starting P2 on the Monza grid, Ricciardo out-dragged Max Verstappen from the line and only relinquished the lead at the pit-stops.
With his team-mate chasing him throughout the second half of the grand prix, Norris was told by McLaren to hold station as that would be the "best" result for McLaren.
The drivers brought home the 1-2, McLaren's first since 2010.
Sunday's result elevated Ricciardo to eighth in the Drivers' Championship but his 83 points are still 49 away from Norris' score.
Ricciardo beating Norris has not been a regular thing this season – in fact it has only happened three times, but two of those have come after the summer break.
Norris reckons his team-mate regaining the form that saw him win seven grands prix with Red Bull is not only good for McLaren, it is also good for him to have that challenge.
20 drivers, forever in the McLaren history books. 🌟

Welcome to the winners' club, @DanielRicciardo. pic.twitter.com/4k4befVBqc

— McLaren (@McLarenF1) September 16, 2021
Get the Lando Norris look with the official Formula 1 store
"In terms of what he can do on track now compared to what he could do a few months ago he's definitely a lot closer, for sure," Norris told Motorsportweek.com.
"It's also good for me in a way, as much as I hate it because you want to beat anyone in any circumstance!
"It will only push me more, push the team more, help us as a team in the Constructors' as well.
"We are racing Ferrari, who have two extremely good drivers, to beat them week in week out. It's been a tough first half of the season for us when Daniel has been struggling that little bit, but now he's come through a bit more.
"I think he's showing what he can do and what everyone knows he can do, and the reason [why] he came to McLaren.
"It will only be better for all of us."
Sunday's result saw McLaren move back up to third in the Constructors' Championship, 13.5 points ahead of Ferrari.
Planet F1 verdict
Daniel Ricciardo's confidence boost after latest win
Daniel Ricciardo picked up his eighth career victory over the weekend, his first since the 2018 Monaco Grand Prix.