Ricciardo gives Abiteboul the hurry-up over tattoo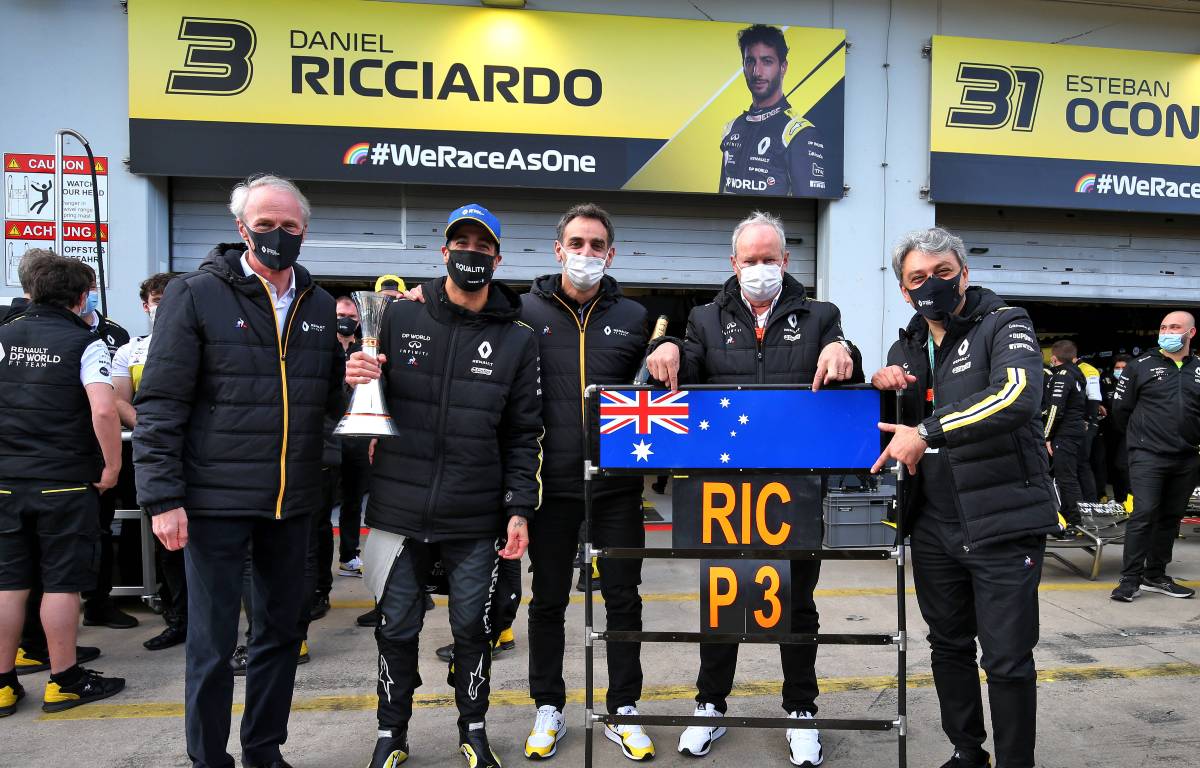 Daniel Ricciardo is giving Cyril Abiteboul the hurry-up over the tattoo he promised to have done almost a year ago.
The tattoo formed part of a bet struck between the Australian driver and his former Renault boss, which hinged on Ricciardo achieving a podium finish during either the 2019 or 2020 seasons.
He did exactly that at the Eifel Grand Prix last October, finishing third to Lewis Hamilton and Max Verstappen, with the first anniversary of that feat now only days away – and yet Abiteboul has still not been inked.
The Frenchman left Renault during the winter and with Ricciardo moving on to McLaren, there have not been so many opportunities for reminders that the wager must be fulfilled.
However, it has emerged Abiteboul sent Ricciardo a congratulatory message following his victory in the Italian Grand Prix – reopening communication between the duo which, the driver hopes, will lead to the 43-year-old Parisian finally getting that overdue first tattoo.
"I had an overwhelming number of e-mails, WhatsApp messages and all of it, so I did see an e-mail from him," Ricciardo told reporters, quoted by Motorsport.com.
"There was the topic of tattoos, so I'm still very optimistic we could get this done before the year's out. Otherwise it will obviously drag on and become old news, so I'm determined to make it happen."
View the latest Daniel Ricciardo merchandise on the official Formula 1 store
No stranger to tattoos himself, Ricciardo has put plenty of thought into what design Abiteboul should have and that process continues – with the country where the podium finish occurred, at the Nurburgring, likely to feature.
"We'll have to do some thinking now but probably it will be something to do with me, but I think with a German flavour," said the driver nicknamed the 'Honey Badger'.
"That is obviously the place we did it. A little tip of the hat to something traditional in Germany as well."
Fortunately for Ricciardo's new employers there was no such bet instigated when he joined McLaren, and so Zak Brown nor Andreas Seidl need to worry about finding themselves in the company of a tattoo artist.
Instead, as a reward for his Monza triumph, the 32-year-old can look forward to a spin in the 1984 Wrangler Chevrolet owned by Brown, the McLaren CEO.
Earnhardt was a big inspiration for Ricciardo growing up and is part of the reason why he races with the number three on his car.