Ricciardo still got podium bonus despite Aus GP DQ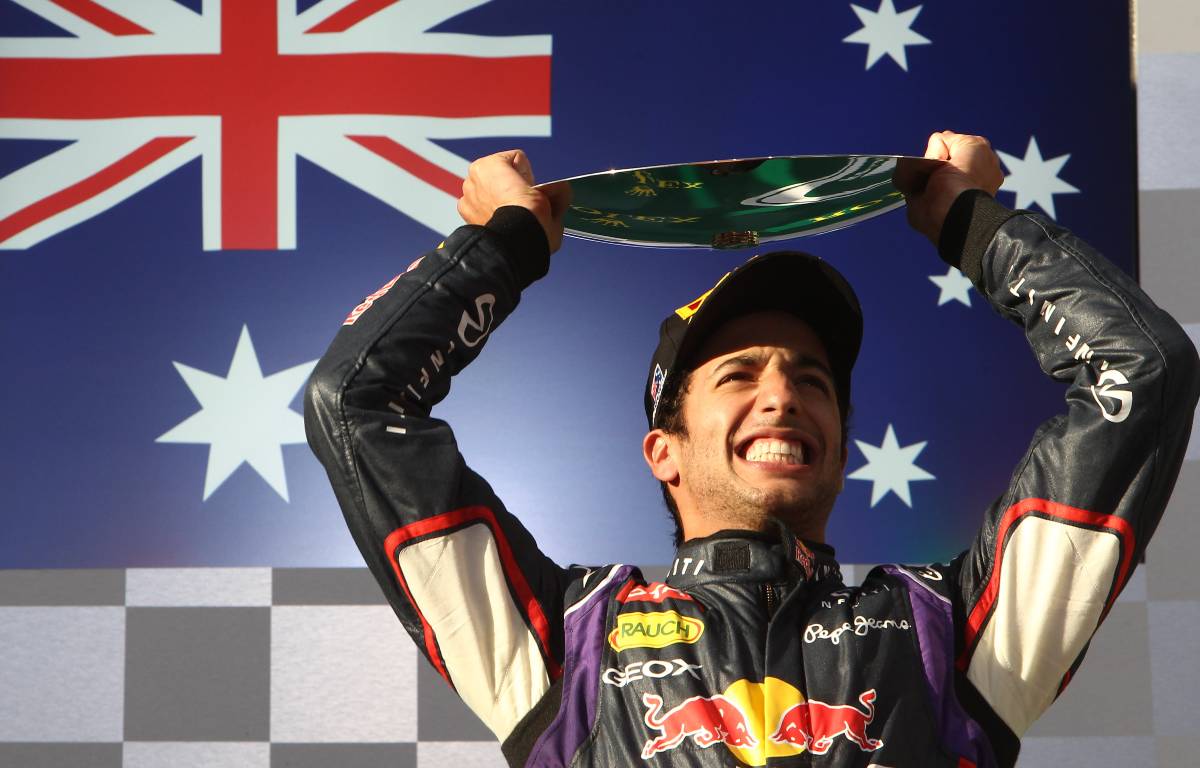 Daniel Ricciardo was disqualified from his home race back in 2014, but Red Bull still paid his bonus for the podium he would have got.
Following two seasons with the junior team Toro Rosso, Ricciardo earned his opportunity with the Red Bull outfit, stepping up to partner four-time World Champion Sebastian Vettel for 2014.
And as far as debuts go, finishing P2, at his home race, was a fantastic result for Ricciardo. Sadly though, it would not stand.
Post-race he was disqualified with his car found to have been in breach of Article 5.1.4, which govern the maximum allowable rate at which fuel may flow into the engine.
But, while the podium and trophy were taken away, his bonus for a podium finish was not.
Daniel Ricciardo on his Red Bull debut in Australia 2014, proving an instant success with the team pic.twitter.com/NkDk9SWhpg

— Joshua Sullyvan (@sullyvanf1c) December 8, 2014
View the latest Daniel Ricciardo merchandise on the official Formula 1 store
"It was definitely, I would say on the surface, more of a wake," Ricciardo told the In The Fast Lane podcast when asked how he was emotionally after that disqualification.
"I think internally there was some celebrating inside me, because I knew what I'd achieved on that weekend. I'd kind of ticked the box to myself that 'OK I can do this, I can race at the front'.
"I remember I had a lot of mates there and we'd kind of organised a few drinks in the hotel room, and I remember the bathtub was full of ice and drinks, but it wasn't really the atmosphere to go.
"Actually it was when I got to the room, when everyone was there, that I got the call from Jonathan Wheatley [Red Bull's Sporting Director], telling me what I knew was coming, but he confirmed it. There was a few hugs and whatever, but it was pretty mellow unfortunately.
"I think what cheered me up is – I'm sure they won't mind me saying this, actually it puts them in good light – I think the day after, I think it was Christian [Horner, Red Bull principal] called me and said, 'Look, we'll still pay your podium bonus'.
"So that was nice. That softened the blow a little bit! That was like my first real pay cheque in the sport, so I was quite happy."
Ricciardo has since become one of the key names on the Formula 1 grid, and at the 2021 Belgian Grand Prix will celebrate his 200th race in the series.